I'm slightly obsessed with coleslaw these days, especially any coleslaw made with purple cabbage which I find to be delectably sweet and crunchy.  I'm always craving a good crunch in my food.
I like to serve this spicy slaw with my Turkey Burgers from The Gluten-Free Almond Flour Cookbook
or my Grilled Chipotle Orange Chicken.
Spicy Slaw
Ingredients
½ head purple cabbage, shredded
1 bunch cilantro, finely chopped
1 carrot, grated
1 jalapeño pepper, seeded and minced
1 teaspoon minced ginger
2 limes, juiced
2 tablespoons olive oil
7 drops stevia
½ teaspoon celtic sea salt
Instructions
Place the cabbage, cilantro, carrot, jalapeño and ginger in a large bowl
Toss veggies with lime, olive oil and stevia, then sprinkle with salt
Serve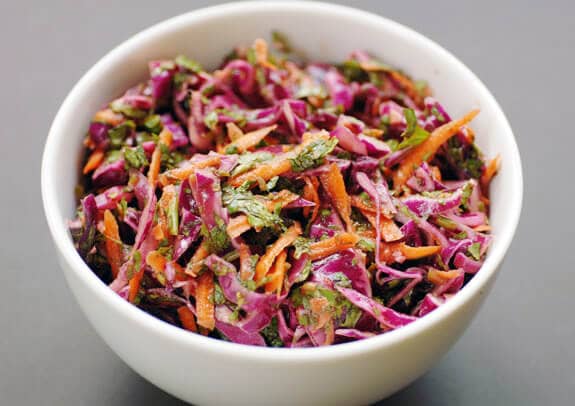 Don't forget the giveaway for a Ball Canning Discovery Kit ends this Wednesday. To be entered simply leave a comment on the Cherry Strawberry Ice Cream Post and let us know what kind of food you would be preserving, or if you're not the preserving type, let us know what you would store in them.
UPDATE: This giveaway is now over. The winner of the giveaway was Tracy. Thanks to everyone who participated!