I'm slightly obsessed with this Recipe for Slaw with Jalapeños these days.
In fact, any coleslaw made with red cabbage has my heart as I find this superfood veggie tastes delectably sweet and is incredibly crunchy.
Recipe for Slaw with Jalapeños
I've had crazy cravings for crunchy food since I was a child. It doesn't matter whether it's crackers or cabbage, I'm always on the hunt for the crunch.
Red Cabbage and Benefits to Healthy Eating
This slaw recipe with red cabbage is both tasty and healthy. This cruciferous veggie is a great source of the following nutrients!
Vitamin K
Zinc
Calcium
Magnesium
Fiber
Furthermore, cruciferous vegetables contain indole-3-carbinol, an estrogen receptor antagonist that also reduces inflammation regulates hormones, and may prevent cancer.​​1
Best of Cruciferous Vegetables
Other cancer fighting cruciferous veggies include: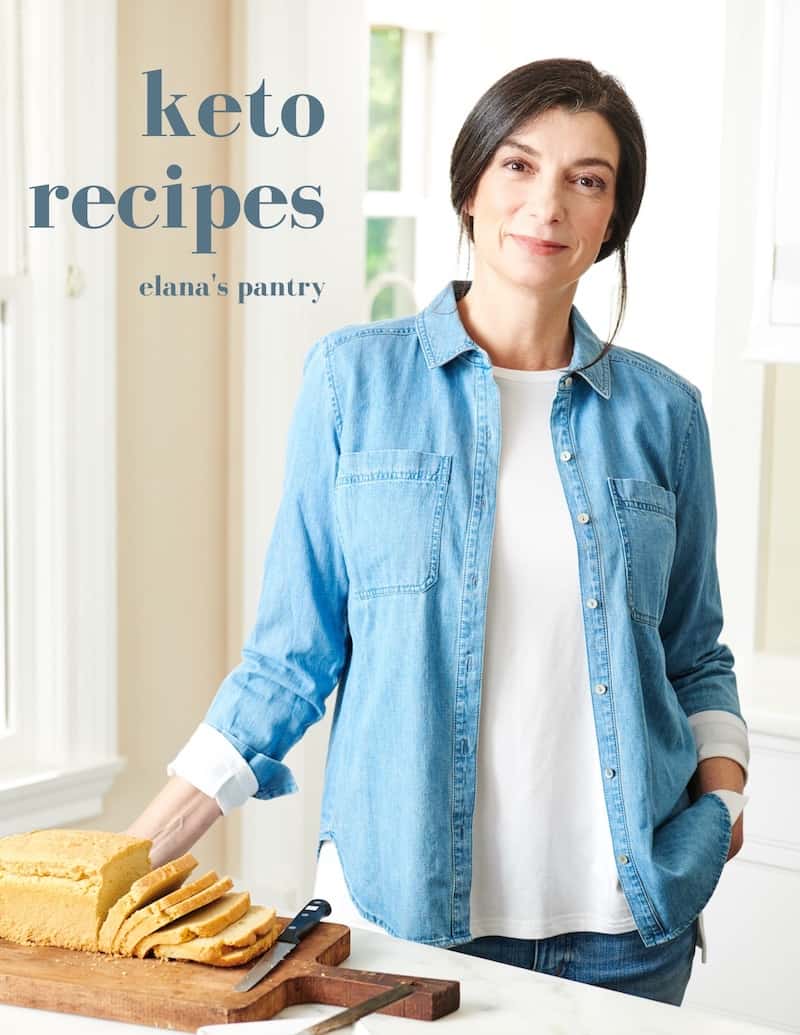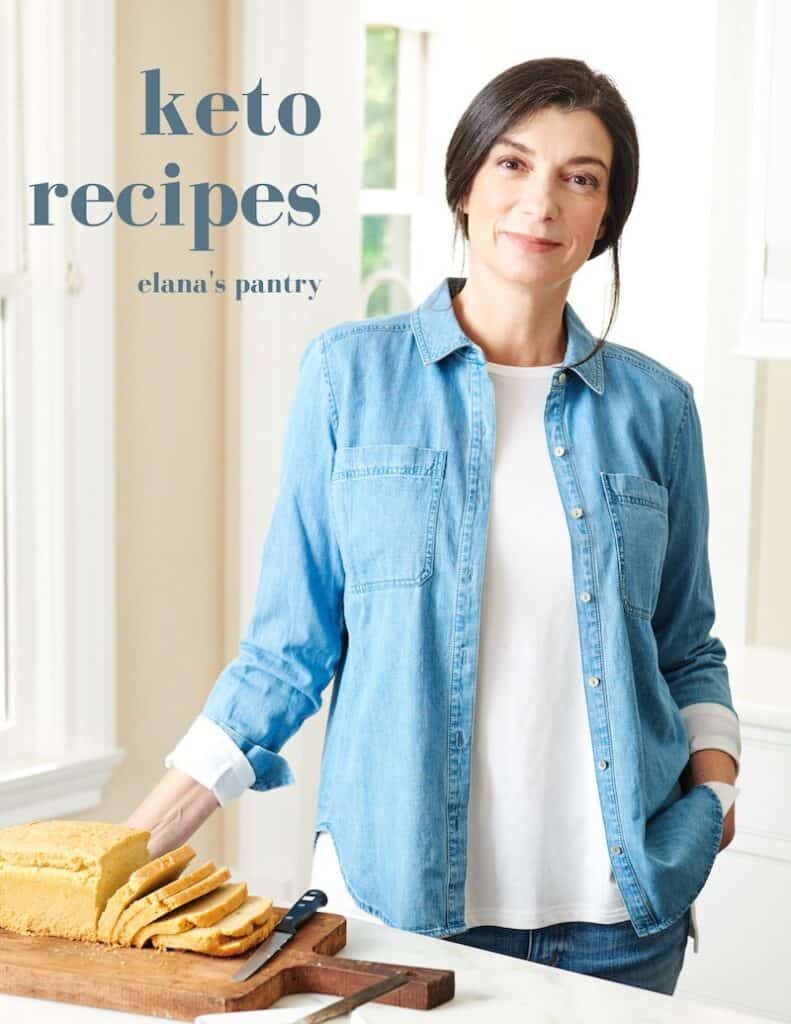 Get My Keto Recipes eBook
Free exclusive eBook, plus recipes and health tips, delivered to your inbox.
Side Dishes Healthy
Delicious side dishes with cruciferous veggies that are healthy too? What could be better! This Slaw with Jalapeños is full of flavor and that much-needed fiber we've all been trying to get into our diets!
Recipe for Slaw with Jalapeños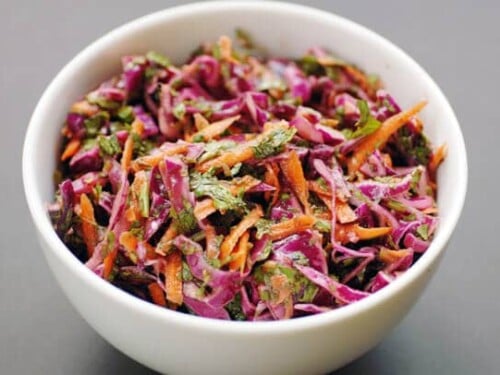 Print
Email
Pin Recipe
Ingredients
½

head red cabbage,

grated

1

bunch cilantro,

finely chopped

1

carrot,

grated

1

jalapeño pepper,

seeded and minced

1

teaspoon

minced ginger

2

limes,

juiced

2

tablespoons

olive oil

7

drops stevia

teaspoon

celtic sea salt
Instructions
Place the cabbage, cilantro, carrot, jalapeño, and ginger in a large bowl

Toss veggies with lime, olive oil, and stevia, then sprinkle with salt

Serve
Equipment
Recipes for Homemade Slaw
While there are tons of cruciferous veggies to choose from, red cabbage in salad and slaw is a surefire way to balance nutrition and flavor.
But that's not all –my recipe for Slaw with Jalapeños is also spiked with anti-inflammatory ginger and detoxifying cilantro, making it the perfect healthy side dish.
Side Dishes Easy
Creating side dishes that are easy and healthy is fabulous, but what about simple dinner recipes to go with them? Read on for the perfect pairings!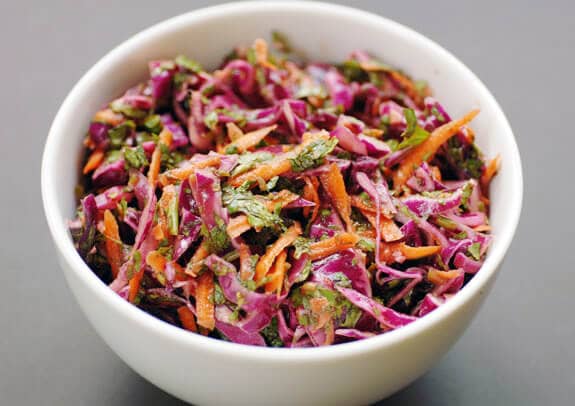 Dinner Recipes Healthy and Easy
My Recipe for Slaw with Jalapeños works well with these healthy easy dinner recipes:
I also serve this spicy slaw with my Turkey Burgers from The Gluten-Free Almond Flour Cookbook.
Recipe for Cabbage Salad
No salad is complete without a drizzle of delicious dressing!
If you want to create your own cabbage salad, look no further than my Asian Dressing for Salad Recipe, made with olive oil, toasted sesame oil, and ume plum vinegar.
This dressing is the perfect finish to any cabbage salad.
No Mayo Coleslaw Recipe
Homemade coleslaw recipes don't have to be full of sugar, artificial ingredients, or overly calorie-dense. Try these amazing slaws with the best alternatives to mayo:
Low Carb Vegetables for Side Dishes
Below are my favorite low carb vegetables for side dishes and the amazing recipes that contain them!
I have everything from my world famous Cauliflower Potato Salad (hold the potatoes!) to an easy recipe for Asparagus Salad and my Bubby's traditional tangy Cucumber Salad with Vinegar.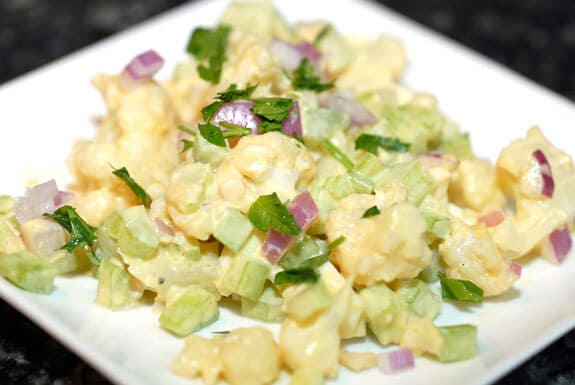 No Potato Cauliflower Potato Salad
Are you craving side dishes with potatoes but not the carbs? You'll love my Cauliflower Potato (or "No Potato") Salad recipe made with cauliflower, celery, onion, and eggs.
And by the way, are you wondering what carbs to avoid? Potatoes are a biggie.
Potatoes are great if you're trying to put on weight, given that they're high calorie, high carb, and spike your blood sugar, but other than those benefits, there are few others.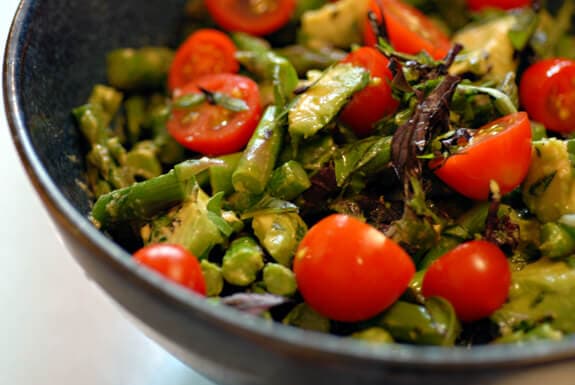 Recipe for Asparagus Salad with Tomatoes and Basil
This recipe for a vegetable salad with tomatoes, basil, and avocados is killer for potlucks, barbecues, and other top summer activities. It's also a family favorite!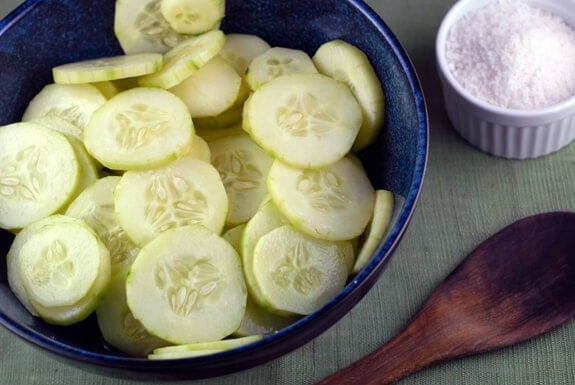 Recipe for Cucumbers with Vinegar
If you're looking for simple recipes to make in less than 10 minutes, my Recipe for Cucumbers with Vinegar is a win-win.
With only three ingredients –cucumbers, apple cider vinegar, and salt, you'll have this refreshing salad on the table in no time!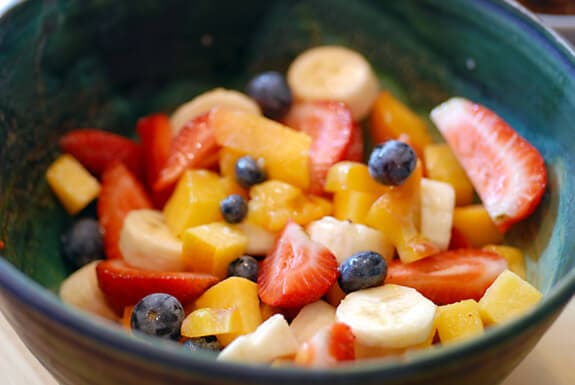 Easy Recipe for Fruit Salad
If you love a good recipe with few ingredients, that's easy to make, healthy, and a crowd pleaser, this Easy Recipe for Fruit Salad fits the bill!
Although it seems too simple to share here, it's one my boys asked for over and over again growing up.
Superfood Side Dishes Vegetarian
My Recipe for Slaw with Jalapeños and all of the superfood side dishes above are vegetarian and perfect for a crowd.
Side Dishes Low Carb
I've provided so many ideas for the perfect low carb side dish! I hope one of the easy healthy recipes above is the next superfood show stopper at your family gathering.
This Recipe for Slaw with Jalapeños is an oldie but goodie from the archives. I first shared it in 2010.