This delicious salad is full of a variety of flavors. The arugula is a buttery, bitter green and the oranges are sweet, sour and tangy. Spiking dinner salads with fruit is a great trick when it comes to getting children enthused about eating their greens. Works pretty well on green-phobic adults as well. My boys devoured this salad right alongside my husband and myself the other night at dinner.
This Orange Arugula Salad paired with Mustard Lime Chicken makes a delightful gluten-free (grain-free) spring dinner.
Speaking of which, we've had a gorgeous dose of warm weather this week and it sure is showing in my garden. The parsley and cilantro are growing like weeds around the yard (fabulous for juicing and spring's first green smoothies). The rosemary is coming back too. Not quite as vigorously; I haven't had great luck with bountiful bushes of rosemary here in Colorado. I suspect rosemary is happier in warmer climes.
Orange Arugula Salad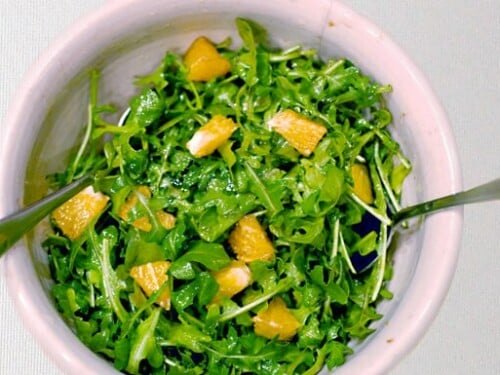 Print
Email
Pin Recipe
Instructions
Drizzle with olive oil and vinegar, then sprinkle with salt

Toss and serve
As some of you have figured out, I'm on Facebook. Even though my heart is in blogging, I do enjoy connecting with people in that new (well, new to me) medium. Sometimes I think Facebook is like having your life flashing before your eyes. Past, present and future. All wrapped up into one.
I've re-connected with so many old high school friends on Facebook (past). Traded chit chat with people that are in my life at present. And begun to make new connections (with many people from this blog!) over there as well. It's a bit of a trip. And so far, I like it.