The name of this cucumber salad really could be Bubby's Cucumber Salad. I learned to make it from my father's mother, an immigrant to this country, and an amazing woman. She helped my Dad's father run their butcher shop and was quite the business woman from what I can gather.
She also was an amazing cook. Her Matzo Ball Soup was incredible, as were so many of her other dishes.
We make Bubby's Cucumber Salad in my home all the time, and when I say we, I am being literal, the boys can whip this salad up in a jiffy, it's so easy. We like it best in the summertime, when its impact is extra refreshing. Go ahead, try some for yourself!
Cucumber Salad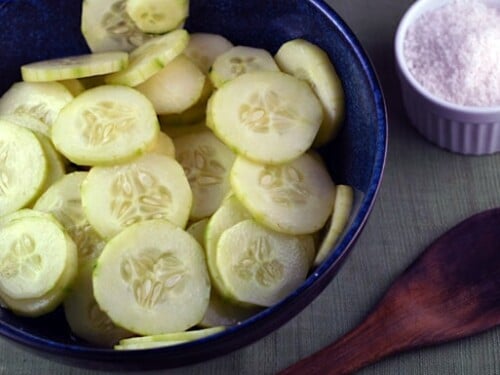 Print
Email
Pin Recipe
Instructions
Cut the cucumber into ¼ inch slices

Cover with vinegar and sprinkle with salt

Serve
Equipment
I'm really looking forward to my upcoming webinar with the editor of Allergic Living Magazine, Shelley Case, which will be on July 8th at 11am. More details to come. Hope you can tune in.
Finally, I've been thinking lately about discussing the reasons I went gluten free and why that eating plan has helped me in my healing process. I also may share some other strategies that I have used to rebuild my health. Is there anything that would be of particular interest to you? If so, leave a comment and I just might do a health related post in response to your question.