Keto Bread is the answer to your low-carb prayers. With 6 healthy ingredients, it's the perfect sandwich bread. Now you can make incredible keto sandwiches stuffed with roast beef, lettuce, dijon mustard, and primal kitchen mayo nestled between slices of toasted Keto Bread. This bread is baked in a regular size loaf pan and is as tall as a store bought loaf of bread. You're going to love it!
Easy Keto Bread Recipe
All you need to make this wonderful fluffy bread is almond flour, eggs, egg white protein powder, salt, baking soda, and cream of tartar. I use egg white protein powder in this recipe because it makes this bread incredibly fluffy and helps it to rise.
Keto Diet Recipes
You'll want to check out all of the low-carb high-fat (LCHF) recipes on my Keto Diet Recipes page.
Keto Bread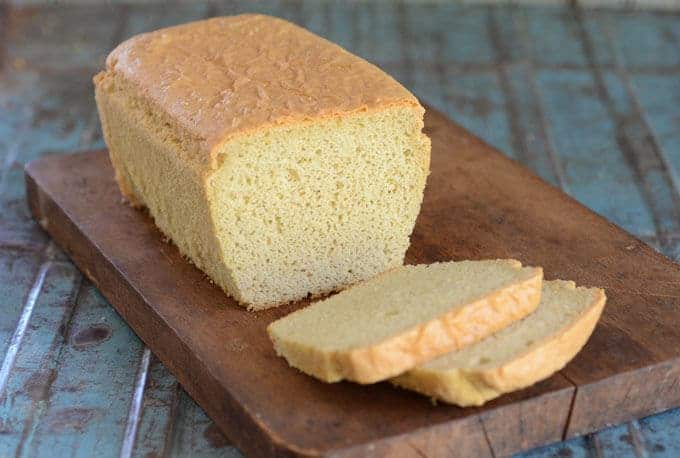 Print
Email
Pin Recipe
In a

food processor

, pulse almond flour, egg white protein, cream of tartar, baking soda, and salt

Pulse in eggs until smooth

Transfer batter into a greased

9 x 5 inch loaf dish

Bake at 350°F for 45-50 minutes, or until a toothpick stuck in the center comes out clean

Cool for 2 hours, then remove from pan

Serve
Prep Time 15 mins
Cook Time 45 mins
Total Time 1 hr
How To Bake Keto Bread
When you bake this bread, be sure to place the pan on a baking sheet. I've made this bread several dozen times and it hasn't ever overflowed from the loaf pan, but it is a very tall loaf and if your oven temperature is a little off either way it may cause your loaf to expand and overflow.
How To Store Keto Bread
To store this low-carb Keto Bread, let cool overnight, then wrap in a paper towel and place it in a ziploc bag. It will keep refrigerated for 1 week when stored this way. I haven't tried freezing this bread so not sure how long it would keep in the freezer.
Serving Suggestions for Keto Bread
Keto Bread is delicious plain and phenomenal with butter or ghee, but it's even better toasted!
More Low-Carb Bread Recipes
Here are some of my other low-carb high-fat (LCHF) bread recipes that you'll love!
---
Buy My Books!
---