How to Store Nut-Free Keto Bread
To store Nut-Free Keto Bread wrap it in a paper towel, seal in a plastic bag, and refrigerate for up to 1 week. This bread recipe is based on one by Laura Dolson. I made changes to her recipe, removing the artificial sweetener that was in it, as well as changing a couple of other items to come up with my Nut-Free Keto Bread recipe.
Easy Nut-Free Keto Focaccia Recipe
To make Nut-Free Keto Bread into focaccia, bake for 20 minutes in a 9×13-inch glass baking dish. As you can see in the photo below, it's a gorgeous keto focaccia. I created this savory topping with wholesome fresh herbs for this delicious Nut-Free Keto Bread. You can eat the keto focaccia plain, or proceed onward to toast and top it, making a delightful keto bruschetta.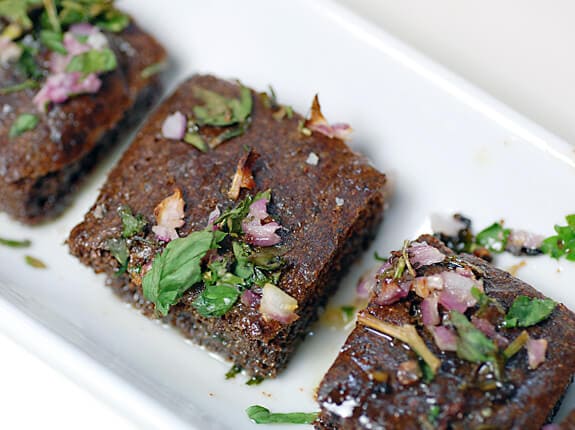 Looking Back to The Gluten-Free Almond Flour Cookbook
When I first published this recipe in July 2009, the boys and I were baking a lot together. We were really enjoying a summer full of baseball, jumping on the trampoline, bowling, board games, and walks to the creek. They were also helping me get work done for the launch of my very first cookbook, The Gluten-Free Almond Flour Cookbook, which received this lovely review from Delicious Living!
Keto Breakfast Recipes
Nut-Free Keto Bread is great with breakfast! Here are some other easy Keto Breakfast recipes for you!
This recipe is an oldie but goodie from the archives. I first shared it in 2009.
---
Buy My Books!
---