With just 4 ingredients –oil, onion, squash, and water, Butternut Squash Soup is a delicious comfort food that's easy to make! If you want a richer soup, use my homemade Bone Broth recipe in place of the water. Bone Broth will add protein as well as gut healing nutrients. Use water if you're making this easy soup recipe for your vegan friends. Vegetable stock will also work very well in this soup recipe for vegans.
When I make this Butternut Squash Soup I use a butternut squash that weighs around 2.5 pounds before I remove the peel and the seeds. If you use a larger squash your soup will be thicker and creamier. Likewise, if you use less squash, the soup will become more watery. This easy soup recipe is incredibly flexible and would be fantastic with acorn squash, butternut squash, or even pumpkin.
Butternut Squash Soup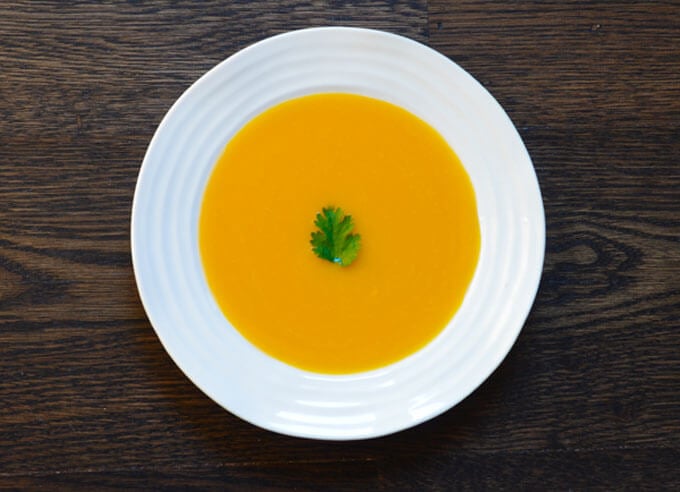 Print
Email
Pin Recipe
In a large soup pot, warm oil over medium heat

Caramelize onion, sauteing 10-15 minutes until golden brown

Add squash cubes and cook for 10 minutes, until squash is barely soft

Pour water or stock over squash mixture

Bring to a boil and simmer for 10 minutes

In a

vitamix

, puree in small batches on low, working up to high speed until mixture is smooth

Serve
Prep Time 10 mins
Cook Time 30 mins
Total Time 40 mins
This Paleo Butternut Squash Soup recipe is perfect for a cold winter's day. We've had a lot of those lately. I haven't worn anything outside but snow boots in all of 2007. And we just had our 7th snow storm in seven weeks. I don't mind, I was raised in California where we pretended that a heavy frost was "snow." Here's to staying warm with a big dose of healthy soup!
Here are some of my other healthy soup recipes: