Recently, a number of you let me know on Instagram that meal planning on a low-carb diet is a challenge. To help, I've put together 10 Easy Keto Dinner Recipes. Most of these dinners are also perfect for a Dairy-Free Diet! Contrary to popular belief, it's easy to follow a Dairy-Free Diet and Keto Diet at the same time.
10 Easy Keto Dinner Recipes
The Keto Diet isn't limited to bacon, cheese, and burgers. It consists of a diverse group of incredibly healthy high-fat foods, like salmon, coconut, and avocados! Now you can enjoy every meal while staying true to your low-carb, high-fat (LCHF) diet. With everything from Shepherd's Pie to quick and easy Salmon Burgers, you'll love this low-carb meal plan!
Beef Brisket
Beef Brisket with Mashed Cauliflower (pictured above) is a classic low-carb combination that uses antioxidant-rich cauliflower instead of starchy potatoes, a deadly nightshade. Here's what fans are saying about this amazing low-carb meal:
"I made this on Friday and there wasn't even a sliver left after it hit the table. I dearly love this recipe, it brought me right back to my childhood!"
Shepherd's Pie
This Paleo Shepherd's Pie is not the Shepherd's Pie your mother made for you growing up. Smothered in healthy cauliflower rather than high-carb potatoes, this meaty dish will satisfy the heartiest of appetites.
While mine is a fairly simple recipe, it takes a few steps to assemble and truth be told, it's a tad more complex than my other dinners. If you're looking for a super easy keto dinner recipe to throw together, try my Meatballs served over Spaghetti Squash. Fans adore them saying, "These are absolutely perfect in every way. They also freeze very well. I will keep these in regular rotation and will have some stashed in my freezer forevermore! They're the best Meatballs I've ever had!"
Mac and Cheese Skillet Casserole
If you're looking for low-carb pasta this Mac and Cheese Skillet Casserole is the dish for you. My favorite thing about it? This low-carb dinner is an easy one-pot meal!
Made with 9 ingredients total, including the salt and pepper, this scrumptious dish couldn't be simpler to throw together for an easy weeknight meal! This rich and creamy casserole can be made with beef or pork and leftovers are easily reheated the next day for a spectacular breakfast along with a side of scrambled eggs.
Green Chili Turkey Burgers
With 7 ingredients total, these low-carb loaded burgers are a cinch to make! We top this keto burger recipe with my homemade Guacamole to add some fat and then wrap it in a lettuce bun. Here's what fans have to say about my Green Chili Turkey Burgers:
"My husband and I are big fans and are very grateful that you have put in the time and love to create recipes that taste great. We never feel deprived anymore! Specifically, we make this turkey burger recipe along with your "No Potato" Salad and they go great together! Thank you, Elana!"
Mexican Chicken and Rice
Another fabulous one-pot meal, Mexican Chicken and Rice is full of south-western flavor and antioxidant-rich spices that will give your body a boost. Made with 8 ingredients total, this easy low-carb dinner recipe is one of my personal favorites.
I find dinners that are casserole-style and one-pot to be so soothing and comforting. This classic is great in the winter, but we love it so much we eat it all year round! Top with avocado or cheese to kick up the fat!
Baked Mustard Lime Chicken
Baked Mustard Lime Chicken has 8 ingredients total and could not be easier to make. Fans go wild for this easy dinner that's one of the top recipes on my site. Here's what people are saying:
"I tried this recipe today. The whole family loved it! It was truly delicious and I am so happy I found your website!"
I like to serve Baked Mustard Lime Chicken with Asparagus and Cauliflower Rice for a fiber-filled low-carb dinner. The sauce from the chicken is fabulous when soaked up on our plates by the Cauli Rice! This meal is super healthy and entirely satisfying.
Bacon Tart
The versatile Bacon Tart recipe from my third book, Paleo Cooking from Elana's Pantry can be made with turkey or pork bacon. The boys and their friends devour it! I love that the tart filling and crust are each made with 5 ingredients, so it's super easy to throw together!
Bacon Tart is wonderful made as mini tarts in a cupcake pan. All you need to do is grease a regular sized muffin tin, divide the crust between 12 muffin cups, and bake for 10-12 minutes. Then prepare the filling and spoon it into the baked crust, and do a final bake for another 22 minutes. Cool and serve and you have the most adorable Bacon Tartlet appetizers for a lunchtime cocktail party or evening soiree!
If bacon isn't your thing, I have an amazing Smoked Salmon Leek Tart in The Gluten-Free Almond Flour Cookbook that we often top with goat cheese.
Salmon Dill Burgers
Did you know I wrote my first low-carb cookbook in 2008 and it's known as the first grain-free cookbook from a major publisher? Fans tell me the The Gluten-Free Almond Flour Cookbook is a classic that they refer to and use daily, over a decade later!
With 7 ingredients total, the Salmon Dill Burgers from this book are a lovely dinner. If you don't have the book use the Salmon Wasabi Burgers recipe here on my website. Serve either of these burgers with a side salad smothered in my Green Goddess Dressing recipe.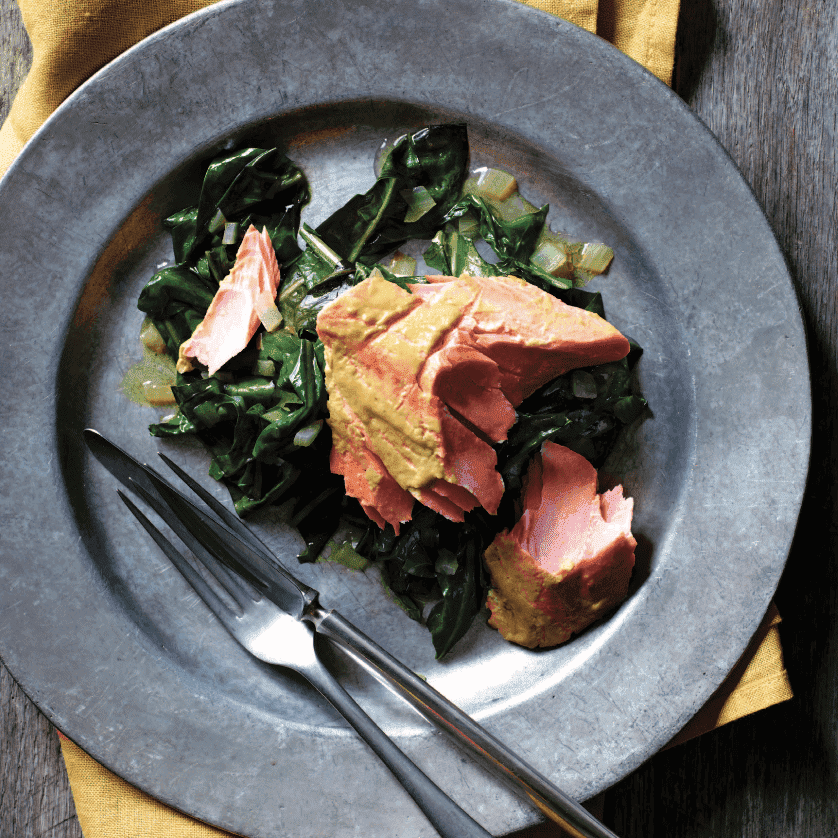 Mustard Salmon Fillet
The super tasty Mustard Salmon Fillet recipe from Paleo Cooking from Elana's Pantry is made with 2 ingredients total.
Serve with the Avocado Kale Salad (6 ingredients total) from page 46 of the same book. Pile on more avocado for a refreshing, yet hearty, high-fat meal, and drizzle an extra tablespoon or two of fresh olive oil over the salmon to kick up the fat content another notch! We make this dish all year round, but it's especially good in the early summer when wild salmon is in peak season. If you don't have the book you can make the Salmon with Anchovy Olive Tapenade recipe here on the website.
Eggplant Parmesan
My older son and I have celiac disease and to keep us safe our kitchen is gluten-free. Since Eggplant Parmesan is my husband's favorite dish I had to create a gluten-free, grain-free version that all of us could partake in for his special birthday dinner.
This low-carb Eggplant Parm is so good though that I make it all year long. You can find the recipe on page 58 of The Gluten-Free Almond Flour Cookbook. You'll also love the low-carb pizza on page 57 of the book, made with a healthy, LCHF almond flour crust.
Nutrition Information
If you're counting macros, I provide nutrition information for the recipes in my latest book, Paleo Cooking from Elana's Pantry. It's all in this handy sheet that you can preview (and download) right here. This book is full of beloved fan-favorite recipes that are the easiest you'll find anywhere!
I've gone a bit overboard with these 10 Easy Keto Dinner Recipes, 'cause I've shared enough for 2 weeks of dinners. I hope you love them as much as we do! What's your favorite? Which will you make first? Leave a comment and let me know!