I love to eat salmon. Actually, I love the idea of eating salmon. All those good omega 3's. Lately, I've been on a quest to create salmon toppings that disguise the fishy flavor. Here's one that worked well.
Salmon with Anchovy Olive Tapenade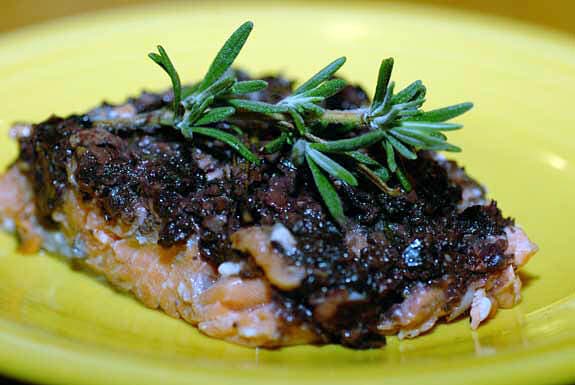 Print
Email
Pin Recipe
4 (4 ounce) fillets wild salmon
¼ cup lemon juice, freshly squeezed
1 tablespoon salted anchovies, chopped
1 tablespoon rosemary, minced
1 cup black kalamata olives, pitted
2 cloves garlic, minced
2 tablespoons olive oil
Rinse salmon fillets, place in a

7 x 11 inch baking dish

and drizzle with lemon juice

In a

food processor

, place anchovies, rosemary, olives, garlic and olive oil; pulse until mixture turns into a coarse paste

Spread paste over fillets and marinate 2- 6 hours; if short on time, skip marinating time

Bake at 350°F for 15-20 minutes

Serve
Prep Time 20 mins
Marinate Time 2 hours
Cook Time 15 mins
Total Time 2 hrs 35 mins
This gluten-free salmon recipe is great, though particularly tasty in summer when the salmon can be grilled outdoors instead of baked in the oven.