This is the bread recipe that changed my life –well, at least temporarily, in a small way.  As you will see from the bruschetta below and more recipes in the days to come, I have turned this focaccia bread base into several other interesting types of baked goods.
First, however, I  do need to disclose that this focaccia recipe is really not my own.  It is Laura Dolson's and was pointed out to me by someone in the low carb group that I frequent regularly.  I made minor changes to it, removing the artificial sweetener and a couple of other items.
I'm now on a flax kick –this flat type bread is full of super healthy fiber and is delicious to boot.  And since it is so very nourishing I was a bit surprised that my guinea pigs liked it every bit as much as I did.
Flax Focaccia Bread Base
Instructions
In a large bowl combine flax meal, baking soda, cream of tartar and salt
In a smaller bowl, mix together agave, eggs, water and olive oil
Stir wet ingredients into dry, mixing well, then allow to stand for 2-3 minutes so that batter thickens
Pour batter into a 9 x 13 inch baking dish
Bake at 350° for 20 minutes or so until a knife comes out clean
Remove from oven and cool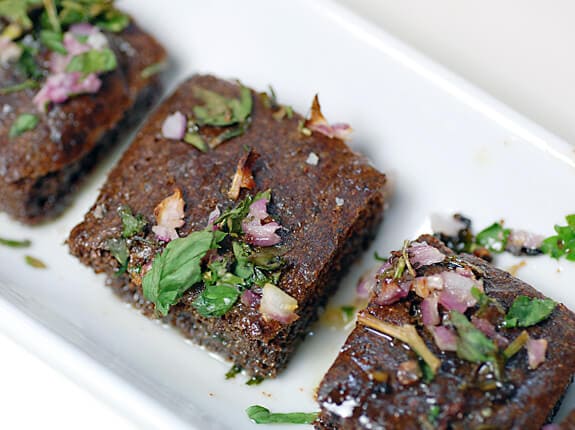 Note: After reader feedback and a retest of this recipe, I lowered the amount of baking soda from 2 teaspoons to 1 and the amount of cream of tartar from 1 teaspoon to ½ the bread still rises very nicely with these new amounts of baking aids.
As I mentioned, the recipe above is my version of Laura Dolson's low carb bread.  However, the creation below is 100% my own. So, go ahead and eat the above bread plain, or proceed onward to toast the bread and make a delicious savory topping for it with wholesome, fresh herbs.
Rosemary Parsley Topping
Ingredients
1 batch focaccia
1 small onion, minced
¼ cup parsley, finely chopped
1 tablespoon rosemary, minced
¼ cup olive oil
Instructions
Slice focaccia bread into squares and place on a parchment lined baking sheet
In a small bowl, combine onion, parsley, rosemary and olive oil
Spoon mixture onto bread squares
Bake at 350° until onions are browned
Remove from oven and bread will be crunchy; drizzle with more olive oil if desired
Serve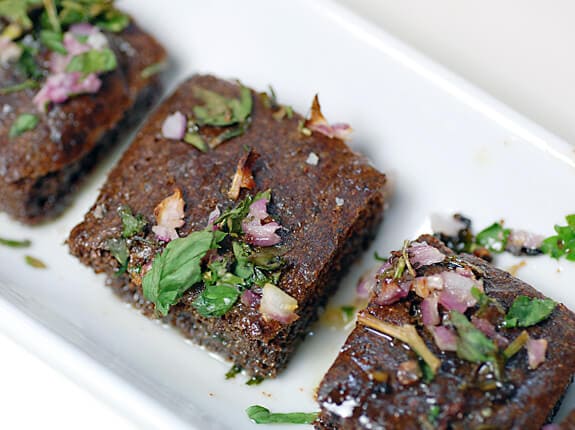 The boys and I have been baking a lot and really enjoying summer.  It is full of baseball, jumping on our trampoline, bowling, board games and walks down to the creek.  We are having an amazing time.
They have also been fabulous sports in helping me get work done for the launch of my book.  The countdown for my book is on (it hits retailers this Tuesday, July 28th), however, I have heard from a couple of folks that it is already on the shelves of some stores.
And today the book received this lovely review from Delicious Living.