Over the years, I've been called the Queen of Almond Flour, but after trying my incredibly healthy yet decadent Brownies with Almond Flour recipe you'll want to call me the Brownie Queen!
Brownies with Almond Flour
These ultra-rich Brownies with Almond Flour are so good that they've knocked the socks off even the most die-hard gluten and sugar loving brownie fans.
Recipe for Gluten Free Brownies
All of my taste testers said they could not believe these ultra rich brownies were not only gluten free but grain free and refined sugar free as well.
Brownies Recipe from Scratch
Made with only eight ingredients, you can throw this brownies recipe from scratch together in a few minutes!
Yes, this is another one of my no fuss recipes.
Brownies Ingredients
To make Brownies with Almond Flour, you'll need almond flour, dark chocolate, coconut oil, dates, eggs, stevia, salt, and baking soda. That's it!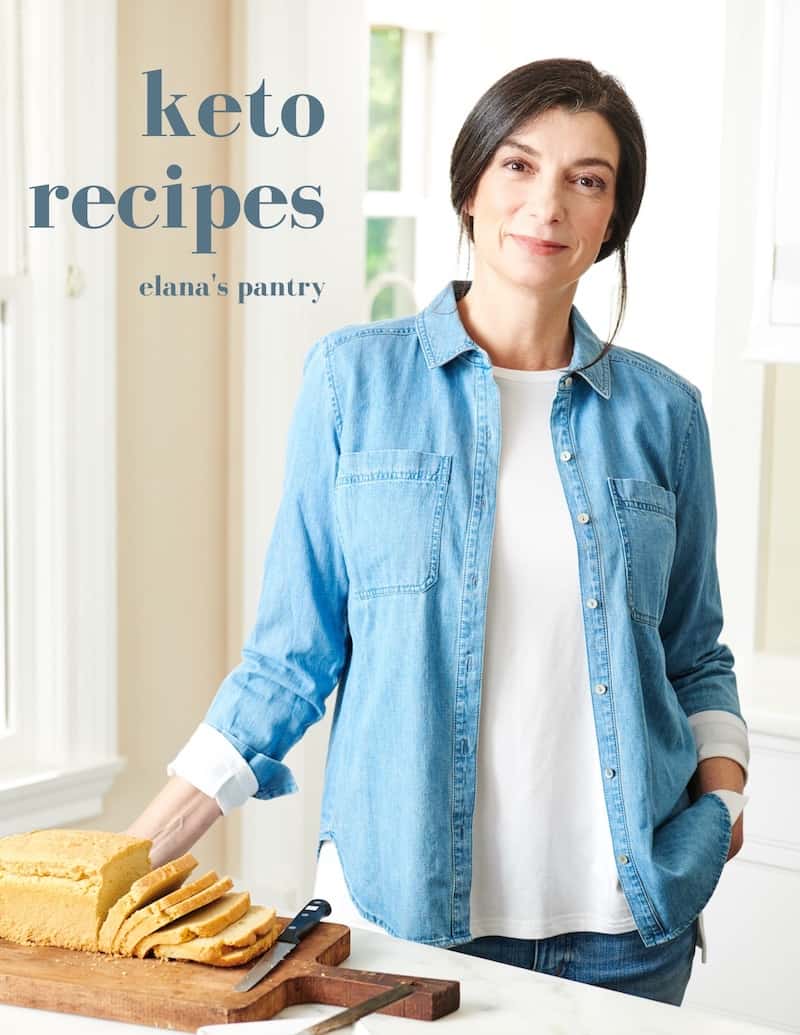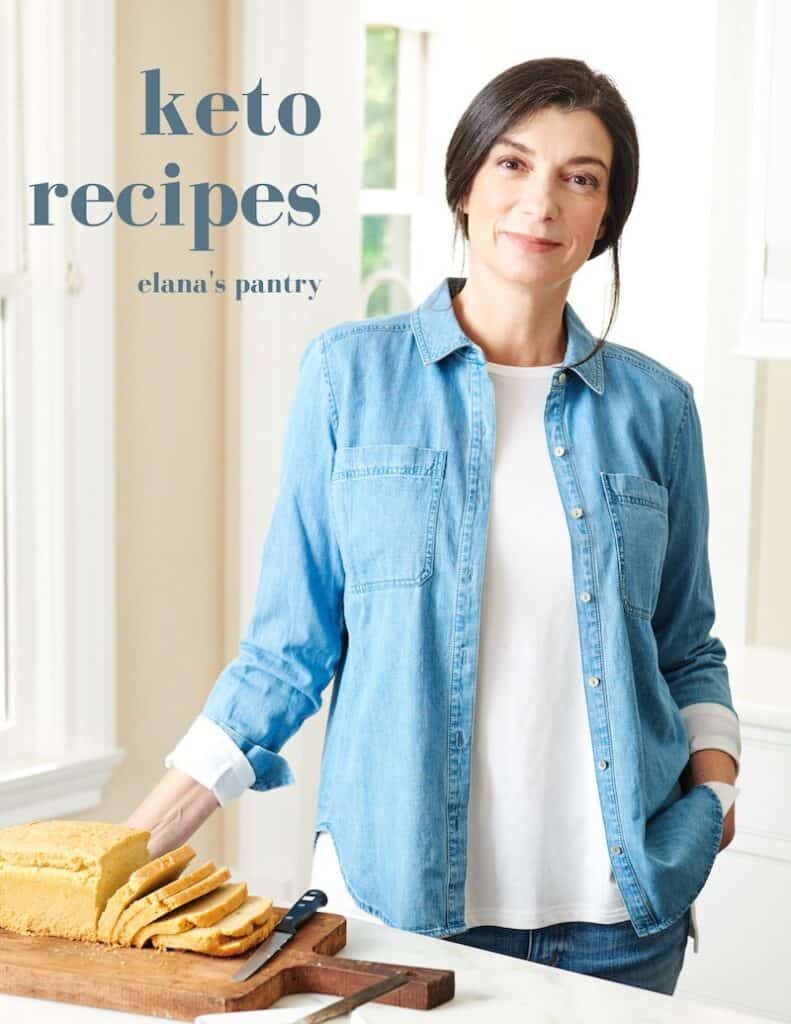 Get My Keto Recipes eBook
Free exclusive eBook, plus recipes and health tips, delivered to your inbox.
Chocolate Brownies Recipe
The base of this recipe is super dark chocolate that's 100% cacao with no added sugar, blended into coconut oil.
These two delicious yet healthy fats make this the ultimate brownie recipe.
Recipe for Healthy Brownies
Sweetened with a mere seven dates in the entire batch of brownies and a touch of stevia, this Brownies with Almond Flour recipe will soon be your go-to low carb dessert.
Brownies with Almond Flour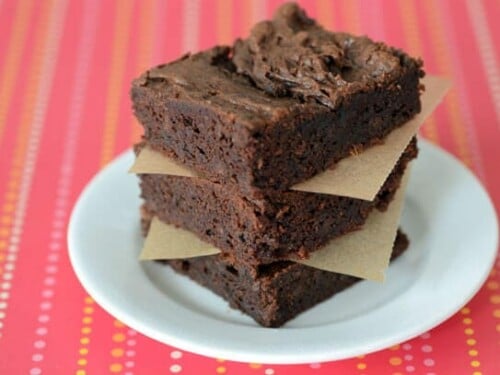 Print
Email
Pin Recipe
Instructions
In a

food processor

, pulse together almond flour, salt, and baking soda

Pulse in dark chocolate until texture of coarse sand

Pulse in dates until texture of coarse sand

Pulse in eggs, coconut oil, and stevia until mixture is smooth

Bake at 350°F for 18-22 minutes

Cool for 2 hours

Serve
Fudgy Brownies
The dates that I've used in this Brownie with Almond Flour recipe have been beautifully moist, which makes the batter come out perfectly fudgy.
The recipe won't work with dry dates that have been sitting around in your pantry for months.
Almond Flour Brownies Calories
| | | | | | | |
| --- | --- | --- | --- | --- | --- | --- |
| | Calories | Carbs | Fiber | Net Carbs | Protein | Fat |
| 1 Brownie | 162 | 9g | 2g | 7g | 3g | 13g |
If you're on a low carb diet and in need of Keto Diet Healthy Recipes, the table above is for you.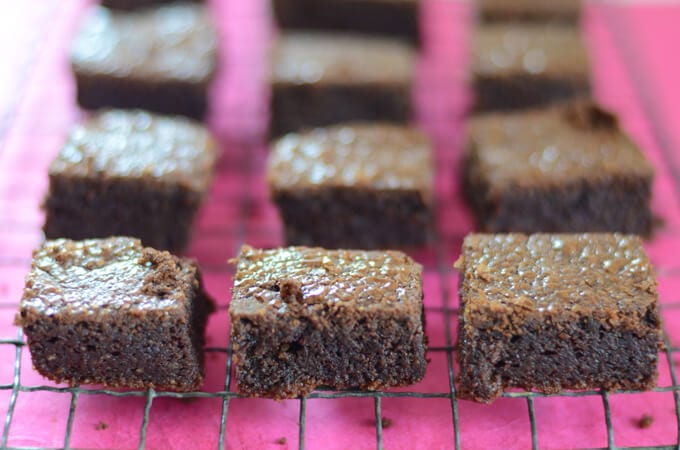 Keto Brownies
My Keto Brownies are even lower in carbs than the recipe above.
They're made with a base of high fat macadamia nuts, along with salt, baking soda, dark chocolate, coconut oil, erythritol, eggs, and vanilla stevia.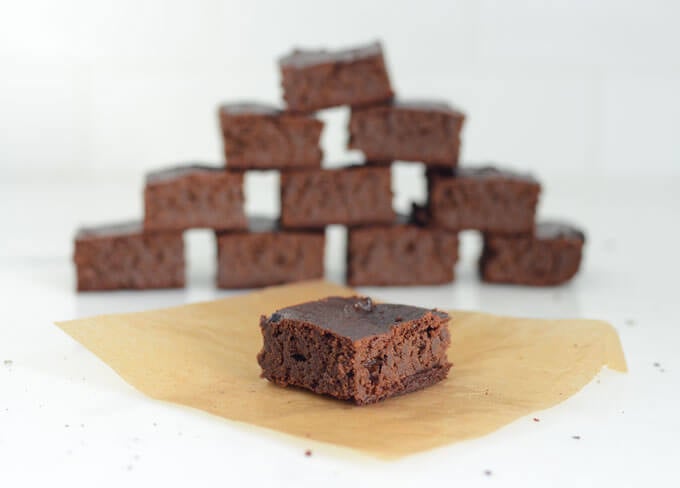 Brownies Egg Substitute
What's better than a brownies egg substitute? My egg free brownies.
Here, I've done the work for you, so there's no need to mess around with a substitute that may or may not work.
My egg free brownies are actually called Everything-Free Brownies because they're also nut free and dairy free.
And don't forget that they're grain and gluten free too!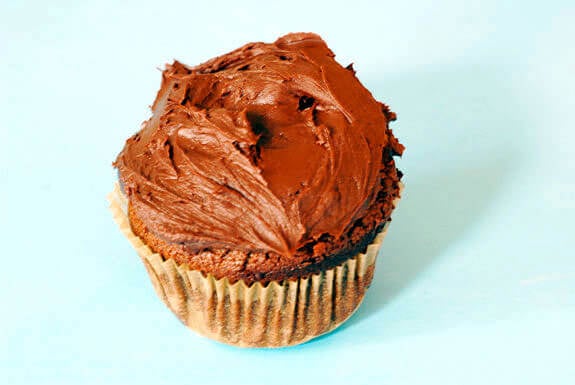 Brownies with Frosting
Frosted brownie fan? If you're looking for brownies with frosting, I highly recommend my Chocolate Frosting.
It's not just for cupcakes anymore!
Healthy Brownies Recipes
Brownies are one of my husband's favorite desserts, so I make them quite often.
He loves chocolatey treats, and I love that he's getting a healthy dessert rather than processed junk food.
Below are my favorite healthy brownie recipes!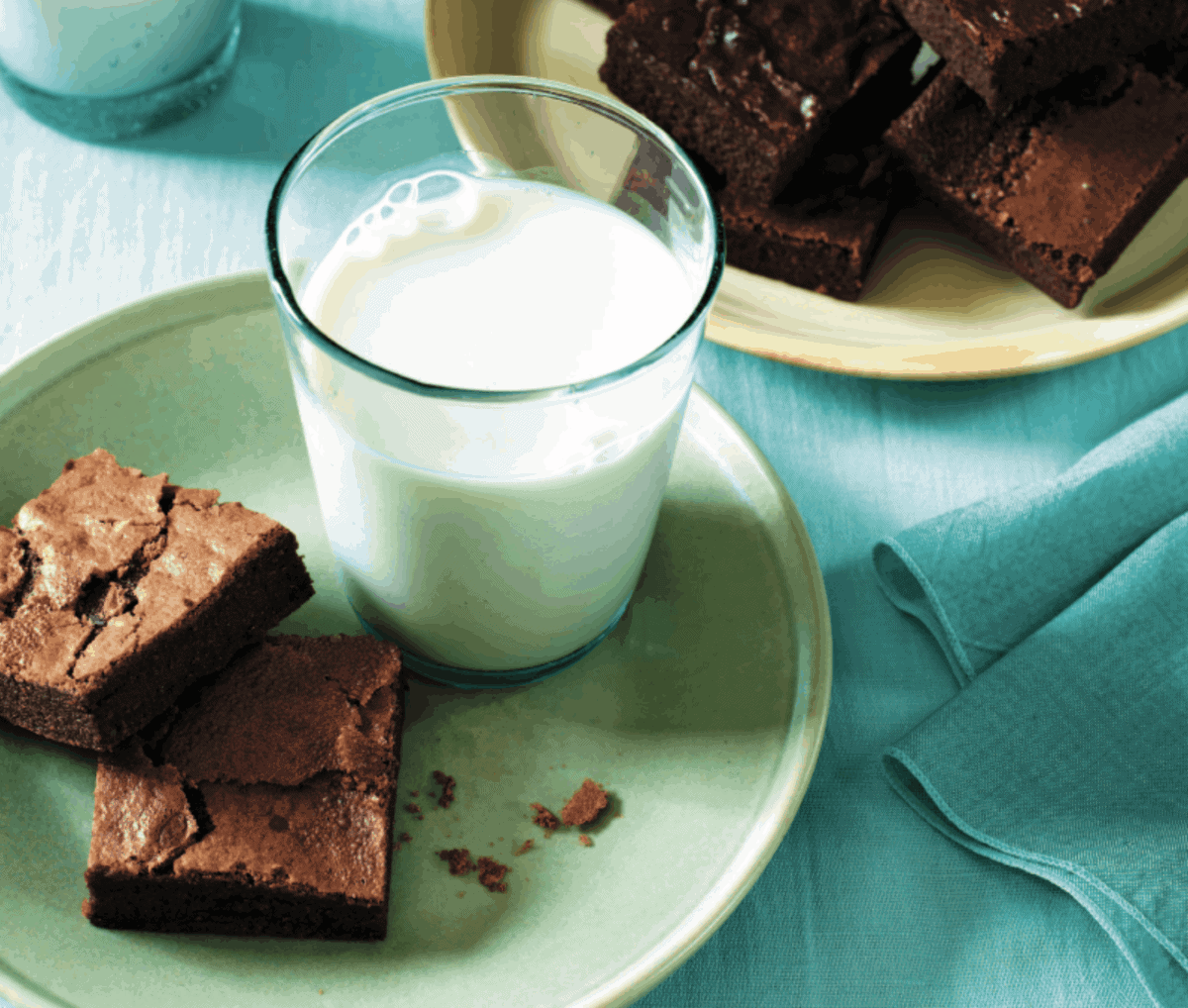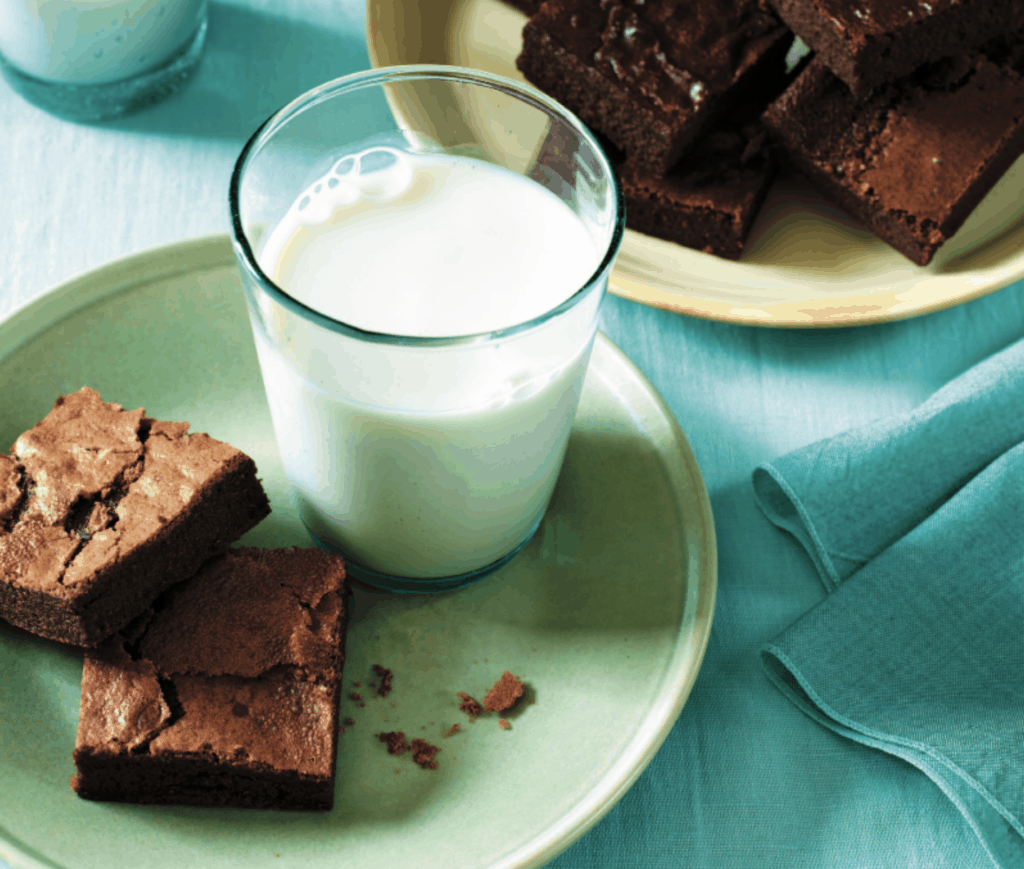 Brownies Easy
The five-ingredient brownie in my latest book, Paleo Cooking from Elana's Pantry, is a fan favorite.
These healthy brownies are not only flourless and nut-free, they're also super easy to throw together.
All you need to make these are chocolate chips, shortening, coconut sugar, eggs, and vanilla extract.
Have you used chocolate chips in brownies? It creates a super-rich and gooey texture. Time to get baking!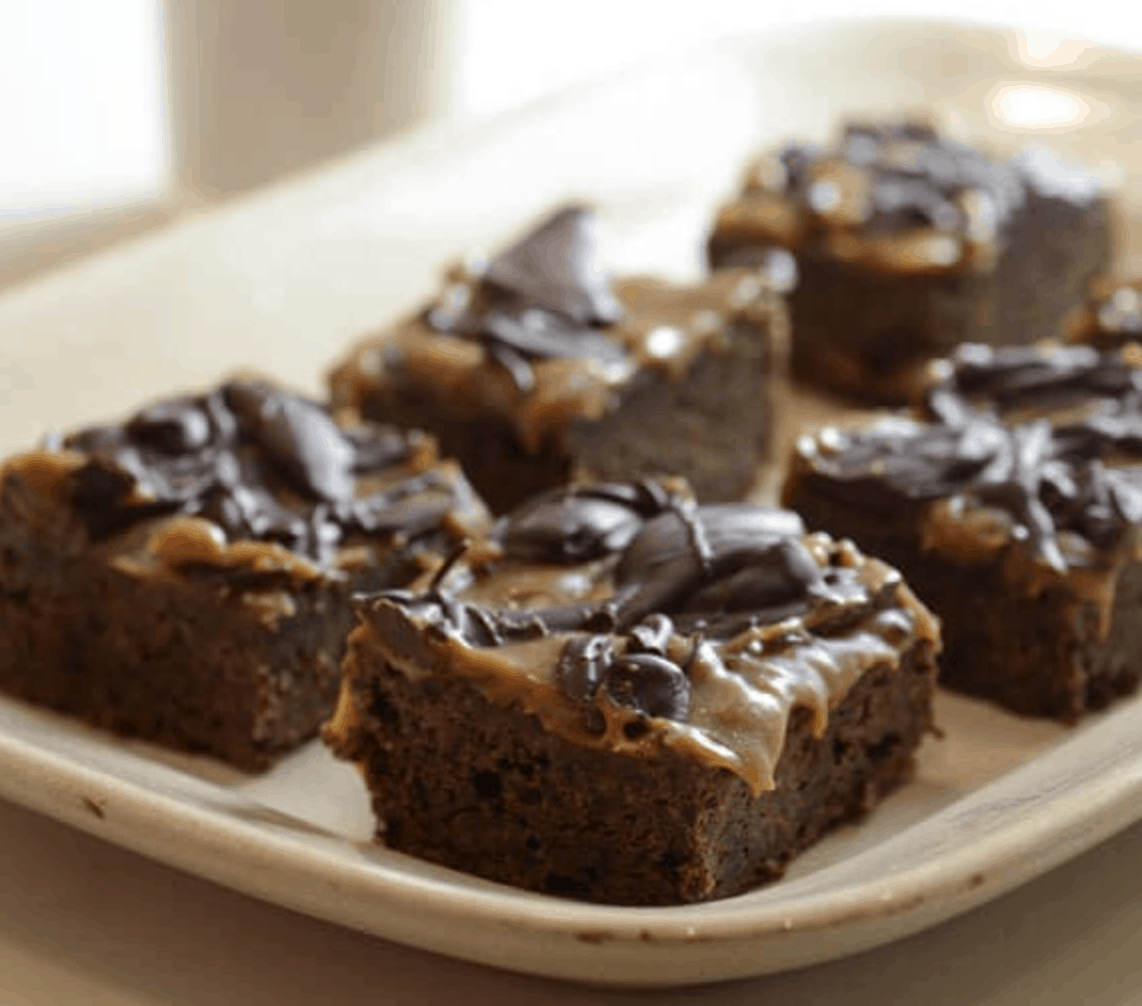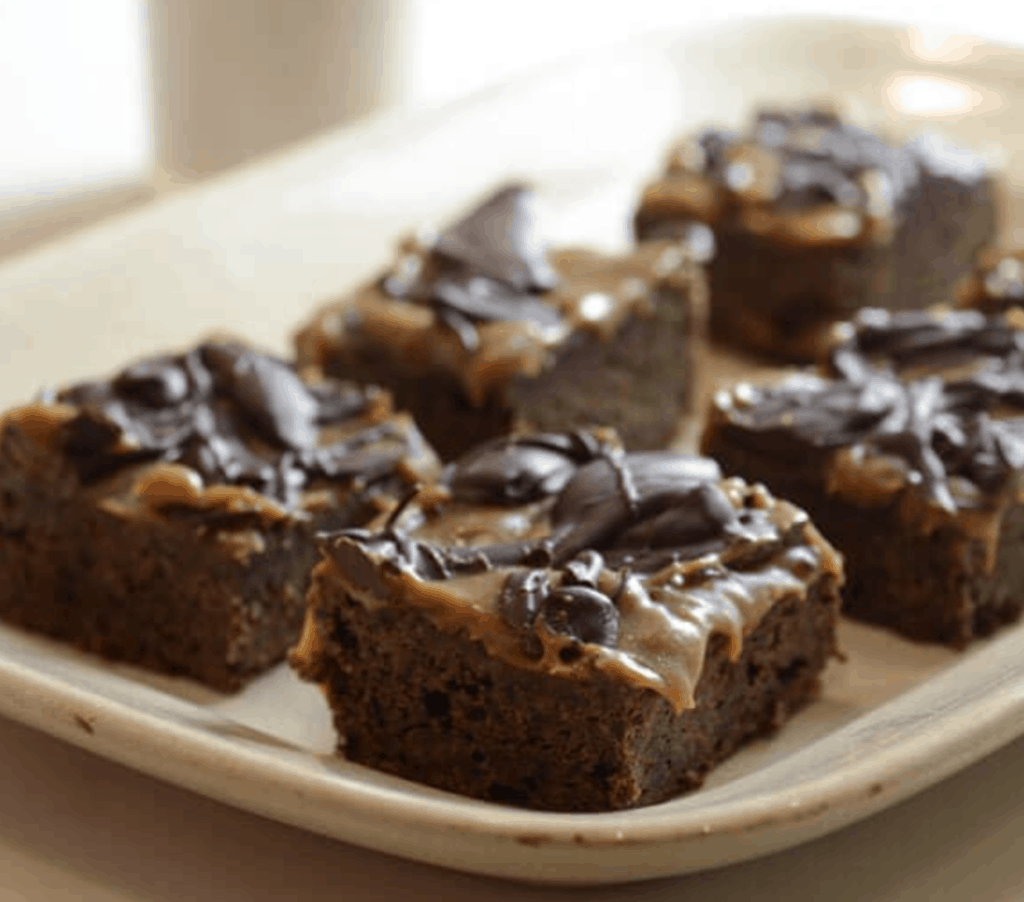 Caramel for Brownies
My Caramel Brownies knock it out of the park –Mr. Pantry goes crazy for these. Just think:
Brownies with Almond Flour (see recipe above)
Need I say more? This is one of my family's most requested desserts.
I know your family will love them as much as we do. Brownie points all around!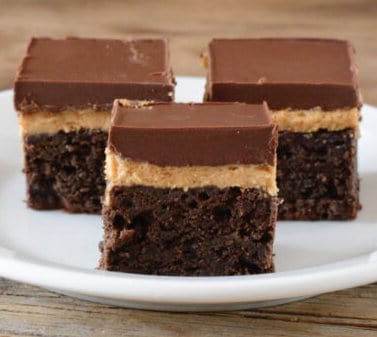 Brownies with Peanut Butter
Want to elevate my delicious Brownies with Almond Flour yet again?
How 'bout peanut butter and a thick layer of chocolate ganache? Heck yeah.
My Buckeye Brownies with Peanut Butter are little brownie bites of heaven and so easy you'll want to make them over and over again.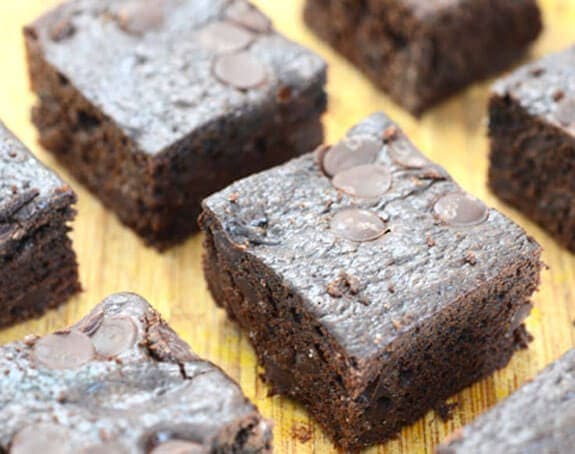 Brownies a la Mode
Are you a fan of brownies a la mode? We are.
Heap a scoop of my Vegan Vanilla Ice Cream over my Nut Free Brownies, and you've got the perfect allergen free treat for parties.
My Nut Free Brownies in the photo above are made with a base of sunbutter, plus cacao, chocolate chips, eggs, and a hint of maple syrup.
This rich flourless brownie is quite the crowd pleaser.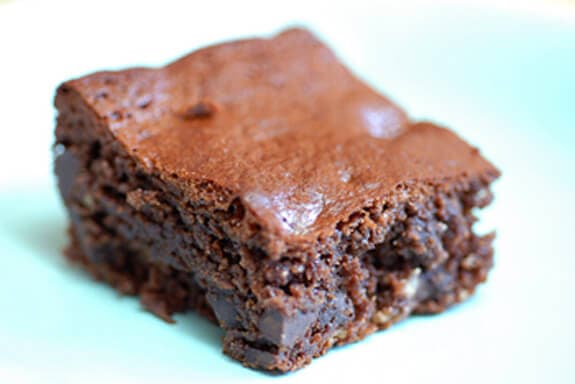 Brownies Recipe Cocoa Powder
Have you ever made brownies with cocoa powder? If not, you're in for quite a treat.
The magical Brownies above are made with a base of cocoa powder and almond butter and pack a high protein punch.
They're so healthy you could eat them for breakfast!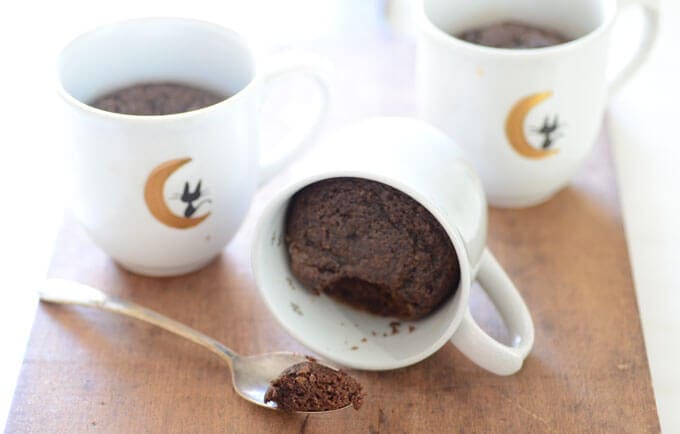 Brownies in a Mug
Mug cakes won't ever go out of style in this house. We love this single serve treat.
My five ingredient Mug Cake is so similar to a cake like brownie that I had to feature it here as an easy Mug Brownies recipe option for you.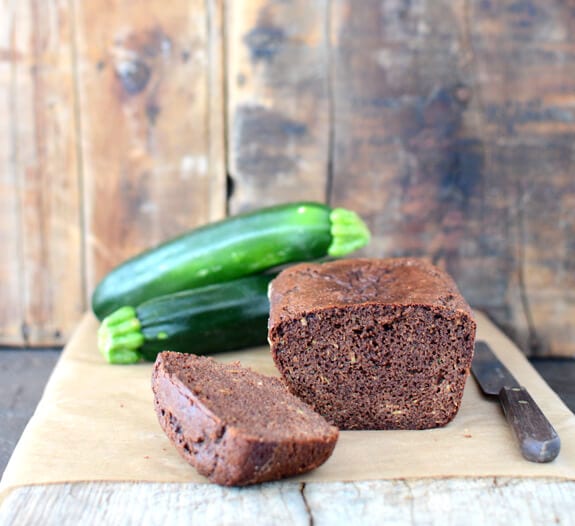 Brownies Zucchini
My Chocolate Zucchini Bread is a fan favorite because it tastes like Hoho's when smothered in Homemade Whipped Cream.
Change this bread to brownies by placing the batter in an 8×8 baking dish.
Reduce the baking time to 18-22 minutes, and voila, your brownies with zucchini dreams will have come true.
Best Healthy Brownies Recipes
What's your favorite brownie? Are you an ooey-gooey brownie fan or more of a cake brownie fan?
Leave a comment and let me know!
This post is an oldie but goodie from the archives. I first shared these Brownies with Almond Flour in 2013