My husband, Mr. Pantry, says peanut butter and chocolate are a match made in heaven. He swears by these Low-Carb Peanut Butter Brownies, calling them the ultimate dessert, though he's been known to eat them for breakfast. That's fine given that this is a healthy brownie made with numerous super foods to fuel you throughout the day.
Low-Carb Buckeye Peanut Butter Brownies
Looking for a classic low-carb dessert recipe that everybody loves? My Buckeye Peanut Butter Brownies will do the trick. This showstopping brownie recipe looks complicated, but those of you who've followed me for a while know that I wouldn't ever give you anything but the easiest of recipes. Right?!
Easy Low-Carb Peanut Butter Brownies Recipe
These amazing grain-free dark chocolate brownies are covered in a thick layer of peanut butter fluff, then topped with rich chocolate ganache. Is your mouth watering yet? The base of my Low-Carb Buckeye Brownies is my fan favorite almond flour Paleo Brownie recipe, sweetened with dates.
Can I Use Sunbutter Instead of Peanut Butter?
If you have a peanut allergy you may be wondering, can I make Buckeye Brownies with sunbutter instead of peanut butter? I haven't tried that in this recipe, so I can't be certain, but I'm guessing it will work. If you do experiment, leave a comment with your results.
Low-Carb Buckeye Peanut Butter Brownies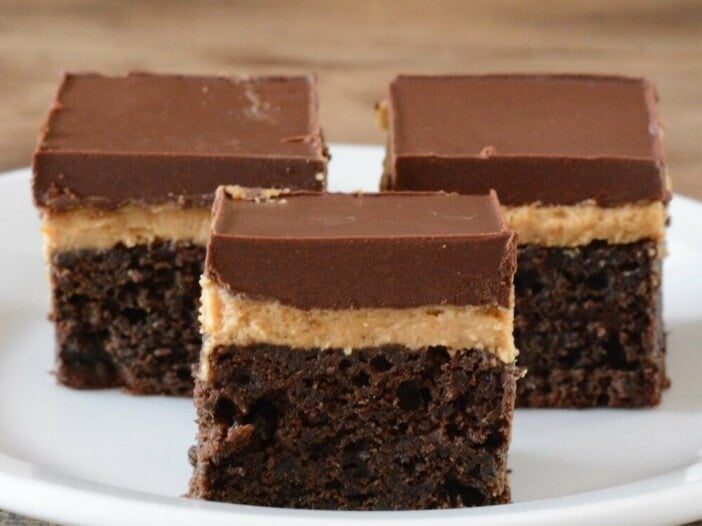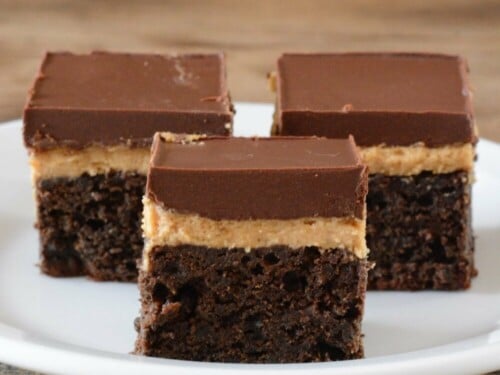 Print
Email
Pin Recipe
Instructions
Bake the brownies and let cool 1 hour while making peanut butter fluff

Use a

hand blender

with whisk attachment to blend until smooth

Transfer fluff to top of brownies, spreading until smooth

In a

saucepan

over very low heat, melt chocolate, shortening, and stevia

Pour chocolate ganache over peanut butter fluff

Refrigerate 30 minutes to let chocolate firm up a bit, then slice

Refrigerate 30 more minutes so chocolate can set

Serve
Fridge Time & Resting Time
2

hours
Total Time
2

hours
20

minutes
What Is A Buckeye?
Anyone who loves the combination of peanut butter and chocolate, needs to know the answer to one question. What is a buckeye? That's a simple story my friends, and it involves the state of Ohio. Buckeyes come from the buckeye tree, the official state tree of Ohio, also referred to as the horse chestnut tree. A buckeye is a small, shiny dark brown nut with a light tan patch at the top. What does this have to do with low-carb brownies, you may ask.
Low-Carb Buckeye Candy?
Well, the buckeye resembles a chestnut, and is the inspiration for a type of candy that is basically a ball of peanut butter fudge dipped in chocolate. See? we're getting there! I've taken the concept of buckeye candy and turned it into a brownie for you. Maybe I'll make a low-carb buckeye candy for you next. Would you like that? If so, leave a comment below!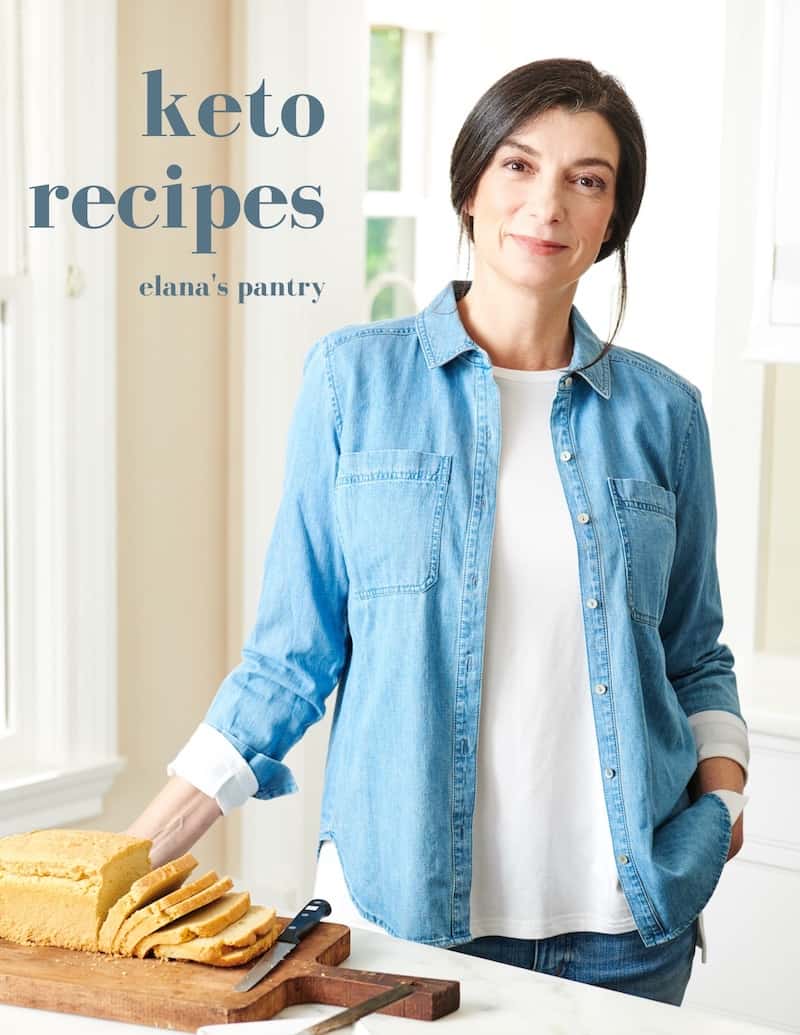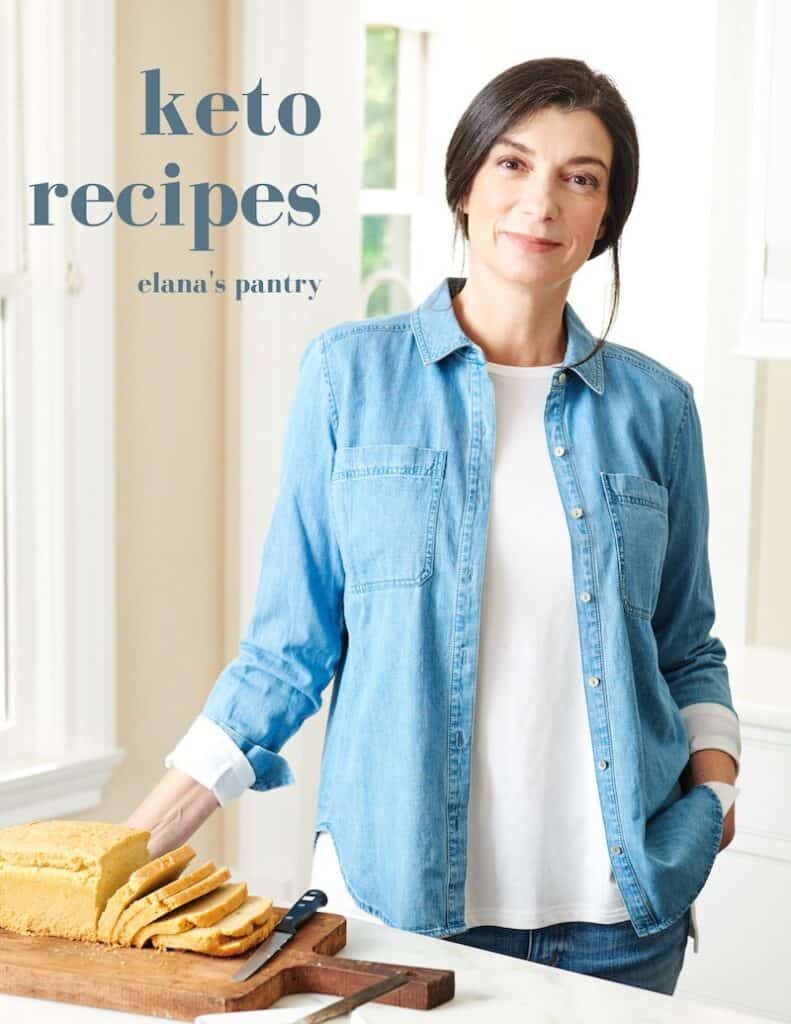 Get My Keto Recipes eBook
Free exclusive eBook, plus recipes and health tips, delivered to your inbox.
What Are Buckeye Brownies?
Full disclosure, dear reader, I am not the first to create buckeye brownies, nor I suspect, will I be the last. I may be the first to create a gluten-free, grain-free, dairy-free, low-carb Buckeye Brownie, though truth be told, there are millions of recipes on the internet, so I cannot make this claim with any certitude. I would guess this would be the easiest Buckeye Brownie recipe you'll find, because I've been food blogging for quite a long time, since 2006 in fact, and have a knack for writing the easiest recipes in the world. At least that's what I'm told.
What's Your Favorite Chocolate Peanut Butter Dessert?
Now it's your turn! What's your favorite chocolate peanut butter dessert? Leave a comment and let me know and I just might turn it into your favorite new low-carb classic.