Almonds are a superfood and highly nutritious. I love baking with almond flour, and wrote the The Gluten-Free Almond Flour Cookbook in 2008. Fans often call me the "Queen of Almond Flour." Still, I sometimes get requests for nut-free paleo dessert recipes and often people need egg-free recipes as well. There are as many food allergies as there are colors in the rainbow. That's why I created this easy paleo brownie recipe! It's for all the nut-free, egg-free, refined sugar-free, gluten-free, paleo vegans in my life. You keep me on my toes! And I love it.
This recipe uses sunflower seed butter, which is similar to nut butter, though totally nut-free. Sunflower seed butter is gluten-free, high-protein and made from highly nutritious sunflower seeds. You didn't think I was going to use rice flour to make these paleo nut-free brownies, did you?! I'm still as grain-free as I've ever been since I went on a paleo diet in 2001. All of the recipes on this website are gluten and grain free recipes.
Vegan Nut-Free Gluten-Free Brownies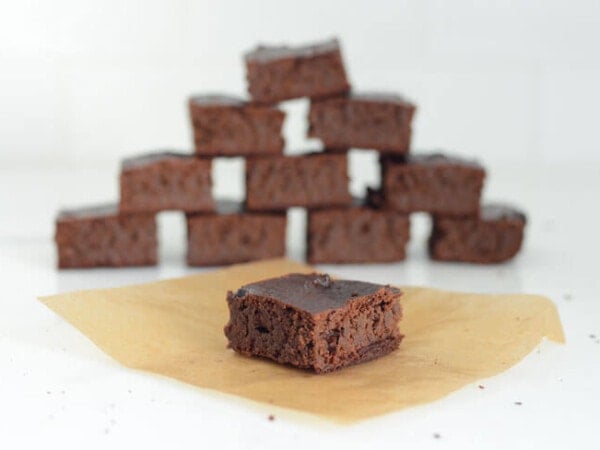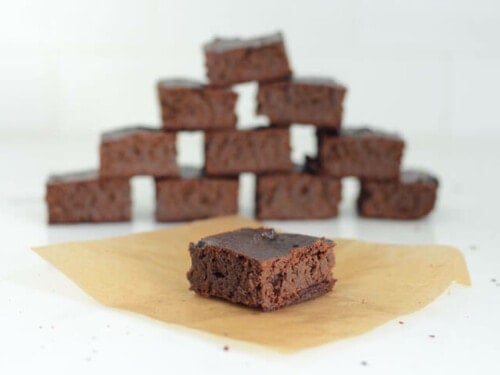 Print
Email
Pin Recipe
Instructions
In a

food processor

, combine bananas, sunbutter, and chia seed mixture

Pulse in coconut oil, honey, xylitol, stevia, and vanilla until smooth

Pulse in cacao, salt, and baking soda

Bake at 350°F for 30-45 minutes

Serve
These Vegan Nut-Free Gluten-Free Brownies are based on a gluten-free brownie recipe that was posted on my Facebook page. That recipe used ½ cup of honey which is a little much for where my blood sugar is at these days. So I decreased the amount of honey and added in some xylitol and stevia. I also increased the fat and made a couple of other changes to the recipe. This is a very fudgey brownie –it won't seem totally cooked through when you pull it from the oven. I took mine out when the edges were just about to burn, that was how I determined it was done.
Now, a word of caution. Do not feed this dessert to your pets. Chocolate and xylitol are highly toxic to animals. Have any of you been feeding my other desserts to your pets? If so, why are you doing this? Please leave a comment and let us know!
If you love these gluten-free, grain-free, egg-free, nut-free, refined sugar-free, everything-free brownies, you'll love these desserts: