When I was a child I loved crackers. I especially loved Wheat Thins. I can't have those anymore. So I've made my own paleo Wheat Thins recipe. This egg-free, gluten-free cracker recipe reminds me of the yummy little crackers in the yellow box of my childhood. The ones that weren't gluten-free.
We ate Wheat Thins back in the day, before we knew about celiac disease and the gluten-free diet. Before my mother was diagnosed with celiac disease. Before I was diagnosed, and my son, and my sister. Before this auto-immune disorder wreaked havoc on my family. The good news? Treating celiac disease is as easy as going on a gluten-free diet, and now we all are.
This easy cracker recipe is made with leftover almond pulp, not almond flour. It's a super easy paleo cracker recipe to have on hand after you make my paleo Almond Milk recipe. I bake this cracker recipe in the oven for 20 hours. During this time the oven pushes in heat every now and then to maintain this very low temperature. I do not make it in a dehydrator, as I do not own one. If your oven does not go as low as 135° simply bake the crackers for a shorter time at a temperature that is a little bit higher and keep an eye on them.
Wheat Thins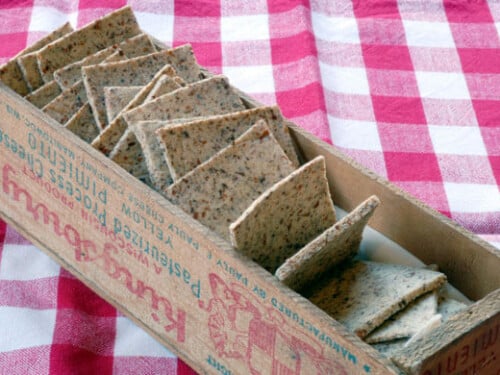 Print
Email
Pin Recipe
Instructions
Roll dough into a ball, press between 2 sheets of

parchment paper

and roll to ¼-inch thickness

Transfer bottom piece of parchment paper with rolled out dough onto

baking sheet

Bake at 135°F for at least 20 hours, or until crunchy

Let crackers come to room temperature on baking sheet, then serve
Below are some of my other easy paleo recipes for you! If you are looking for egg-free paleo recipes check out my Egg-Free Recipes page.