This Perfect Roast Chicken recipe has 8 ingredients and is a breeze to make. All you need is a whole chicken, garlic, onion, thyme, lemon, salt, pepper, and olive oil.
I often make this easy chicken recipe on Mondays because it's so simple. I assemble all of the ingredients in the late morning or early afternoon, and then throw it in the oven to bake before dinner. Every time I make this healthy chicken recipe I save the carcass and make a big batch of my homemade Chicken Bone Broth recipe in a crockpot. I keep some of the bone broth in the refrigerator, and the rest in the freezer. I love using the bone broth for snacks and in other dinner recipes throughout the week.
Perfect Roast Chicken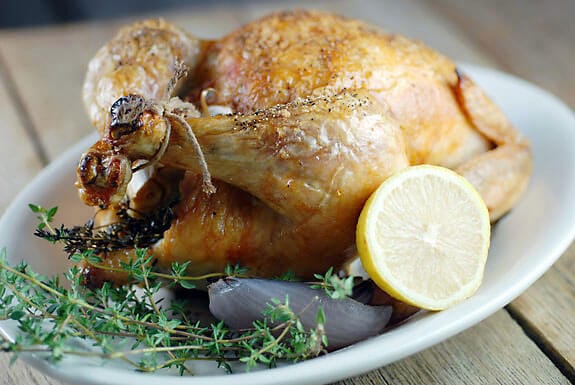 Print
Email
Pin Recipe
1 whole chicken, 2-3 pounds
freshly ground black pepper
1 bunch fresh thyme
1 lemon, halved
1 in head garlic, cuthalf crosswise
2 tablespoons olive oil
1 medium onion, quartered
Preheat oven to 425°F

Remove chicken giblets and rinse chicken inside and out

Pat chicken dry

Liberally salt and pepper inside of chicken

Stuff cavity with bunch of thyme, both halves of lemon and all garlic

Brush outside of chicken with olive oil and sprinkle with salt and pepper

Tie legs together with

butcher's string

and tuck wings under body of chicken

Place each onion quarter into a corner of dish

Roast chicken for 1½ hours or until juices run clear

Allow to cool slightly and serve
Prep Time 20 mins
Cook Time 1 hr 30 mins
Total Time 1 hr 50 mins
My version of Perfect Roast Chicken is based upon one from Ina Garten. While Ina's recipe for Perfect Roast Chicken calls for wheat flour, chicken stock, and butter, mine is a tad simpler and gluten-free as well. My boys adore this roasted chicken recipe and I think you will too!
Here are some paleo side dishes that we serve with this easy paleo chicken recipe!