My boys love these Paleo Carrot French Fries hot out of the oven. I like baking them as it eliminates the messy splattering that results from the typical preparation of French fries –frying.
Speaking of messes, I feel like I'm cleaning up a lot of them these days. Writing a book this summer really threw me for a loop. First, I wasn't entirely planning on it. Second, I spent just about every waking (and too many that should have been sleeping) moment(s) on the book. Now I'm feeling worn out and tired, and oh so cranky. I'm realizing that pushing myself this hard is not good and that getting back into balance will take more than one restful weekend –it might take a couple of months, or even longer.
What do you do to take care of yourself when you are feeling off kilter? Let's have a chat (in the comments section) and toss around our ideas. Right now, I'm focusing on eating a lot of protein, getting to sleep early and taking long slow walks. Do any of you have other strategies to share? Go ahead, let's hear 'em!
Carrot French Fries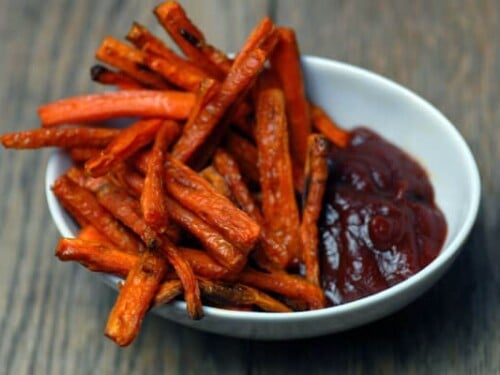 Print
Email
Pin Recipe
Instructions
Cut each carrot into 2-inch long sections

Cut each section into thin sticks

In a

large bowl

toss carrot sticks with olive oil and salt

Bake at 425°F for 18-22 minutes until carrots are browned
If you're looking for other healthy vegetable recipes, Elise at Simply Recipes has one for Roasted Parsnips that looks incredible. Below is a photo of my carrot fries before the boys got their hands on 'em! I hope you enjoy these Paleo Carrot French Fries as much as we do.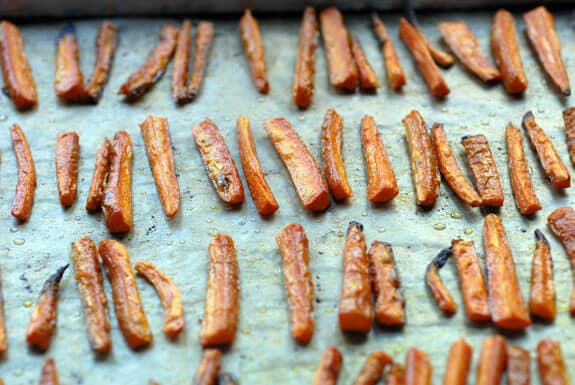 And, in terms of the book that I just wrote, Gluten-Free Cupcakes: 50 Irresistible Recipes Made with Almond and Coconut Flour
, today is National Chocolate Cupcake Day! My book will not be published until April 2011, for now, to celebrate this day, you can make the gluten-free Chocolate Cupcake recipe that I have here on my website.
Update: check out my nut-free Paleo Chocolate Cupcake recipe made with only 7 ingredients!