This Nut-Free Paleo Carrot Cake recipe made with coconut flour could not be simpler to throw together. You toss the ingredients in a food processor, transfer to a pan, and bake.
Of course, if you've been here before, you know my specialty is easy paleo recipes. If you're new, be sure to check out my Paleo Cashew Bread recipe made with 5 healthy ingredients. We love Paleo Cashew Bread toasted, and after toasting use it to make Paleo PB&J's! We also use Paleo Cashew Bread to make grilled cheese, and for a quick, fun paleo breakfast, "egg in a hole."
Like my healthy bread recipes, this Nut-Free Paleo Carrot Cake is lightly sweetened. Additionally, I made this carrot cake recipe without nuts so that those with nut allergies could enjoy it too. Many paleo dessert recipes use almond flour and most carrot cake recipes contain nuts, so I thought it would be nice to change it up and make a carrot cake recipe with no nuts. This recipe makes a fabulous Easter cake and is also rather lovely for Mother's Day.
Nut-Free Paleo Carrot Cake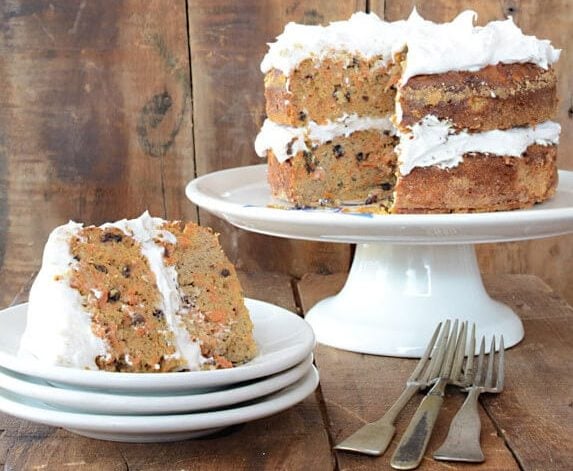 Print
Email
Pin Recipe
In a

food processor

combine coconut flour, salt, baking soda, and cinnamon

Pulse in eggs, coconut oil, and honey

Remove blade from food processor and stir in carrots and currants by hand

Grease a

7 inch springform pan

with coconut oil and dust with coconut flour

Transfer batter into prepared pan

Bake at 350°F for 45-60 minutes

Cool for 1 hour

Serve
Prep Time 15 mins
Cook Time 45 mins
Total Time 1 hr
Please note, this Nut-Free Paleo Carrot Cake recipe makes one round cake. If you would like to create the gorgeous layer cake in the photo above, make the cake recipe above two times.
I have tested this Paleo Carrot Cake recipe in many different sized cake pans. My favorite way to bake it is using the 7-inch cake pan as indicated in the instructions for this recipe. When made in a 7-inch cake pan the batter stacks up and the cake looks impressively tall and very festive. The 7-inch cake pan is smaller than the traditional 8-inch cake pan which surprisingly yields a much flatter cake. It doesn't look quite as pretty, however, it also worked well.
For a traditional carrot cake, frost with Cream Cheese Frosting. If you're only going to frost the top and center of the cake, as I did in the photo above, make one batch of Cream Cheese Frosting. If you want to frost the sides, make two batches. For those in need of a dairy-free carrot cake, top this with my incredible Coconut Whipped Cream recipe, and some toasted shredded coconut.
Here are some other easy paleo cake recipes for you:
---
Buy My Books!
---