These high-protein Nacho Cheese Triangles are made with just 7 ingredients. They're an easy savory scones recipe and also a great healthy breakfast recipe. We like to serve them as a gluten-free Super Bowl snack because they quiet the hunger of rowdy guests. Full of high-protein ingredients like almond flour, egg, and cheese, no one will guess that they're gluten-free and low-carb because they taste so good!
I've been strictly gluten-free since 1998, when I was diagnosed with celiac disease. Way back when in 2001, I went paleo and have been totally grain-free ever since. During that time I've created hundreds of easy grain-free recipes with as few ingredients as possible. Why? To save you time in the kitchen! These easy savory scones are another healthy recipe that you can whip up in minutes.
I hope you enjoy these gluten-free savory scones as much as we do!
Nacho Cheese Triangles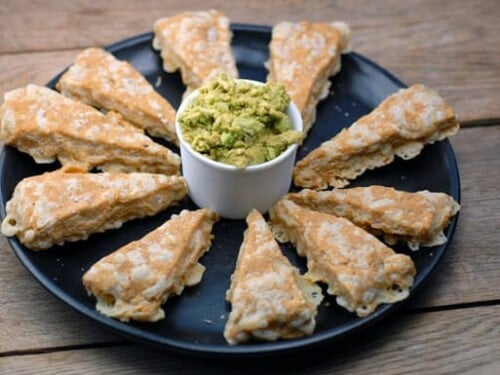 Print
Email
Pin Recipe
Instructions
In a

large bowl

, combine almond flour, salt, baking soda, chipotle, chili, and cheese

Mix wet ingredients into dry

Form dough into a large circle, 1-inch thick

Cut dough like a pizza, into 12 slices

Bake at 375°F for 9-10 minutes
Here are some of my other healthy low-carb snack recipes:
If you are on a dairy-free diet, the Paleo Tortilla Chips and Salt and Pepper Cracker recipes above do not contain dairy. For more dairy-free recipes, take a look at my Dairy-Free Diet page.