I've been making this Cranberry Walnut Scones recipe for the boys for the last couple of years. Since it's become an official family favorite, I thought it was about time to share. Last week, I decided to make these Paleo scones one evening; by morning, they were gone. Scones for dessert, breakfast, snacks, whenever. Because this is a mighty healthy scone recipe I'm just fine with that. And because it's also a mighty easy scone recipe I can whip up batch after batch for the boys in no time flat!
When our family needs quick meals in the morning, these gluten-free scones are perfect with hard boiled eggs made the night before. What's better than a filling, yet easy meal that's healthy too?! Not a whole lot. Just remember, don't eat on the run, take 10 minutes to sit, chew, and digest. You deserve it!
Cranberry Walnut Scones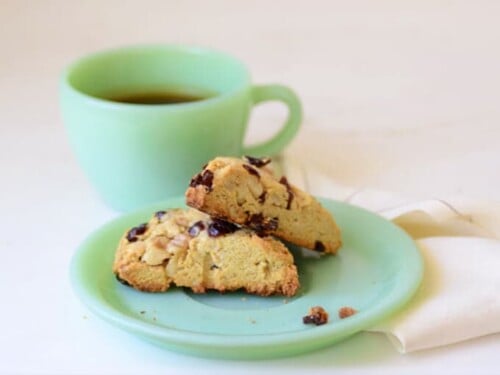 Print
Email
Pin Recipe
Instructions
Pulse in egg, coconut sugar, and orange zest

Stir in cranberries and walnuts by hand

Form dough into a large circle, 1-1½ inches thick

Cut dough like a pizza, into 8 slices

Bake at 350°F for 12-16 minutes until edges are browned

Serve
These healthy fruit scones are made with an almond flour base and studded with organic dried cranberries. I love baking with almond flour, for me it is the perfect low-carb ingredient, full of good heart healthy fats.
If almond flour isn't your thing, and you're in need of nut-free scones try my Paleo Chocolate Chip Scones recipe, which is made of coconut flour. With only 7 ingredients, it's every bit as easy to make as these Cranberry Walnut Scones! If you're looking for something similar to this scone recipe that's savory, try my Paleo Biscuits. They're fabulous dipped in my Gluten-Free Gravy. If you're looking for still more recipes for scones, check out my scones page, it's full of all kinds of delicious healthy goodness!
Healthy recipes are great. No doubt about it. But good health consists of far more than eating well. So if you're stressed out during the holiday season, or any time of year for that matter, take time whenever you can to put down your cell phone, and nurture yourself with more sleep as well as adequate gentle exercise such as walking or yoga!