A while back, my awesome mother-in-law (MIL) asked me to create a healthy chocolate chia pudding recipe. My MIL loves that my recipes are the easiest out there, and this Keto Chocolate Chia Pudding is as simple as can be. With 6 ingredients total –chia seeds, cacao powder, coconut milk, vanilla stevia, water, and salt– you can whip this up in a couple of minutes.
Keto Chocolate Chia Pudding
In this recipe, I use stevia rather than maple syrup or honey as I am following a low-carb, high-fat (LCHF) Keto Diet. I've been eating this way since 2014, and it feels like another piece of the health puzzle is now in place for me.
Dealing with Sluggish Gut Motility on a Keto Diet
This Keto Chocolate Chia Pudding is the perfect dessert, and a functional food as well. Full of healthy insoluble fiber it will kick start your digestive system when things are feeling sluggish!
Keto Chocolate Chia Pudding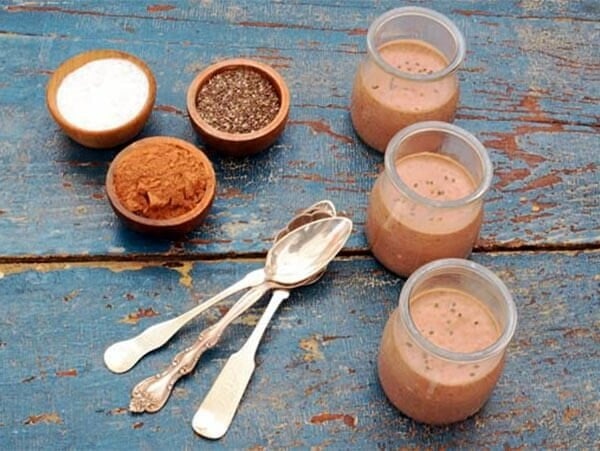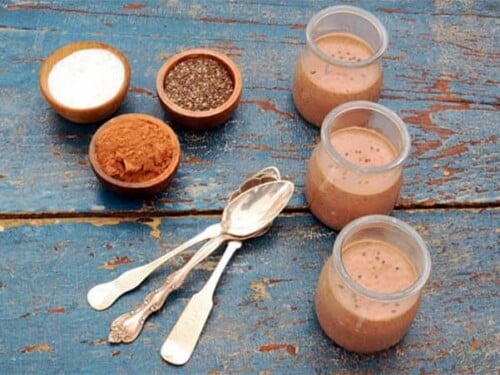 Print
Email
Pin Recipe
Instructions
In a

vitamix

, combine coconut milk, water, cacao powder, stevia, and salt

Blend until smooth

Add chia seeds and shake well

Refrigerate overnight to let chia seeds soften and absorb liquid

Serve
Low-Carb Chocolate Chia Pudding
If you're not a fan of stevia feel free to use maple syrup or honey to sweeten this healthy dessert. I haven't tried it so I'm not sure how much sweetener you'd need in place of stevia. It would also depend on how much of a sweet tooth you have. I would guess a tablespoon or two would suffice.
Easy Keto Chocolate Pudding Recipe
For this recipe, it's important to blend the coconut milk in a high-powered blender. This way you'll have a smooth and creamy pudding, rather than one with little lumps of coconut milk in it. If you're not a chocolate lover try my regular Chia Pudding recipe.
More Sugar-Free Dessert Recipes
For more LCHF sugar-free dessert recipes you'll want to check out my Keto Diet Dessert Recipes page. Here are the most popular on Elana's Pantry!
This post is an oldie but goodie from the archives. I first published this recipe in 2015.