This easy Asparagus Basil Salad is not only healthy, it's an incredibly tasty paleo side dish. It's especially delectable during the summer when vegetables are in peak season. I found this recipe in Sunset Magazine. Actually, I didn't find it, our family friend Mrs. Rose found it and made it for Mr. Rose's 75th birthday, a fabulous gathering that the boys and I attended when we were in Davis, visiting my folks in 2010.
How Do You Handle Your Special Diet?
Special diets and social events can sometimes be a challenge. When family and friends don't understand, accommodate, or respect your dietary restrictions things can get a bit dicey. However, Mrs. Rose made tons of healthy gluten-free food for us! So, a yummy dinner was enjoyed by all.
Maintaining Dietary Boundaries
I believe it really is up to us to maintain our boundaries and not eat food that makes us feel awful, just to spare someone else's feelings. I would rather hurt someone's feelings than hurt my body. Has anybody else been in a situation like that? If so, what did you do?
Asparagus Basil Salad
In a total dietary win-win, here's a yummy salad that most everyone can enjoy. If you have a nightshade allergy, it's still delicious without the tomatoes. And remember, my third book, Paleo Cooking from Elana's Pantry, is 100% nightshade-free!
Asparagus Salad with Tomatoes and Basil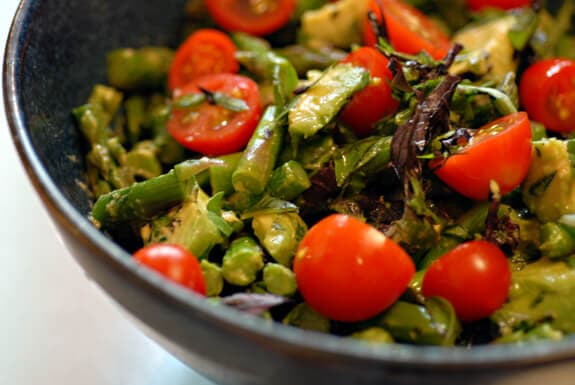 Print
Email
Pin Recipe
Steam asparagus for 5-7 minutes until fork tender

Place asparagus, tomatoes, avocado, and basil in a

large bowl

Stir in olive oil, lemon juice, and mustard

Sprinkle with salt and pepper

Serve
Prep Time 10 mins
Cook Time 5 mins
Total Time 15 mins
Leftovers for Breakfast
I actually made a huge batch of this Asparagus Basil Salad recently and ate it for breakfast with Hard Boiled Eggs, and then had the rest for dinner with the incredible Turkey Burgers from my first book, The Gluten-Free Almond Flour Cookbook
.
Paleo Summer Salad Recipes
Here are some of my other healthy paleo salad recipes:
This post is an oldie but goodie from the archives. I first published this recipe in 2010.
---
Buy My Books!
---