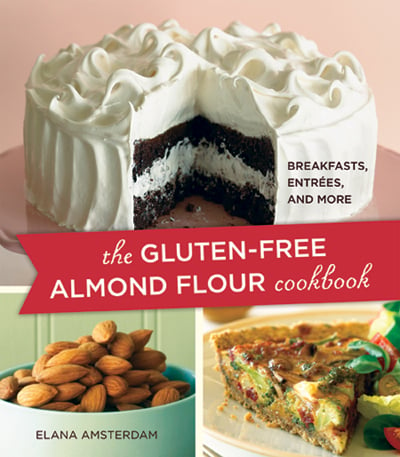 One of the Best Cookbooks of 2009 –The Denver Post
About the Book
It is estimated that three million Americans have Celiac disease, which is one of the most under-diagnosed diseases in the country. A gluten-free diet, while necessary for Celiac sufferers, also benefits those with diabetes, high cholesterol, and IBS.
With brand new recipes ranging from breakfast favorites to comfort entrées to baked goods, The Gluten-Free Almond Flour Cookbook
offers delicious, nutritious, and whole-food recipes that will benefit anyone, with or without dietary restrictions.
Elana Amsterdam has been profiled in Fortune Magazine and the Wall Street Journal for her business ventures. When she and her son were both diagnosed with Celiac disease, she was inspired to develop gluten free recipes. She lives in Boulder, Colorado.
Reviews
". . .a great go-to resource for blended families and/or hosts cooking for gluten-intolerant guests. Readers with a sweet tooth are especially well-served here. . ."
—The Denver Post, Causing a STIR: Best Cookbooks of 2009
". . .the ingenious Celiac. . . Amsterdam's recipes are refreshingly simple. . ."
—The Philadelphia Inquirer, Gluten-Free But Still Tasty
". . .Elana's healthful and flavorful recipes taste as good as they are good for you. . ."
—Alice Bast, President and Founder of the National Foundation for Celiac Awareness
Cookbook FAQ
Q. Are the recipes in your book different from those on your website?
A. About 90% of the recipes are new and 10% of them are slightly refashioned recipes from my website.
Q. Is your cookbook vegetarian?
A. There are 83 vegetarian recipes in the book.
Q. Is your cookbook vegan?
A. There are 29 vegan recipes in the book.
Q. Are the gluten-free recipes in your cookbook also casein free?
A. There are 88 casein free recipes in the book.
Q. How many recipes in your book are dairy free?
A. There are 88 dairy free recipes in the book.
Q. Is your book available in hardback?
A. The book is only available in paperback.
Q. What is the cake pictured on the front of your book?
A. It is my Chocolate Cake (pg. 84) with Marshmallow Frosting (pg. 125).
Q. Does your book provide nutritional information?
A. This book does not contain nutritional information for recipes, though it does have some nutritional information for the ingredients.
Nutrition Information
I have now provided macronutrient breakdowns for each of the recipes in this book as a special gift to my customers! If you need nutrition information I've got you covered!
For nutrition information for the recipes in The Gluten-Free Almond Flour Cookbook click HERE!