Are you craving an easy peanut butter ice cream recipe? Well I have something even better for you! A dairy-free Sunbutter Ice Cream made with only 6 ingredients. This naturally sweetened ice cream recipe contains coconut milk, sunflower seed butter, dates, vanilla, salt, and water!
I often use sunflower seed butter in place of peanut butter in my recipes. Why? Peanuts are not the healthiest of foods since they can contain high levels of mold. Sunbutter on the other hand, is made from sunflower seeds, is more nutritious than peanut butter, and is also great for those avoiding peanuts due to allergies. Finally, peanuts are not considered paleo because they are a legume, not a nut.
Sunbutter Ice Cream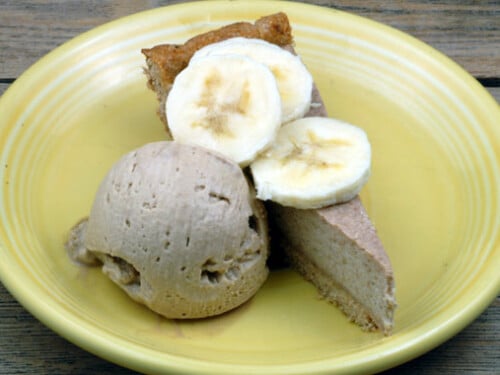 Print
Email
Pin Recipe
I hope you all enjoy this quick and easy, healthy frozen dessert recipe. I love that it meets the needs of of people on gluten-free and dairy-free diets. If you're wondering how to make ice cream without an ice cream maker, see my quick and easy 2-Ingredient Banana Ice Cream recipe.
The other night I was thrilled to have Kelly and her adorable family over for dinner. We made a delicious meal using various recipes from our cookbooks. After that, we had the absolutely scrumptious dessert pictured above. Kelly made her Banana Coconut Cream Pie, and I made her Sunbutter Ice Cream recipe above which I think you'll love. You can find more incredible ice cream recipes in her book Dairy-Free Ice Cream.
Here are some other easy dairy-free ice cream recipes for you: