This Coconut Chocolate Chip Ice Cream is the perfect paleo dessert for a hot summer day. Since every child in the neighborhood seems to be at my house bouncing on our trampoline, it's going to make the perfect afternoon snack for my neighborhood taste testers.
Low-Carb Ice Cream
This healthy low-carb ice cream recipe has just 6 ingredients. Sweetened with only 2 tablespoons of coconut sugar in an entire batch, Paleo Coconut Chocolate Chip Ice Cream is a rich and creamy low-carb dessert. It's also high in protein and good fat. If you're wondering how to make dairy-free ice cream from coconut milk, you'll love this easy recipe.
How to Make Ice Cream without an Ice Cream Maker
If you need to know how to make ice cream without an ice cream maker, take a peek at my 2-Ingredient Banana Ice Cream recipe.
Coconut Chocolate Chip Ice Cream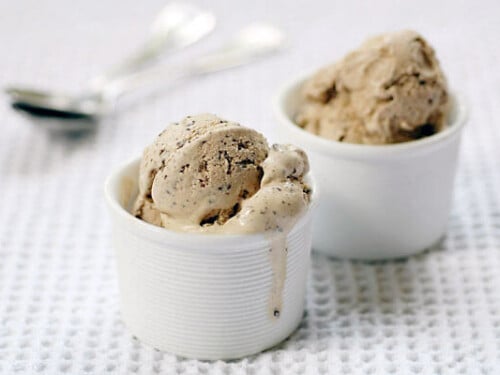 Print
Email
Pin Recipe
Instructions
Place coconut milk, eggs, coconut sugar, vanilla, and salt in a

vitamix

Blend until smooth

Briefly blend in chocolate chips

Serve
High-Protein Ice Cream with Eggs
You may notice there are raw eggs in this recipe. If that does not work for you, feel free to come up with your own fix for it. If you do try substitutions, please be sure to stop back by and leave a comment letting us all know if it worked!
Egg-Free Ice Cream Recipes
Here are some of my egg-free ice cream recipes for those of you that follow an egg-free diet!