My 3-Ingredient Strawberry Sorbet is the perfect healthy dessert for summer. All you need to make it is strawberries, water, and honey. Simply blend up those 3 ingredients and throw them in your ice cream maker to churn and chill. If you're wondering how to make ice cream without an ice cream maker, see my quick and easy 2-Ingredient Banana Ice Cream recipe.
This easy sorbet recipe is loaded with wholesome strawberries that have numerous health benefits. Strawberries contain phytonutrients and flavanoids making this beautiful berry bright red. Full of potassium, magnesium, and vitamin C, strawberries reduce the risk of cancer. Strawberries are a low-glycemic fruit, full of healthy fiber and help to regulate blood sugar and decrease the risk of type 2 diabetes and heart disease.
I use organic strawberries in my 3-Ingredient Strawberry Sorbet and all of my other strawberry recipes. This is important because conventional strawberries are heavily sprayed with toxic pesticides. I go out of my way to avoid everyday toxins because I have the MTHFR gene which can lead to impaired detoxification.
3-Ingredient Strawberry Sorbet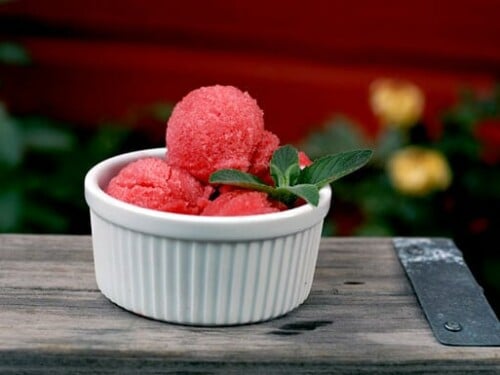 Print
Email
Pin Recipe
Instructions
Place strawberries, water, and honey in a

vitamix

Blend on highest speed until smooth and creamy

Serve
If you're looking for low-carb high-fat (LCHF) recipes you'll definitely want to check out my Keto Diet page. The Ketogenic Diet can be very helpful in dealing with neurological disorders such as epilepsy. I was diagnosed with MS in 2006 and have found eating low-carb and Keto a useful strategy in reducing the symptoms of this disease.
Here are some of my other healthy strawberry recipes:
This post is an oldie but goodie from the archives, I first published this recipe in 2011.