This Iced Ginger Chai drink is based on one of my favorite products, Bhakti Chai. My homemade chai recipe is heavy on the ginger, cardamom, and black pepper. I love a good cool, yet spicy drink in the summer.
While I love Bhakti Chai, it does not love me. There is way too much caffeine in regular chai for my body type, which is the vata dosha. Even the decaffeinated product contains small amounts of caffeine, which is too much for me. I use rooibos tea, which is herbal, as the base of my homemade chai recipe. This way I get the black tea flavor without any of the caffeine.
There are many ways that you could adapt this recipe, more spices, less spices, different spices, ground spices. Feel free to experiment with it and if you do, please let us know what changes you made and how well they worked.
Iced Ginger Chai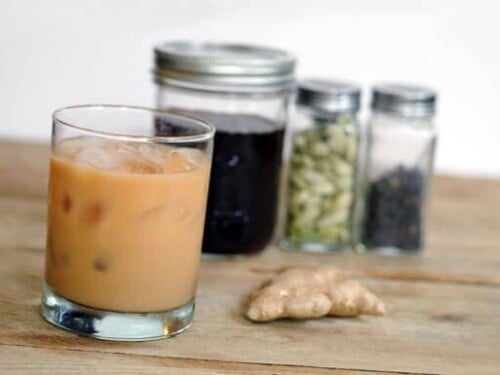 Print
Email
Pin Recipe
In my incredible cache of gluten-free recipes, I have a recipe for a hot chai which you'll love. Chai, hot or cold, goes super well with any of my fan favorite paleo biscotti recipes below!