Wondering how to roast pecans in the oven? I'm here to help!
I started out roasting pecans for Mr. Pantry –he has long adored this salty snack.
When they were for him I didn't bother to write a recipe, I just roasted the nuts until they smelled buttery, pulled them out of the oven, and cooled prior to adding olive oil and salt.
How to Roast Pecans
But recently, my friend Deb went on a Low Carb Diet. When she did, she requested a keto snack that was salty and crunchy, to replace her popcorn habit.
Roasted Pecan Recipe
At that point, I knew I'd have to reverse engineer things and have an actual recipe for her.
My dear Deb let me know she loves it and now I'm sharing it with you too!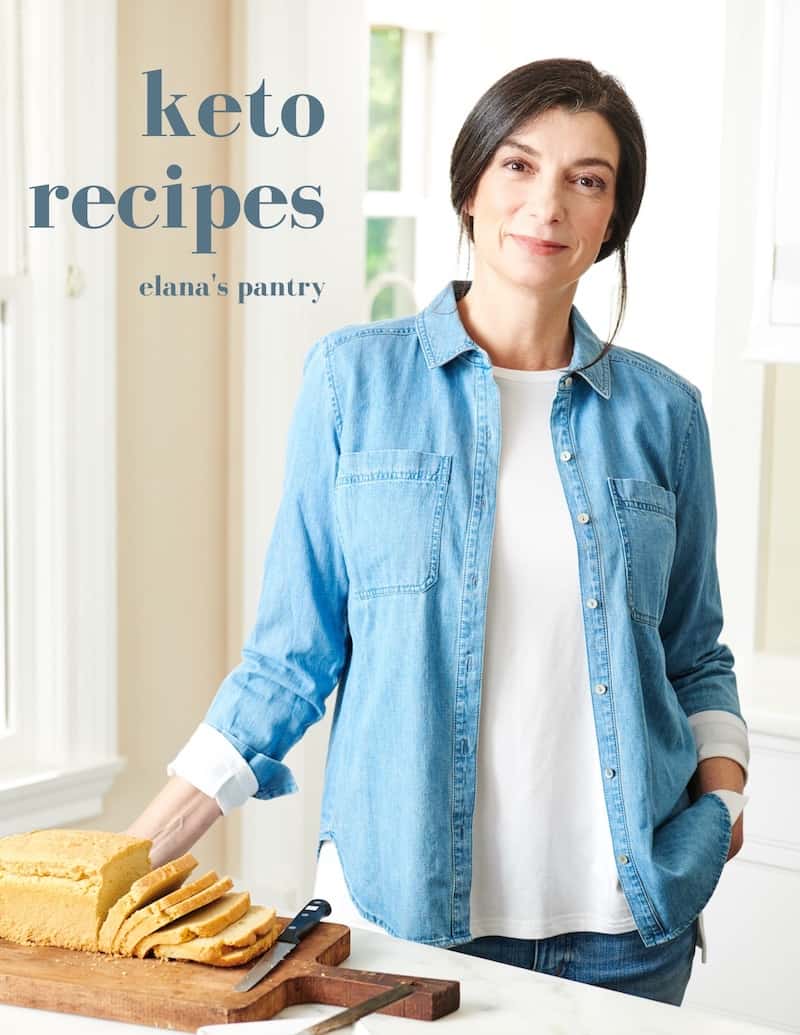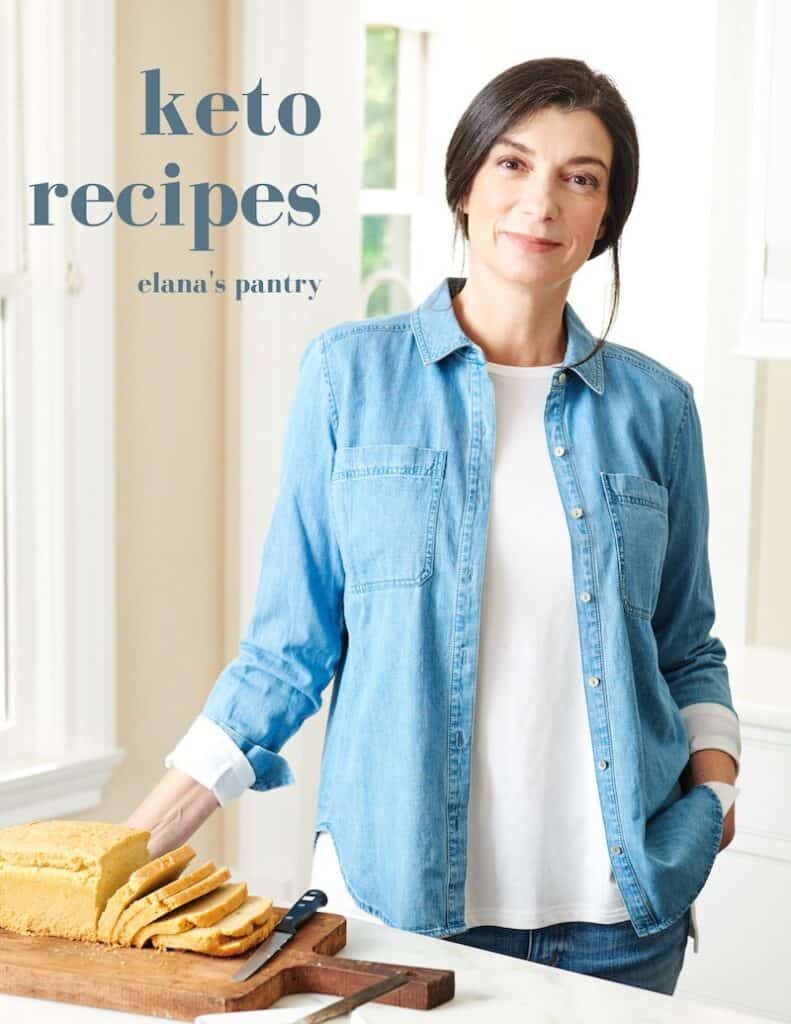 Get My Keto Recipes eBook
Free exclusive eBook, plus recipes and health tips, delivered to your inbox.
How to Roast Pecans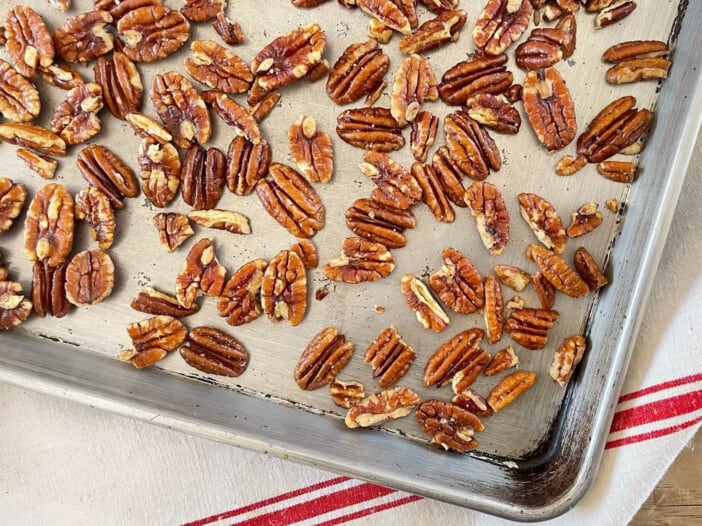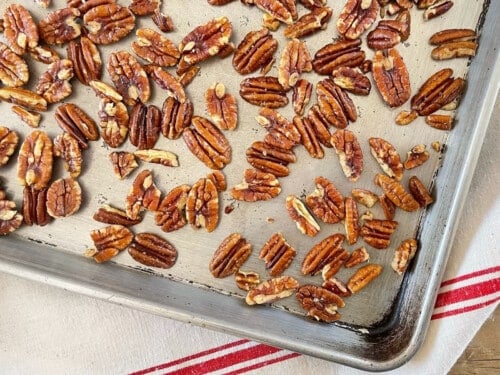 Print
Email
Pin Recipe
Instructions
Roast at 350°F for 10-12 minutes

Toss with olive oil, then add salt and toss again
How to Store Nuts
Store the roasted, seasoned pecan halves in a glass jar in the refrigerator for up to 2 weeks.
Do Nuts Go Bad?
If you're wondering if nuts go bad, the answer is yes. I store my nuts in the refrigerator so that the unsaturated fats do not go rancid. Saturated fats are more stable.
Have you tasted rancid nuts? They are not delicious!
How to Toast Pecans
Toasted pecans are not roasted pecans.
Toasted pecans are cooked in a pan on the stove. I prefer to make roasted pecans in the oven because the pecans cook more evenly this way.
How Long to Roast Pecans?
You'll know the pecans are done when they have a fragrant, nutty, buttery smell, and one or two of them look darker than the rest.
How Long to Cool Nuts?
I cool the pecans for thirty minutes because it lets the moisture evaporate from the nuts. This allows them to really dry out, making them super crunchy.
Roasted Pecans
This recipe is for pecan halves, not pieces.
In fact, I use mammoth pecan halves which are larger than regular, if you don't use the brand and type of pecan I use (link provided in the recipe above), you may need to adjust your cooking time.
Further, pecan pieces will not roast as evenly and will also require a different cooking time than above.
Carbs in Pecans
The carbs in pecans are minimal, especially when compared to other salty, crunchy snack foods.
I provide the macronutrient information for crunchy, salty snacks in the table below.
Twenty eight grams is around one ounce, and the serving size is a handful of nuts.
| | | | | | | |
| --- | --- | --- | --- | --- | --- | --- |
| Nutrition Info (28g) | Calories | Carbs | Fiber | Net Carbs | Protein | Fat |
| Pecans | 190 | 4g | 3g | 1g | 3g | 20g |
| Potato Chips | 149 | 15g | 1g | 14g | 2g | 10g |
| Popcorn | 151 | 16g | 3g | 13g | 2g | 9g |
Low Carb Chips
These roasted pecans are my favorite substitute for low carb chips and low carb popcorn, items I gave up in 2001 when I went on a low-carb Grain Free Diet.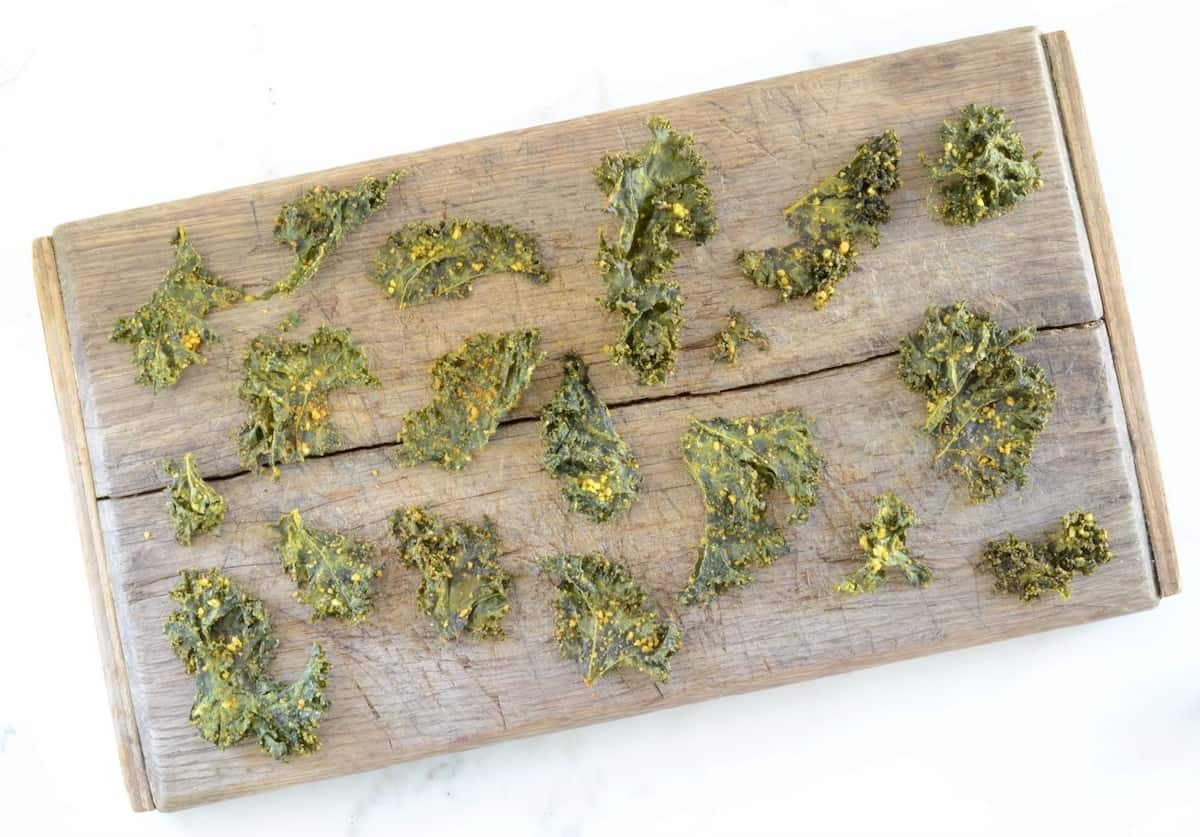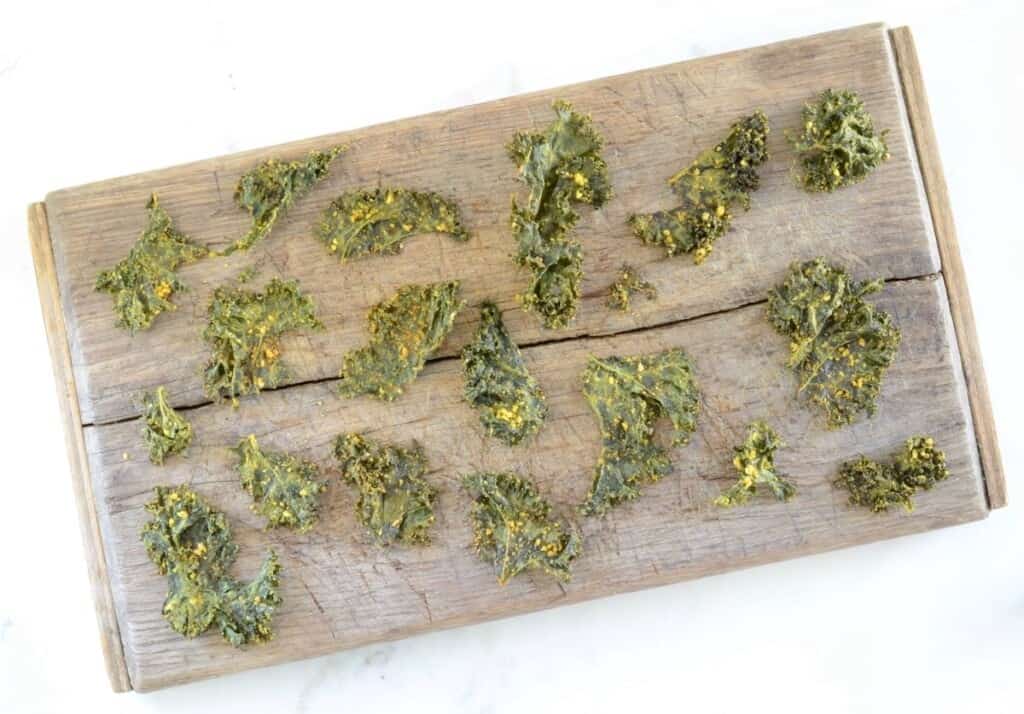 BBQ Kale Chips
Our entire family is addicted to BBQ Kale Chips –they're magically delicious and disappear minutes after being served.
I coat them in a savory spice rub combined with macadamia nuts creating low carb chips with a rich flavor that's complemented by the cheesy zing of nutritional yeast.
Pecan Recipes
Pecans are one of my favorite nuts. If you're looking for other recipes with pecans I have some for you below.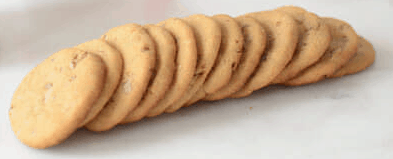 Pecan Shortbread Cookies
Everything tastes better from scratch, but my Pecan Shortbread Cookies are effortlessly incredible!
This recipe for healthy cookies requires only 10 minutes of hands-on prep time and this rich and buttery treat is SCD compliant.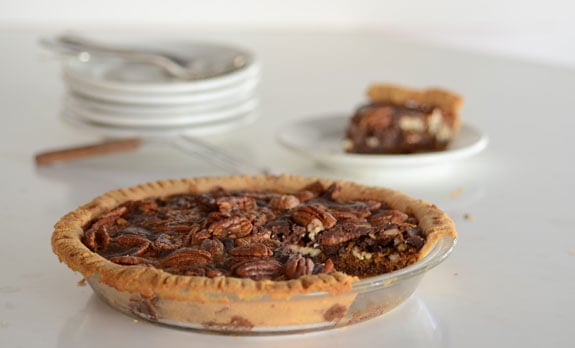 Chocolate Pecan Pie
My Chocolate Pecan Pie recipe is the embodiment of simple and delectable! This pie filling is one of my favorite recipes with 5 ingredients.
To make the pie throw the ingredients together, then pour into my flaky homemade Gluten Free Pie Crust.
This easy pie recipe will soon be your family's favorite gluten free dessert.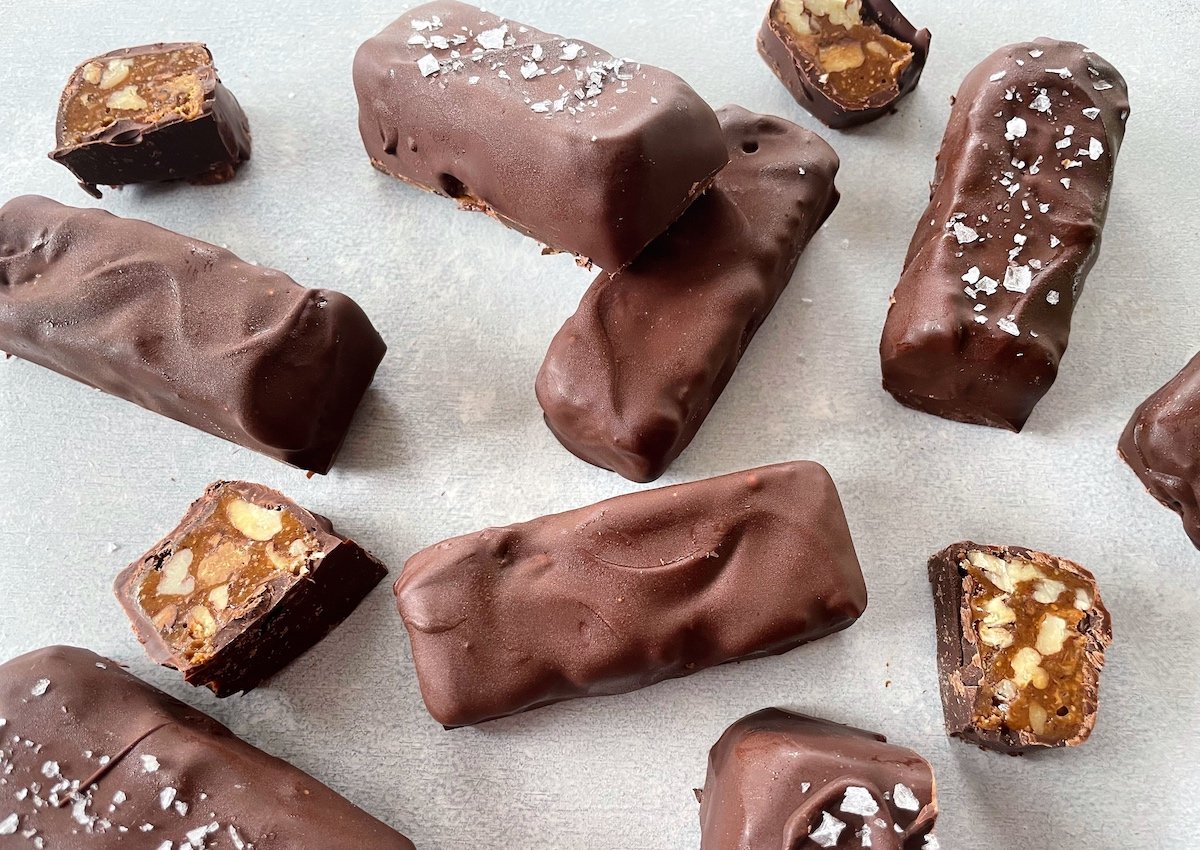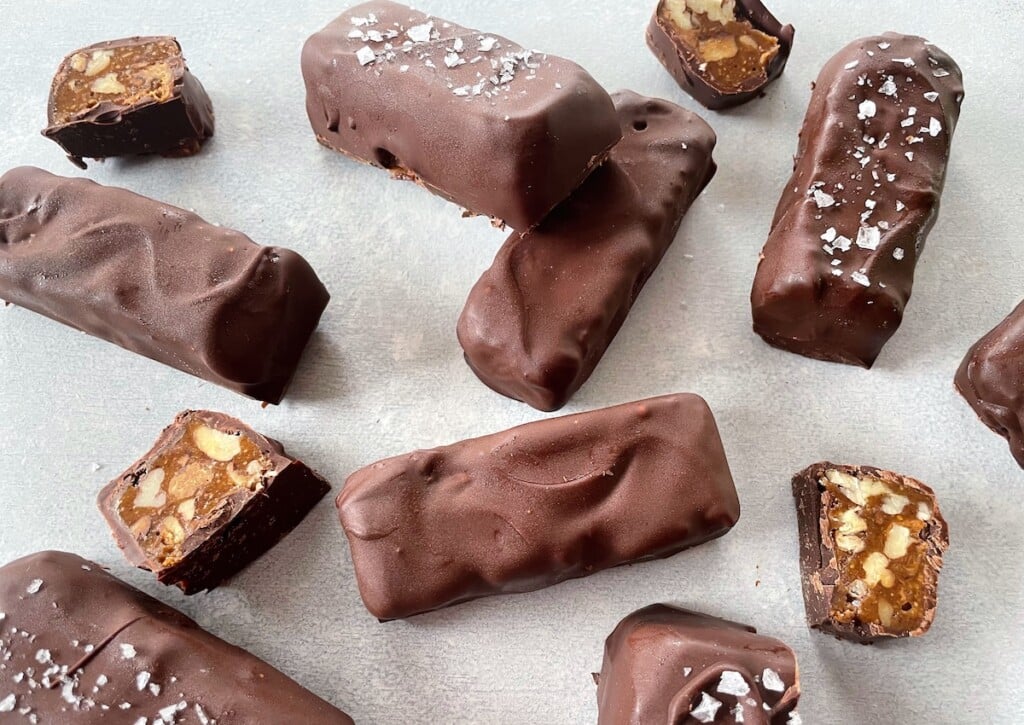 Homemade Chocolate Candy Bars
Last but not least, healthier candy bars, that aren't loaded with sugar!
Pecans provide the critical crunch in my Homemade Chocolate Candy Bars recipe.
The pecans are surrounded by a lush nougat, enrobed in dairy free chocolate, and topped with a pinch of Celtic sea salt.
This gluten free candy bar is a game changer for kiddos with an intolerance to foods!
Other Types of Nuts for Roasting
If you're looking for other types of nuts for roasting, here are some of my favorites:
Keto Snacks
I hope you love my pecan based keto snacks and low carb desserts as much as we do. They're all family favorites.
What's your favorite way to eat pecans? Leave a comment and let me know!