Here's another recipe for delicious gluten free candied nuts. I love making candied nuts for the holidays. They're the perfect gluten free dessert, appetizer or snack. And they make a great gift too. The homemade version is much cheaper than store bought, tastes fresher and you know exactly what's in 'em!
If you love macadamia nuts, you might like to take a look at the recipe for Ginger Macadamia Brownies in my gluten free cookbook, The Gluten-Free Almond Flour Cookbook. Meanwhile, here's a yummy DIY recipe for candying your own macas. Enjoy!
Candied Macadamia Nuts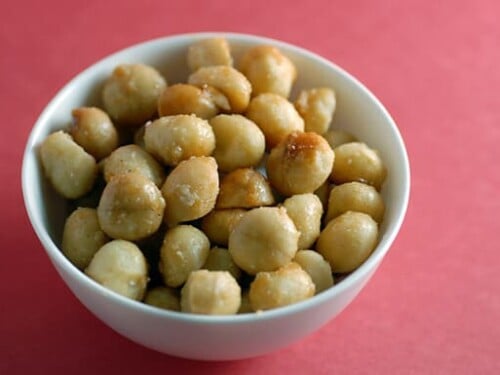 Print
Email
Pin Recipe
Almonds are an amazing super food and they are showing up in the media on a more frequent basis these days. Here's an article on yahoo via Self Magazine that describes more of the benefits of almonds. Almonds are full of alpha linolenic acid which aids in the metabolism of fats.
Almond flour is one of my favorite topics and there's been some good debate lately on my website about its cost and benefits.
With all of this discussion I was inspired to launch a new page on my site called "Why Almond Flour?" My intention is that this tab at the top of my site will serve as a permanent resource and answer the many questions I am asked daily regarding almond flour and its price, nutritional value, accessibility, etc. So go ahead and take a look if you like. And be sure to leave me a comment here with your feedback!