I receive quite a few emails each day. In fact, one of my biggest internal debates is how to read everything (I've given up on responding) and still maintain life outside computerland.
You see, I don't think computers are necessarily the best thing for my health. And yet. They are so much fun. And so very efficient. It is an ambivalent love affair that I have with the lovely little laptop that sits upon my desk. So, I make it a priority to live real (in 3-D) and not invest any more energy than necessary in life online. Still, I spend an inordinate amount of time in the virtual world and have practically made my peace with it.
Along those lines, in order to give you a teeny tiny glimpse into my wild cyber world, I would like to share a couple of messages from readers. And keep in mind, the only constant in messages from readers is that nothing is constant; this online life is full of the unexpected –one of the many things I love about it.
Here is one message that was sent to me via email by way of my contact form:
Please contact me at 303-555-5555.
I would like to know where you are buying your almond flour? After checking into it myself I have found that the price of the flour is off the charts!!!!! The most expensive flour I have ever heard of. Whole foods does not carry it in bulk and neither does the Vitamin Cottage aka, Natural Grocers. You can buy it pre-packed in either store for a whopping $7.00 per cup which is 16 oz. Not very cost effective.
-Linda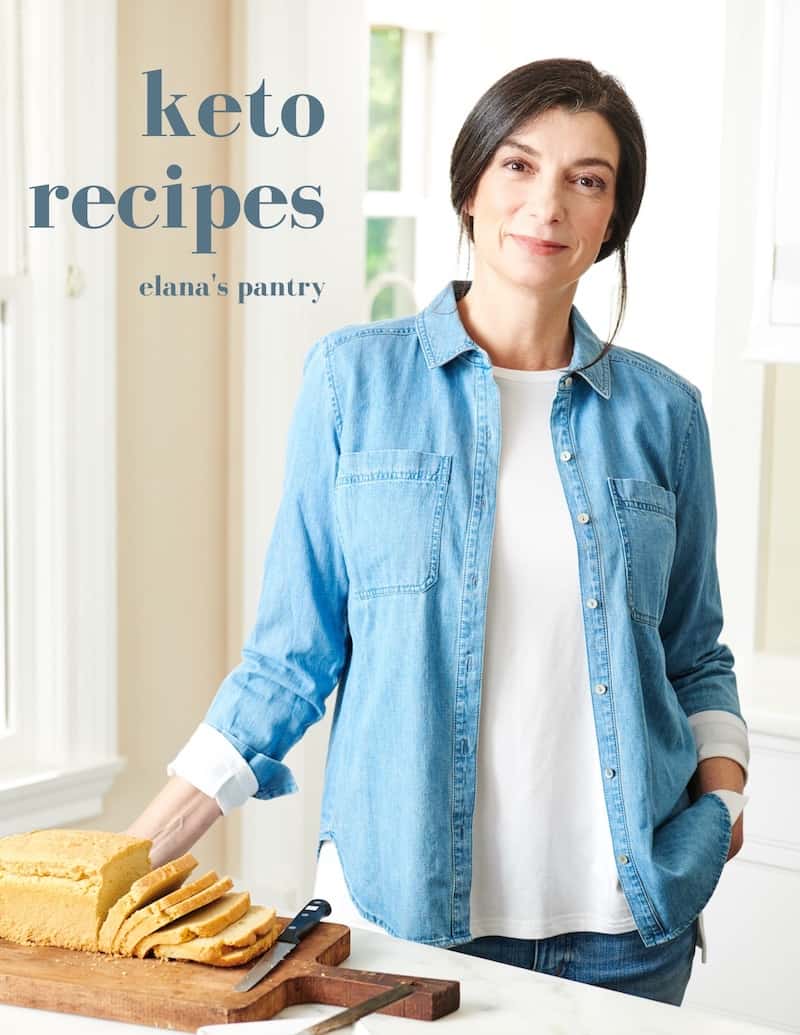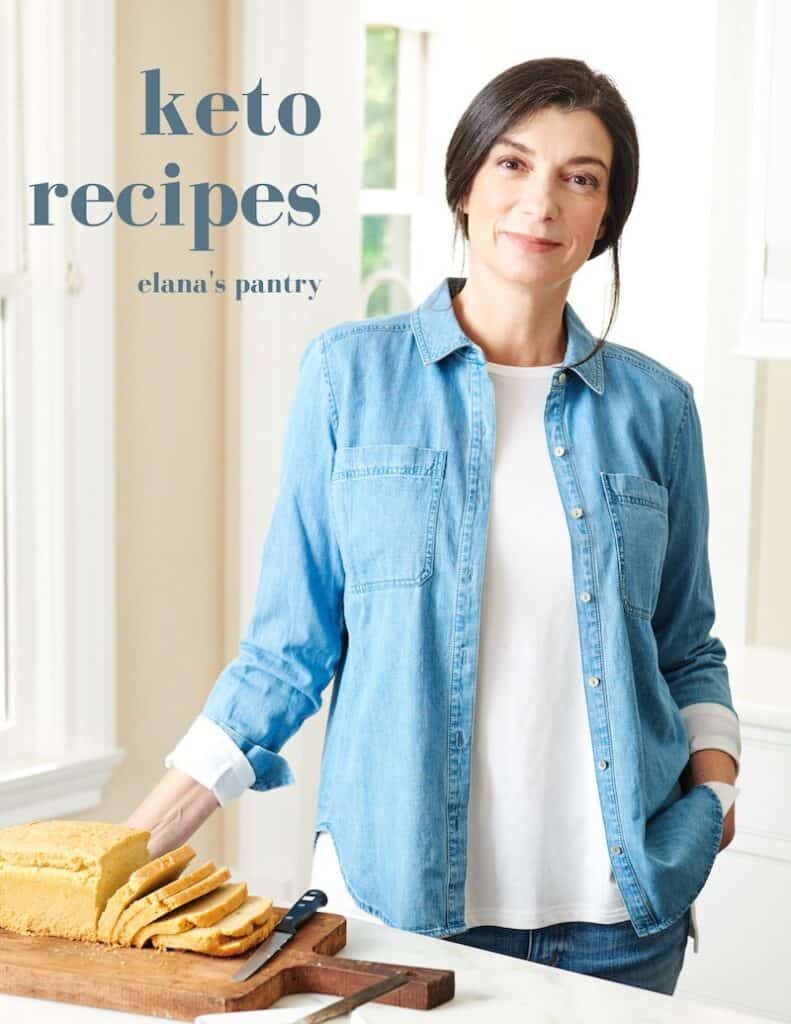 Get My Keto Recipes eBook
Free exclusive eBook, plus recipes and health tips, delivered to your inbox.
When I receive something such as the above, I wonder what I am doing wrong and how I could better help. Although I do have a list of several vendors that sell more cost effective brands of almond flour on my site (see the ingredients page), I question what I need to do differently to get information to people. If you have any ideas, feel free to leave them in a comment below!
Then there are ones such as this:
I'm interested in using coconut flour, but if the taste is very coconutty I'm worried I wouldn't like it, your thoughts?
-Elizabeth
I'm at a bit of a loss when I receive this type of question because I think taste is such a subjective thing. I don't think that the items I make with coconut flour taste like coconut, however, I could be wrong. Again, I would love to hear from readers what your thoughts are on the taste of coconut flour.
Then there is this one that I received yesterday in the form of a comment from a reader about my vegan eggnog post:
…I think it should be called "vegnog" :-)
-ML
Now that's fabulous! I read the above and the only thing that comes to mind is –why didn't I think of that!
And finally, there is this totally outrageous card that I received from another reader: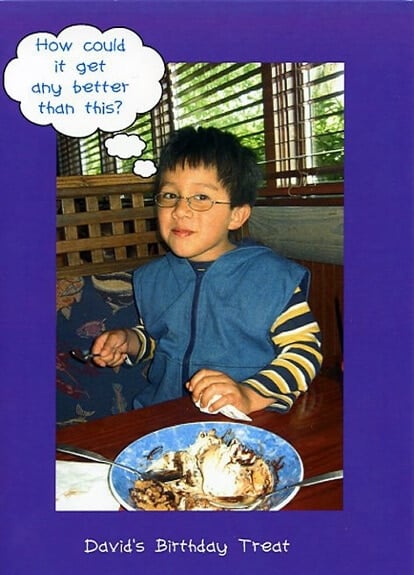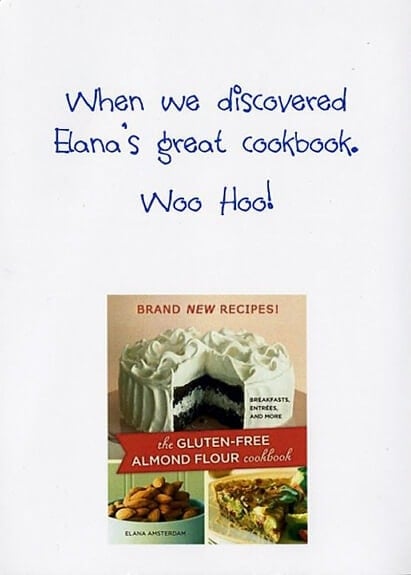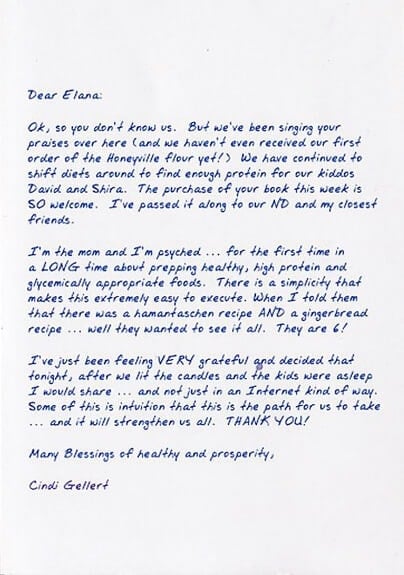 This is one of the nicest things I have ever received. Some absolutely amazing person (Cindi!), took photos of her child eating one of my recipes at his birthday and went out of her way to send me a card. In the mail!
This made my day, no make that month.
Thank you Cindi, you are incredible and I totally appreciate your hunting down my snail mail address and sending me this gorgeous card with your adorable child. What could be better?!
So there you have it. An ever so small glimpse into the missives I receive on a daily basis.
Never a dull moment; loving every minute of it,
Elana