I can't count the number of times I've been asked for a vegan eggnog recipe. This gluten free, dairy free (egg free) eggnog is not too challenging to make and full of filling rich yumminess.
Unlike other eggnogs, it's not too sweet and has a nice delicate nutmeg flavor. If you want to decrease the sweetness further, go with only 1 tablespoon of agave in the recipe below, or eliminate it entirely. You'll still have the natural sweetness of the almonds and the rich round sweetness of yacón.
Vegan Eggnog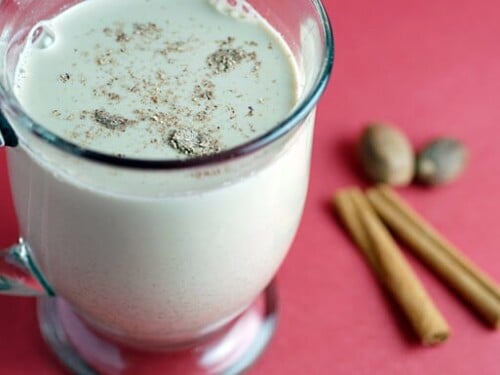 Print
Email
Pin Recipe
Instructions
Soak almonds overnight

Discard soaking water and rinse almonds in a deep bowl of water, repeat until water is clear

Place soaked almonds and 4 cups of water in a

vitamix

Blend on highest speed for 90 seconds

Strain milk through a fine mesh paint

strainer bag

, discarding solids

Add vanilla, agave, yacon, nutmeg, cinnamon and cloves, then shake well

Refrigerate until cold and serve
Total Time
8

hours
5

minutes
As you all know, I love almonds. I wrote an entire gluten free cookbook on them called The Gluten-Free Almond Flour Cookbook
. So it was a lot of fun when I found this very positive article on almonds over at Men's Health Magazine. Men's Health is on the almond bandwagon!