I'm slightly addicted to these Vanilla Roasted Walnuts and so is my husband. They have a hint of sweetness and a nice burst of vanilla goodness. On top of that, Walnuts are a great source of Omega-3's, have a high antioxidant count and are also beneficial for cardiovascular health. So I'm on the walnut bandwagon.
Here's the recipe for another gluten free, tasty, higher protein holiday snack with nuts.
Vanilla Roasted Walnuts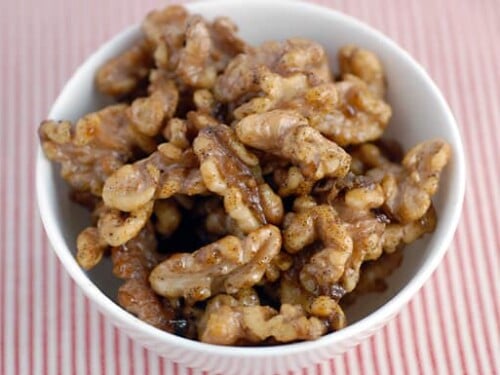 Print
Email
Pin Recipe
Instructions
As soon as you hear the slightest sizzle, turn heat down to medium or low

Toast walnuts a few minutes until they smell nice and nutty

Add agave and distribute around pan stirring, cook for a minute or two, then add salt

Scrape the beans out of the vanilla pod and stir into walnuts

Remove walnuts from pan and add just a dash of cinnamon if you like

Serve
These nuts are the perfect (last minute) homemade present when packaged in a lovely (reusable) holiday gift jar; that's what I'm giving to friends and family this year along with my gluten free cookbook, The Gluten-Free Almond Flour Cookbook (which sells for a reasonable $11.55 on amazon.com). For more healthy, delicious Christmas fun and ideas, take a look at my Gluten Free Christmas Recipe Roundup.
I love the blog Apartment Therapy and was thrilled to be nominated for the best Home Cooking blog over at their Homies awards. If you like, head on over and cast a vote for elanaspantry.com.
In book tour news, I'll be doing a live radio interview Tuesday, December 29th at 10am MT (12pm ET) with Dr. Derrick DeSilva, Jr. of Ask Dr. DeSilva on HealthRadio.fm.