Roasted almonds are one of my favorite foods and an important part of my eating plan. What about my family's eating plan? Well, my husband is one of the main reasons I cook and bake as religiously as I do. He comes from a family of excellent cooks who love to eat. However, recently, he went on a diet and sent me this email:
"Was thinking you might want to do a post on how I have used the Abs Diet to get in shape and that you and I now eat the same, and mention that almonds are their #1 food too."
So, there you have it. Now we eat the same –tons of veggies, protein, some nuts, the occasional piece of fruit. OK, so our diets are slightly different. I'm on the Elana Diet (a grain-free paleo diet) and he's on the Abs Diet. However, we both eat almonds and not a lot of dessert (not even my healthy dessert recipes).
Wondering how to roast almonds? Here's how you can make your own to snack on at any time of the day.
How to Roast Almonds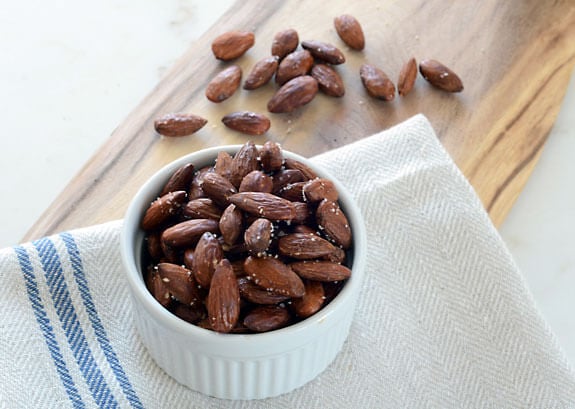 Print
Email
Pin Recipe
Bake at 350°F for 10-15 minutes, until a nutty aroma wafts out of the oven

Remove almonds from oven and cool for 20 minutes

Toss with olive oil and salt

Serve
Prep Time 10 mins
Cook Time 10 mins
Total Time 20 mins
I've been roasting a lot of almonds lately. They taste much better purchased raw and roasted fresh at home (rather than purchasing them already roasted). My husband loves it when I make fresh roasted almonds. And that's a good thing because almonds are a superfood. This ultra-nutritious nut is high in antioxidants and full of beneficial fats that raise good cholesterol and lower bad cholesterol. Studies have shown that almonds curb hunger. I think they taste delicious and keep a little jar of roasted almonds in my car for when I get a snack attack on the road. Just a few do the trick.
If you love whole almonds for snacking, you may also want to try blanched almond flour (not almond meal). Honeyville makes incredible almond flour, and has my Paleo Chocolate Chip Cookie recipe on the back of their bag! Honeyville almond flour is wonderful because it is finely ground and yields fantastic baked goods. I bake with almond flour often, as it is tasty, easy to use, and full of good fat! I wrote the book on almond flour in 2008, called The Gluten-Free Almond Flour Cookbook. It has easy paleo recipes for everything from birthday cake to chicken fingers, and I think you'll love it!
If you are looking for healthy low-carb recipes, check out all of my recipes that use almond flour, as well as my Keto Diet Recipes page. Here are some of my easy paleo recipes that use almonds or almond flour:
---
Buy My Books!
---