This healthy hot chocolate mix in a jar is a fabulous DIY Christmas gift. I love making homemade healthy gifts for the holidays. Giving friends, family, and neighbors a homemade gift from the heart can be every bit as meaningful as something expensive. Sometimes even more so!
My healthy hot chocolate mix in a jar contains 5 dry ingredients. You'll need unsweetened cacao powder, cacao butter, coconut sugar, freshly ground nutmeg, and a cinnamon stick. You can omit the spices if you want to keep this healthy recipe really simple. Write these instructions on the tag: simmer 2 cups water + 1 cup coconut milk; whisk in hot cocoa mix until smooth, then serve.
As you can see, it's super easy to turn this healthy hot chocolate mix into a delicious dairy-free hot chocolate. You'll get 3 large servings, or 4 medium ones from this dairy-free mix. My mix has cacao butter in it in order to make it super rich in the absence of cow's milk. I haven't tested my hot chocolate mix recipe without cacao butter. If I guessed, I would think it would be too watery without this ingredient.
Hot Chocolate Mix In a Jar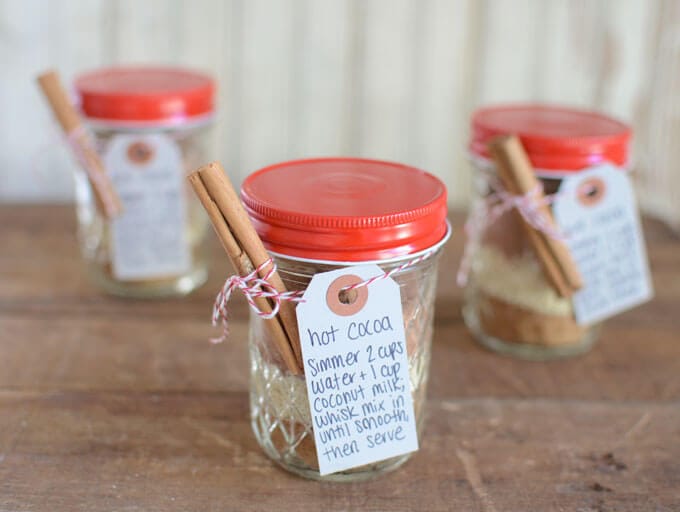 Print
Email
Pin Recipe
I've seen tons of gorgeous photos of hot chocolate mix in a jar over the years. Making my own healthy version has been on my list for a while now. The idea crystallized however, when my friend Helen sent me an email with a photo of Catherine McCord's DIY Double Chocolatey Hot Cocoa in a Jar recipe. My healthy hot chocolate mix recipe is based on that one. For more DIY ideas on how to reduce consumption during the holidays check out this post. Here are some other DIY Christmas gift ideas: