My Gluten Free Pumpkin Bread recipe is the stuff that autumnal dreams are made of, but it's so magical we bake it all year long.
Gluten Free Pumpkin Bread Recipe
Made with only 8 ingredients, every bite of this recipe for gluten free dessert is infused with the rich flavors of pumpkin spice, including cinnamon, ginger, cloves, and nutmeg.
Low Carb Recipes Dessert
In order to keep blood sugar levels stable while indulging, I use low glycemic almond flour as the base of my Gluten Free Pumpkin Bread.
I also use this healthy ingredient in many of my other low carb recipes for dessert.
Recipes for Simple Desserts
Be forewarned, my recipes for simple desserts like this one are totally addictive.
My Gluten Free Pumpkin Bread recipe has been shared more than sixty thousand times on social media and has over 200 comments here on the website!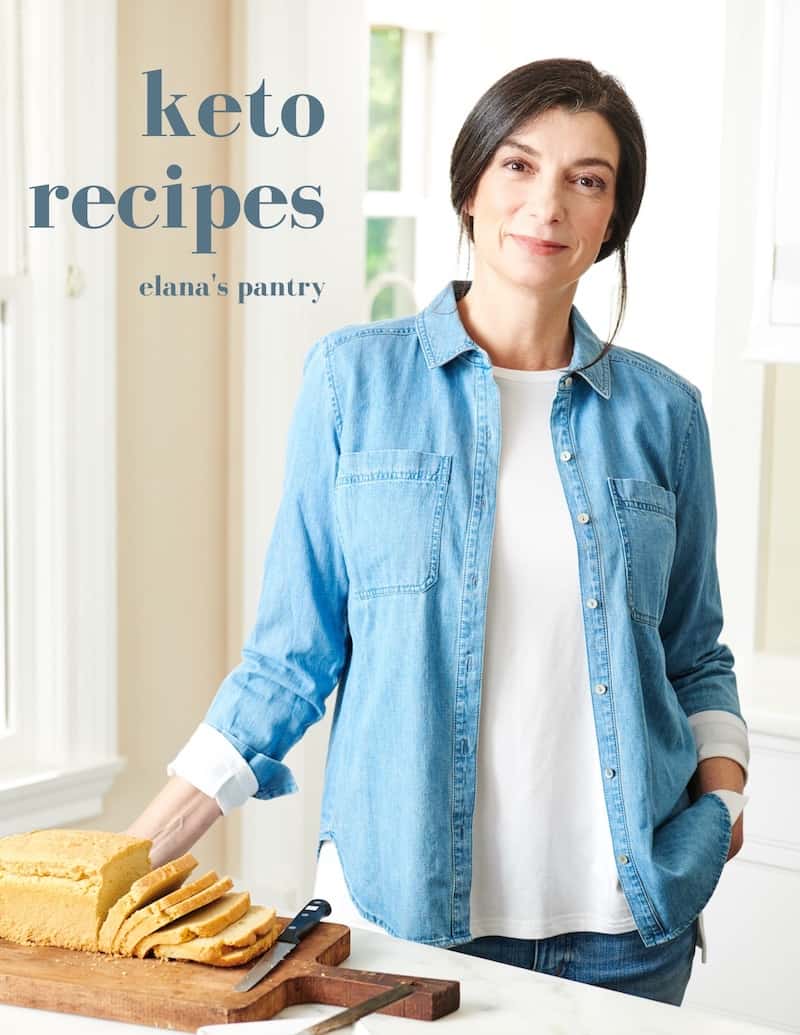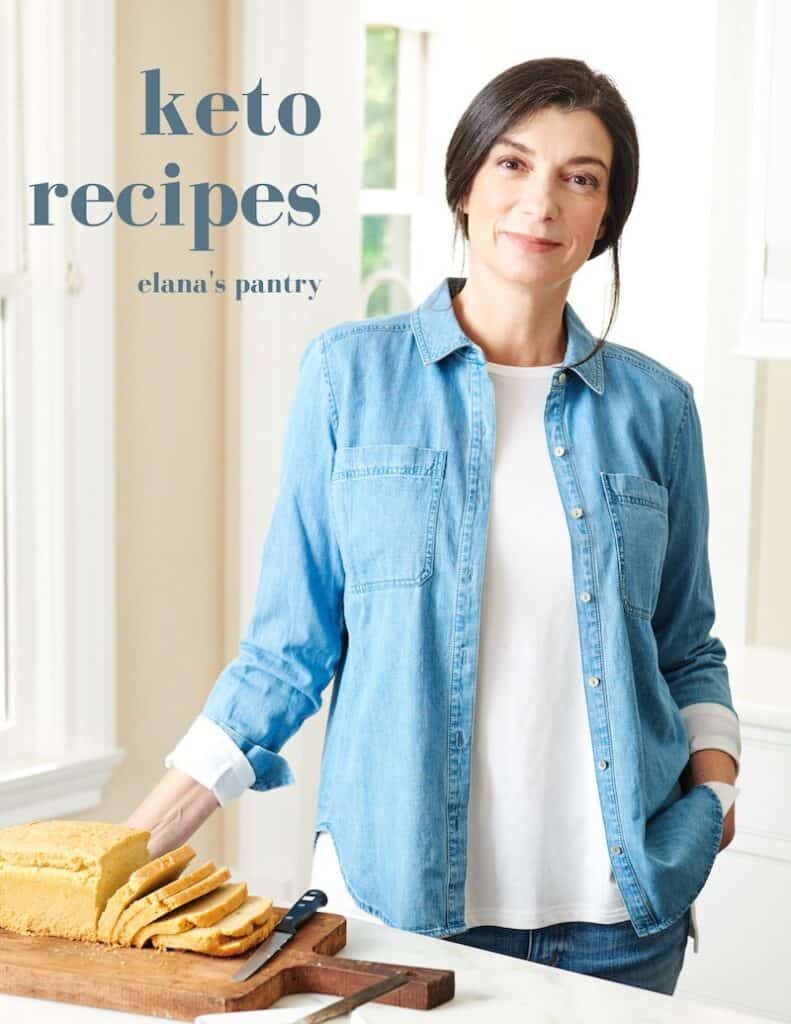 Get My Keto Recipes eBook
Free exclusive eBook, plus recipes and health tips, delivered to your inbox.
Here's to happy baking!
Gluten Free Pumpkin Bread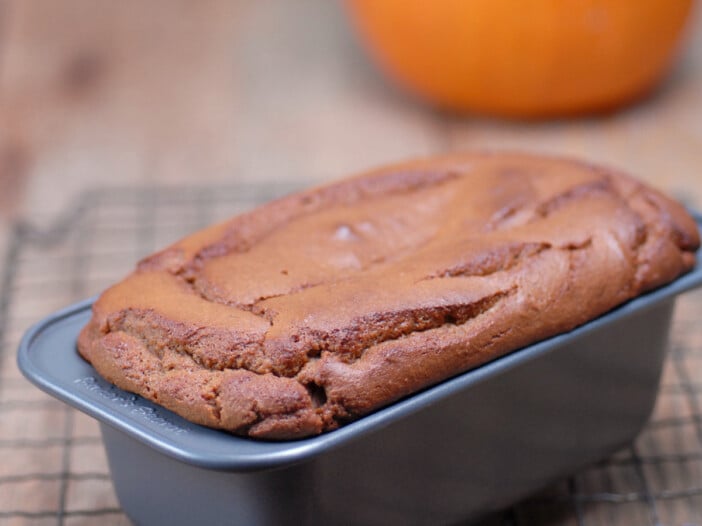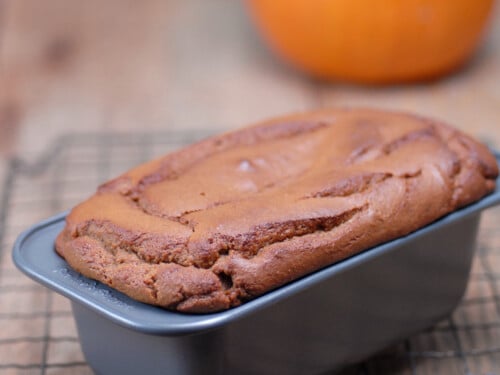 Print
Email
Pin Recipe
Instructions
In a food processor combine almond flour, pumpkin pie spice, baking soda, and salt

Add pumpkin, eggs, honey, and stevia, and pulse for 2 minutes

Place in oven with a cookie sheet one rack below

Bake at 350°F for 35-45 minutes

Cool for 1 hour

Serve
How to Roast Pumpkin in the Oven
I love cooking with winter squash because it's:
Low Carb
Fiber Rich
Nutrient Dense
High in Antioxidants
To find out just how simple it is to roast winter squash, take a look at my How to Roast Squash and How to Roast Pumpkin posts.
It couldn't be easier to get more of this bright orange food that's rich in beta carotene into your life.
Pumpkin Bread Mix in a Jar
I love combining the dry ingredients (plus stevia) for Gluten Free Pumpkin Bread in a mason jar and then gifting it to friends during the holidays or as a hostess gift.
I can't tell you how many people have fallen in love with my pumpkin bread mix. Just add pumpkin, eggs, honey; pop it in the oven and voilá, you've got Gluten Free Pumpkin Bread.
A Quick Bread Recipe
If pumpkin isn't your jam, I have other options for you because who doesn't need a quick bread recipe in their life?! Here are some of my favorites:
What's your favorite quick bread recipe?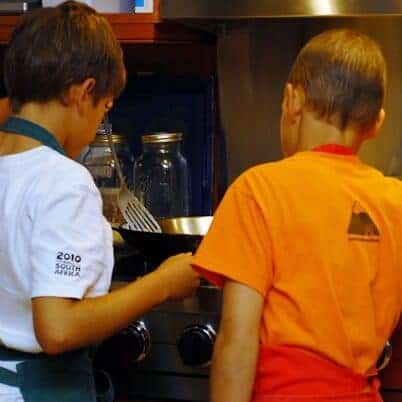 Gluten Free Recipes
Creating gluten free recipes for my family is a passion of mine.
My son and I were diagnosed with celiac disease decades ago, so I've had plenty of time to perfect them.
I knew I had to create fantastic edible solutions for our condition.
Why? Because when you have an allergy to gluten, symptoms can be uncomfortable and, at times, debilitating.
I've healed my digestive system with the gluten free diet, and my son grew up comfortable in the kitchen, enjoying the delicious experience of healthy gluten free food that was safe for him!
Easy Recipes for Dessert
Here are some of our favorite easy recipes for dessert that use pumpkin.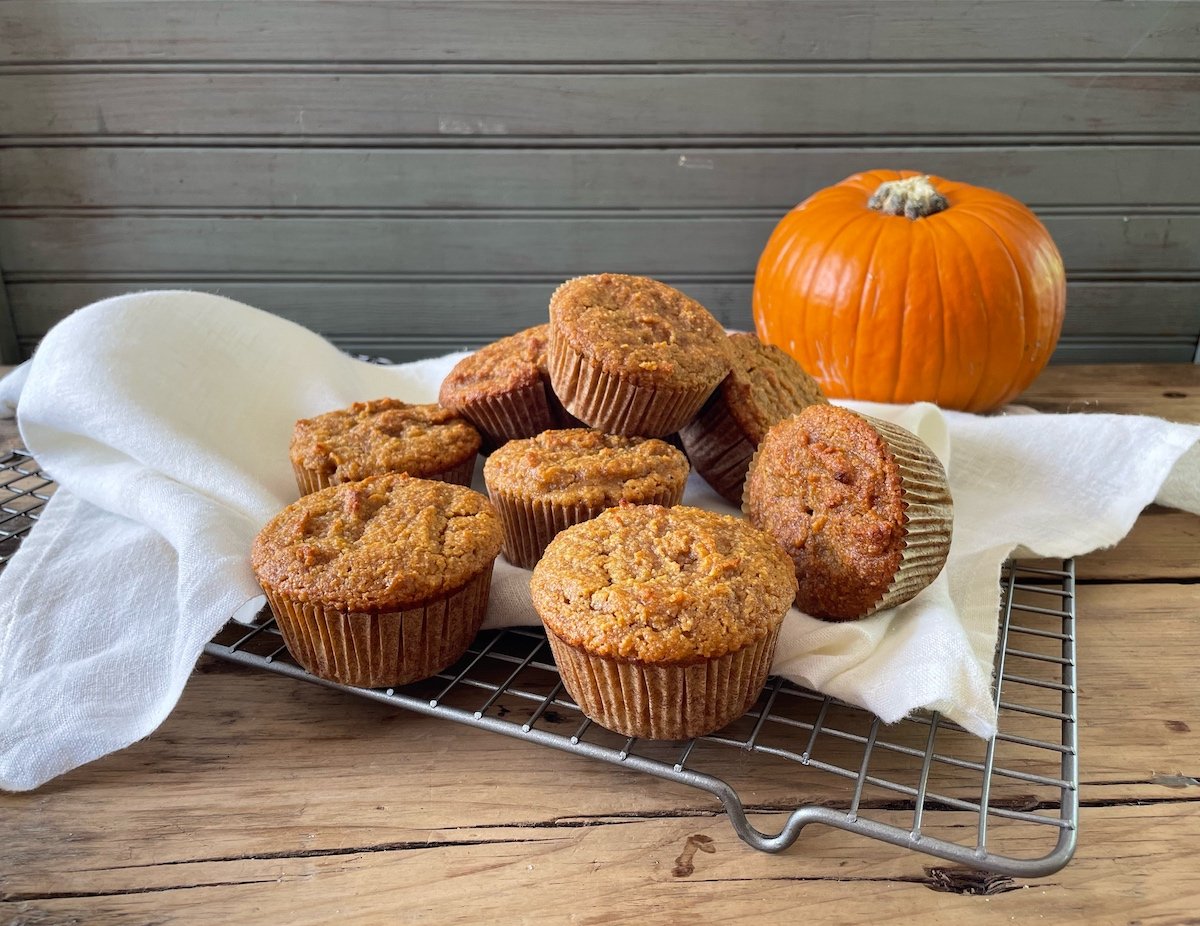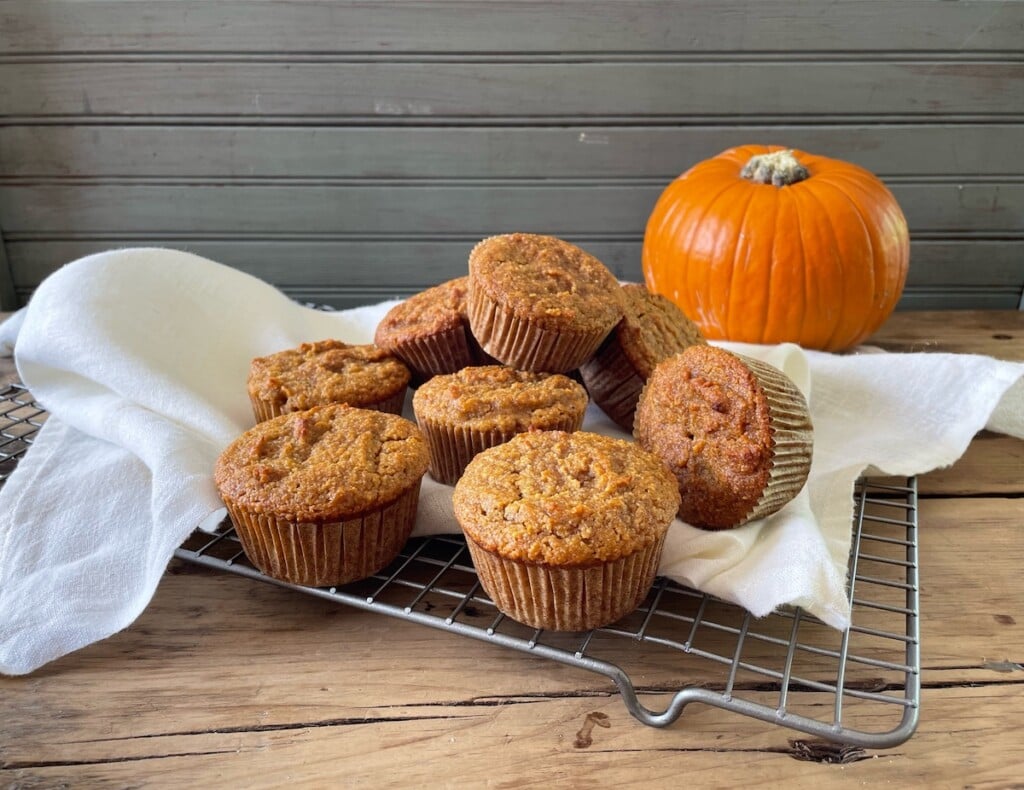 Pumpkin Muffins Healthy
With a base of freshly roasted pumpkin and healthy almond flour, my gluten free Pumpkin Muffins are a lusciously healthy indulgence.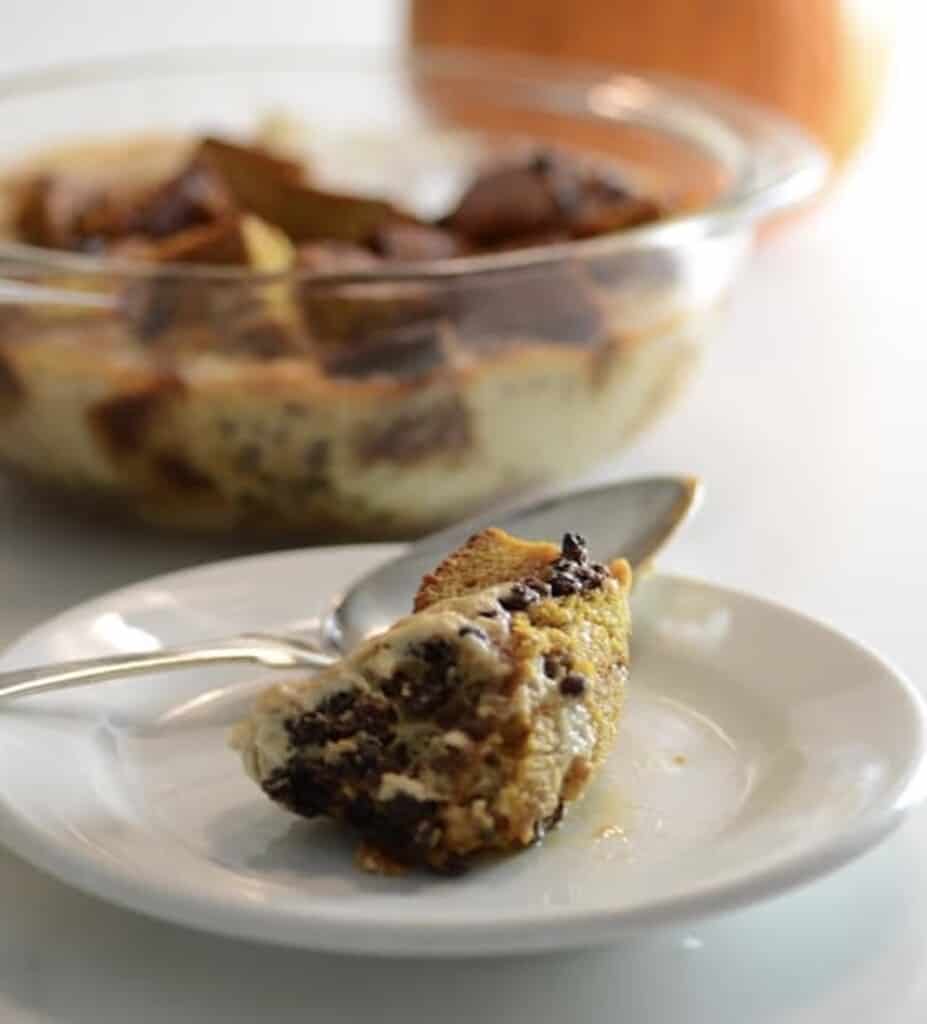 Easy to Bake Recipes
Didn't think you'd ever eat bread pudding? Guess again.
Readers covet my Pumpkin Bread Pudding when they're craving warm comfort food, and it's the perfect make ahead recipe when you need a gluten free dessert.
Cube the pumpkin bars and place in a bowl, then cover with coconut milk, egg, currants, and vanilla, for the tastiest, healthiest bread pudding ever.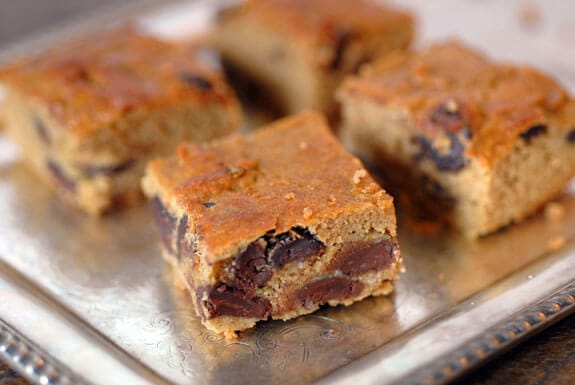 Pumpkin Bars
I'm a certified pumpkin-a-holic, and we make Gluten Free Pumpkin Bars throughout the year in our home.
With a coconut flour base, my recipe is perfect for those allergic to nuts, and each bite sings with rich organic dark chocolate chips.
Ready for the oven in under 10 minutes, these bars meld pumpkin and chocolate together deliciously. If you don't like chocolate, raisins work well too.
Recipes for Gluten Free Bread with Pumpkin
I love gluten free bread recipes, and this Gluten Free Pumpkin Bread is one of my favorites!
I hope you find something that fills your house with the delightful aroma of autumn all year round.
This post is an oldie but goodie from the archives. I first shared this Gluten Free Pumpkin Bread recipe in 2011.