I'm a big fan of warm comfort foods and this Pumpkin Bread Pudding truly fits that bill. Made with nut-free Paleo Pumpkin Bars, coconut milk, currants, and eggs, this is a wonderful Paleo Thanksgiving dessert recipe.
Every time I make this Paleo dessert I eliminate the chocolate from my Paleo Pumpkin Bars (the bars serve as the "bread" in this recipe). Why? I think this Pumpkin Bread Pudding is rich enough spiked with currants alone. However, feel free to try including the chocolate –if you do, please stop back by and let me know how your Pumpkin Bread Pudding turns out. Since I haven't tried it I'm looking forward to hearing about the results from you!
Pumpkin Bread Pudding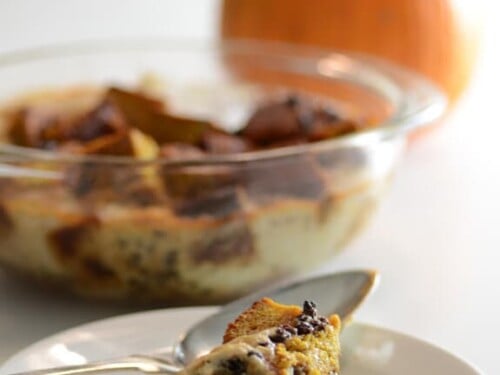 Print
Email
Pin Recipe
Instructions
Cut bread into 1-inch cubes and set aside for 6 hours to dry out

Scatter currants over bread cubes

In a

vitamix

, blend coconut milk, eggs, and vanilla

Pour mixture over bread cubes

Bake covered at 350°F for 30 minutes

Remove cover and bake for 15 more minutes, until tops of bread cubes are lightly browned

Serve
Total Time
6

hours
55

minutes
As you can see for this Pumpkin Bread Pudding recipe, the "bread" needs to be just a bit stale. If you don't want to wait, place the bread cubes on a parchment lined baking sheet and bake at 350[deg] for 8 minutes. I would not recommend skipping the step of drying out your "bread" –your pudding will be too mushy if you do.
The idea for this Pumpkin Bread Pudding comes from Stacy over at The Paleo Parents. At chez moi we eat Pumpkin Bread Pudding for dessert, brunch, and even breakfast –it is a hearty and satisfyingly festive Paleo recipe.
Here are some of my other Paleo pumpkin recipes: