Cinnamon Apple Cake is a fabulous fall dessert and super easy to make. This paleo cake recipe calls for 8 ingredients total. All you need to make it is apples, orange juice, almond butter, eggs, honey, cinnamon, vanilla, and salt. My boys adore it smothered in my classic Whipped Cream or Dairy-Free Coconut Whipped Cream.
Healing Properties of Cinnamon
This healthy flourless cake recipe is not overly sweet and brims with the aroma of warming cinnamon. I love cooking with cinnamon because it's a healing super-spice. Cinnamon regulates blood sugar and is touted in Ayurveda as fixing numerous ailments, including calming down the vata dosha. My go-to spice, I often add cinnamon to my morning Protein Shake and Dandelion Coffee.
Cinnamon Apple Cake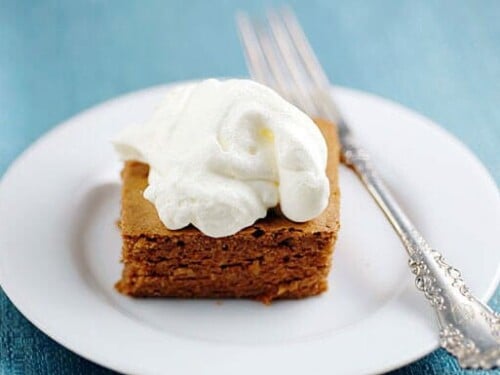 Print
Email
Pin Recipe
Low-Carb Cinnamon Apple Cake
This Paleo Cinnamon Apple Cake recipe was inspired by Andre Anna. Just a few of the changes I made include using apples instead of bananas, adding a ton of cinnamon, and reducing the amount of sweetener in order to make this a low-carb flourless cake. If you are cutting back on your intake of sweeteners you'll want to check out my Low-Carb Diet page. If you have totally eliminated all sweeteners that can spike your blood glucose you'll want to take a look at my Ketogenic Diet page.
Healthy Apple Recipes
Love my paleo Cinnamon Apple Cake recipe? Here are some more low-carb apple dessert recipes for you!
This post is an oldie but goodie from the archives. I first published this recipe in 2010.