I think I'm on a bit of a vegan kick these days. First came the Marcona Almond Mayo sans eggs and now these vegan Lemon Lavender Cookies.
Don't worry, even though this recipe sounds a tad weird, it's subtle and I think, delicious. It kinda reminds me of the recipe in my gluten free cookbook for Rosemary Hazelnut Cookies.
Lemon Lavender Cookies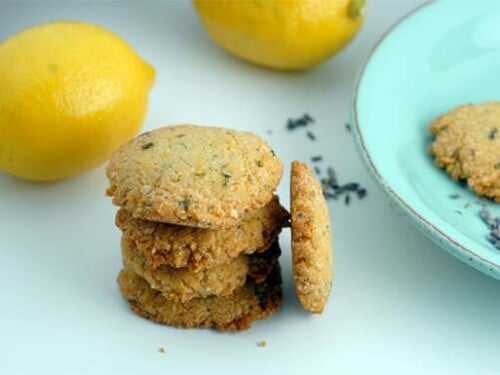 Print
Email
Pin Recipe
I cannot take credit for this yummy lemon lavender flavor combination; I actually found it in the 2009 Holiday Baking issue of Cooks Illustrated.
In cookbook related news, I had a radio interview this morning with Zorba Paster and Tom Clarke on the Zorba Paster on Your Health program. These guys are great and I was thrilled to be on their national show which airs on NPR.
The lovely Chef Rachel over at thehealthycookingcoach.com wrote a fabulous review of The Gluten-Free Almond Flour Cookbook –in fact, I think she explains some things in it better than I do. You may want to check out her The Ice Dream Cookbook
. Thanks Rachel!
For those of you interested in my classes, I have a Gluten Free and Dairy Free Valentine's Day Cooking Class on February 10th at Bauman College in Boulder, CO. See my classes page for more information.