My Instant Pot Navy Bean Soup recipe is packed with high protein broth, nutritious green vegetables, and flavorful, robust beans.
Beans are incredibly economical when it comes to sources of cheap protein, they're also packed with fiber, and all in all, make a hearty, satisfying soup that's both healthy and filling.
Healthy Recipe for Navy Bean Soup
This Instant Pot Navy Bean Soup recipe is made with a base of onions, carrots, and celery, sautéed in olive oil, along with bone broth, kale, and of course, beans.
Bean Soup Recipe
It's also versatile –you can make it with navy beans, cannellini, or great northern beans, all of which are low glycemic foods that are high in iron.
I hope you love this healthy comfort food as much as we do!
Instant Pot Navy Bean Soup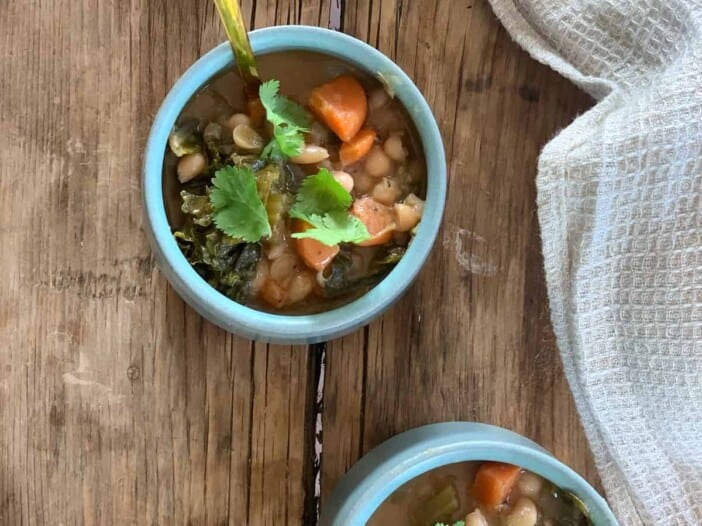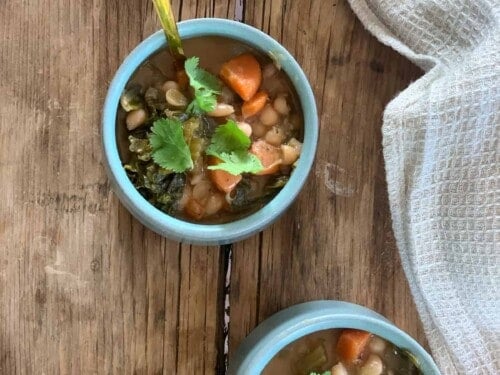 Print
Email
Pin Recipe
Instructions
Drain and rinse beans, then set aside

Add onion and cook, stirring frequently 5-10 minutes, until soft and browned

Stir in celery, carrots, beans, and broth

Lock lid into place and set Instant Pot to high pressure for 20 minutes

Allow pressure to come down naturally or reduce with quick release method

Stir in kale, primal kitchen ketchup, then salt and pepper

Mix ingredients well, then simmer 2-3 minutes

Serve
Equipment
Did you notice that I use ketchup in this tomato white bean soup recipe?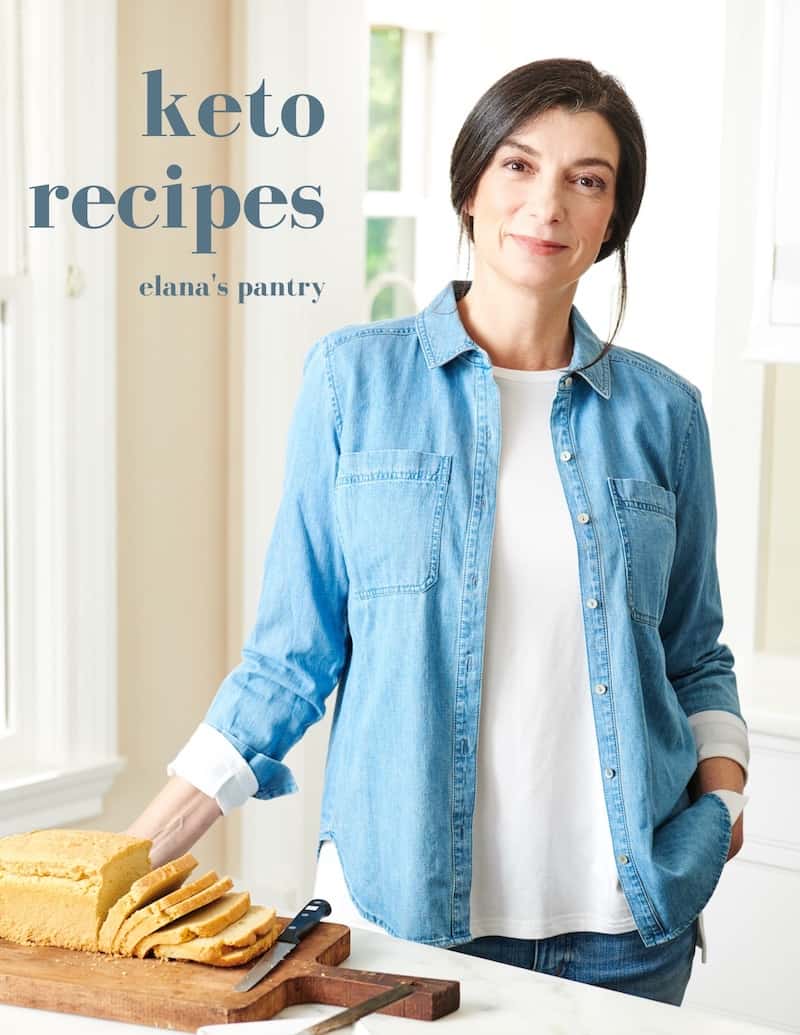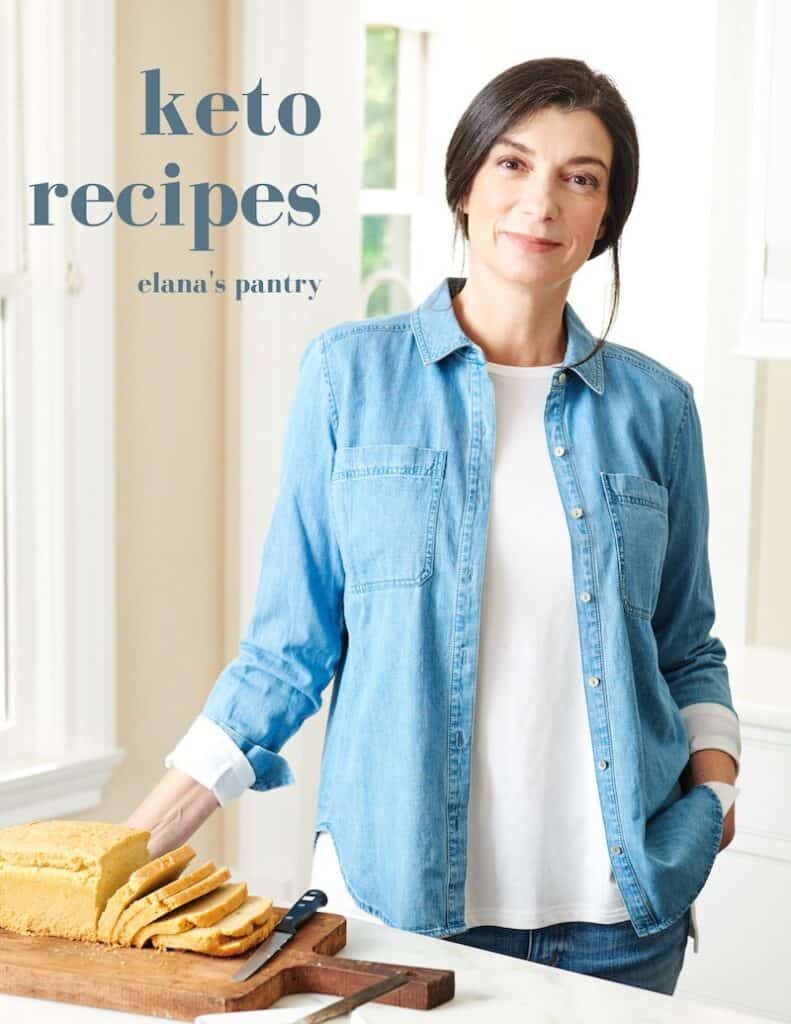 Get My Keto Recipes eBook
Free exclusive eBook, plus recipes and health tips, delivered to your inbox.
That's because I tend to have a bottle of Primal Kitchen Ketchup open in our refrigerator, while that is not the case for tomato paste.
Using ketchup helps me avoid opening a jar of tomato paste and using one tablespoon. This prevents food waste and is far more economical.
How to Make Navy Bean Soup
While we adore this Instant Pot Navy Bean Soup recipe with spinach (baby spinach works too) you can also make it with kale.
I've tried it both ways, and it's fantastic with either of these nutritious green vegetables.
How to Prepare Instant Pot Beans
If you're excited about making my Instant Pot Navy Bean soup recipe, but worried about the anti-nutrient enzymes found in beans called lectins, I've got you covered.
My special soaking and lengthy high pressure cooking method greatly reduces lectins, making the beans in this soup safe for me.
Soaking Dry Beans
All you need to do is soak the beans overnight, then drain and rinse prior to cooking. Quick note –different types of beans cook at different rates.
I choose to consume beans that are easily smashed between my fingers because I can digest them with ease.
Why Do Beans Cause Gas and Digestive Distress?
If your beans are old, they tend to be harder and may need more cooking time. You can test the beans after they've pressure-cooked before you add the greens and seasoning.
As I mentioned, I like a bean that I can easily smash between my fingers because less cooked, chewy beans are much harder to digest and cause me gastric distress.
How to Cook Navy Beans
Not all beans pressure cook at the same rate and even the same types of beans may need more or less cooking time.
When I made this Instant Pot soup with beans that weren't as fresh, I had to cook the soup an extra 10 minutes on high pressure before I added the kale and tomato (ketchup).
Recipes from an Ecological Kitchen
When it comes to learning how to cook beans, Lorna Sass' fabulous book Recipes from an Ecological Kitchen is a fantastic primer.
I know Lorna from my New York days when I lived on the Upper West Side –we practiced yoga at the same studio back in the early 1990s.
Insta Pot Bean Soup
If you don't want to go through the hassle of starting with dried beans and soaking them overnight, you can use canned beans.
To do so, follow the directions for this recipe until you get to step 5, then bring everything to a boil and simmer for a few minutes, using around two cans of white beans instead of the dried beans called for in the recipe.
Healthy Eating on a Budget
The downside of using a prepared food like canned beans is that they are much more expensive than dried beans.
In any case, if you use canned beans, you won't need to use the Instant Pot as this soup will cook up so fast that it's easy enough to make it on the stove top.
How to Use the Instant Pot
Now let's get to the nuts and bolts of using the Insta Pot to make this Navy Bean Soup.
When I first started using my Insta Pot a decade ago, I was in total overwhelm. The only thing I can say is that the settings on the front looked like the dashboard of a rocket ship.
Back then, I knew little to nothing about the intricacies of this marvelous kitchen appliance.
Thankfully, after religious use over the years, I've created the fantastic chart below to take away the guesswork!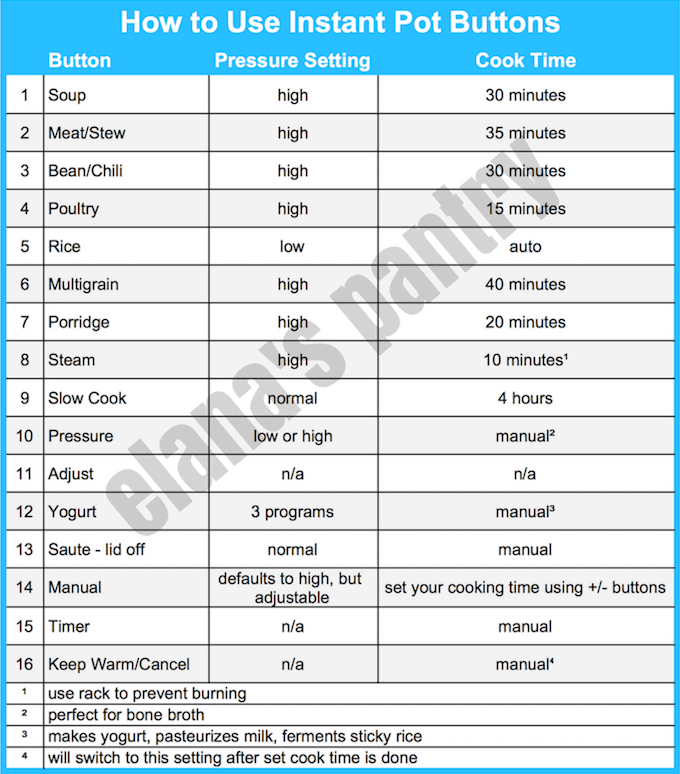 To print out the chart, go here, and become an Instant Pot expert with my tried and true tips!
Recipes Vegetarian Dinner
I love this soup because it's full of protein from the beans and the beef bone broth.
However, I realize that animal protein is not for everyone. This is one of those fantastic recipes for vegetarian dinners if you use water instead of bone broth.
Or, feel free to use homemade vegetable stock to up your flavor game.
Fiber Fueled
Lately, I've been working to increase my fiber intake with wholesome meals like this Instant Pot Navy Bean Soup recipe.
Beans are one of a number of foods I use to increase my fiber intake, which is important for building the gut microbiome, among other things.
A friend who's a Pelvic Floor Therapist told me she's getting into fiber too and recommended the book, Fiber Fueled, which is a worthy read. She's found that fiber really helps her clients that deal with gut motility and chronic constipation issues.
Recipes for Low Carb Soups
Instant Pot Navy Bean Soup is a fiber filled, nutritious powerhouse and fantastic if you're into healthy eating on a budget!
Here are some of my other favorite recipes for low carb soups:
What's your favorite soup? Is there something you're looking for that you can't find? Leave a comment and let me know –I'm happy to help!
This post is an oldie but goodie from the archives. I first shared this Instant Pot Navy Bean Soup recipe in 2020.