This recipe for quick and easy grilled salmon is based on Kalyn's Grilled Salmon with Maple Syrup Glaze from Kalyn's Kitchen. I find that her site is a fantastic source overall, and particularly for protein filled entrees. I had the pleasure of being on a panel at Blogher last year with Kalyn, and am looking forward to seeing her again this year. The Blogher Food Conference is less than 2 months away.
Both of my boys liked this gluten free high protein entree. In fact my older son said to me, "Mom, this chicken is really good!" Um, I guess I'll take that as a compliment even though this is a salmon dish. The fact that they ate it says a lot to me.
Grilled Salmon Paprika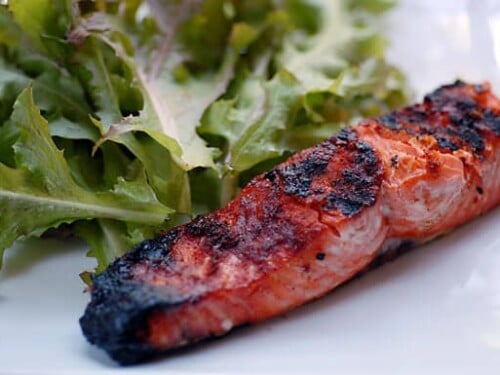 Print
Email
Pin Recipe
Instructions
Drizzle agave over salmon, the sprinkle with paprika mixture

Marinate for 30 minutes to 5 hours

Grill salmon (skin side down) for 4-5 minutes, then turn over

Grill on other side for 3 minutes, or until salmon is cooked through
I've been grilling up a storm over here. Last night we had a delicious dinner of Mustard Lime Chicken and a big salad with Asian Salad Dressing. I also made a roasted potato dish for the boys, with leeks from our garden. I don't eat potatoes because I am following an eating plan that is very close to Paleo.
So, my question is this… Do any of you have yummy paleo-esque recipes for leeks? I have a gluten free, grain free recipe in my book, The Gluten-Free Almond Flour Cookbook, for Smoked Salmon Leek Tart. I could make that 6 times and still have leeks left over. Any ideas?