Gather, The Art of Paleo Entertaining – is full of delicious Paleo recipes and beautiful photos.

I recently received a copy of a new Paleo cookbook called Gather by Hayley Mason and Bill Staley. It is a gorgeous coffee table book (large size format with beautiful photos), though it will not spend much time on your coffee table –it will be in your kitchen where you can use it.
After my younger son and I spent the evening reading through the book, we decided to make the vegan (yes vegan) Spinach and Artichoke Dip. I've wanted to eat spinach artichoke dip for quite some time, though have been thwarted by all of the recipes I've come across. You see, every recipe for spinach artichoke dip that I've encountered has copious amounts of sour cream in it. So I was thrilled to see Bill and Hayley's dairy-free spinach artichoke dip that uses cashew cream for its base. The dip is rich and creamy, just like you'd expect. And entirely delicious.
Gather: Spinach Artichoke Dip
Ingredients
2 cups raw cashews
filtered water
1 tablespoon nutritional yeast
1 tablespoon onion powder
celtic sea salt and pepper to taste
1 tablespoon fresh lemon juice
1 tablespoon coconut oil
28 ounces artichoke hearts (2 cans)
3 cloves minced garlic
5 cups fresh raw spinach chopped
Instructions
In a medium-size mixing bowl, cover the cashews with filtered water, and soak them in the refrigerator overnight
The following day, drain the cashews, and place them in a food processor or high-speed blender
Pour in enough filtered water to just cover the cashews
Blend them until smooth
At this point you will have "cashew cream"
In a medium-sized mixing bowl, add the cashew cream, nutritional yeast, onion powder, salt, pepper, and lemon juice
In a large heavy skillet, melt the coconut oil over medium heat
Add the artichoke hearts to the skillet, and sauté them for one minute
Add the minced garlic and spinach, and continue to sauté them for 5-7 minutes
Mash and chop the artichoke hearts with a silicone scraper or spoon as you sauté them
Let the mixture cool
Then, stir it together with the cashew cream
Refrigerate until serving.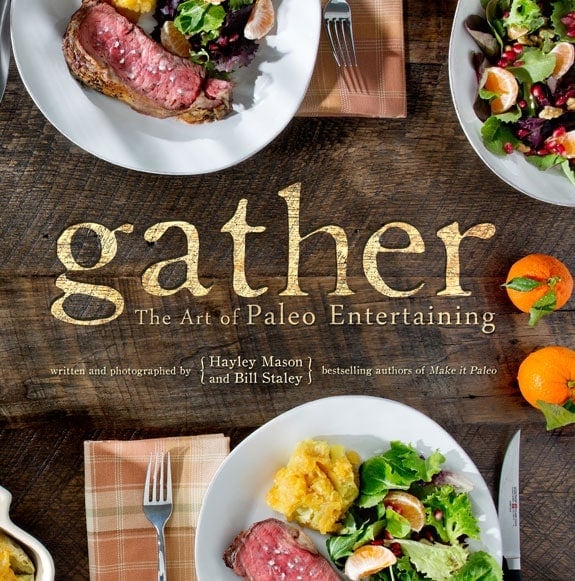 Hayley and Bill also have a lovely cracker recipe to accompany this gluten-free, grain-free, dairy-free dip.
The batch of dip that I made came from Gather came out looking exactly like the photo in their cookbook. After I faithfully followed their recipe, I added a bit more spinach and artichokes, as I was in the mood for more vegetables. Theirs however, was exactly like the spinach artichoke dip of my childhood. Creamy perfection.
Photo credit: Bill Staley and Hayley Mason
Gather is organized into 16 creative occasions for gathering and acts as your guide to planning any type of menu year round. You can use it for special meals, or simply to make a wonderful Paleo breakfast, brunch, lunch or dinner. With 100 delicious, gluten-free, grain-free, Paleo recipes (about 2/3 of the recipes are dairy-free too), you'll find yourself with a plethora of choices that will fool your glutenoid guests into thinking they're eating regular old food –they'll love the taste and probably never know about the amazing health benefits.
Word is that Gather is bound for the New York Times bestseller list. I have little doubt that this will occur.