While my husband loves all of my gluten-free chocolate dessert recipes, these Espresso Fudge Brownies are his fave. He left a special love note for me late last night after eating them to tell me how incredible they are. Fans are raving about this recipe too!
You can whip this simple one-pot brownie recipe up in a jiffy. What I love about this dessert is that it's so easy to make, I can have it prepared in less time than it takes to pre-heat the oven. I also like the easy one pot clean-up that comes along with making these brownies, which many people are saying are my best ever!
In addition to gluten-free, I made these brownies dairy-free recipe for those of you who have dairy allergies. I know you'll love them as much as we do!
Espresso Fudge Brownies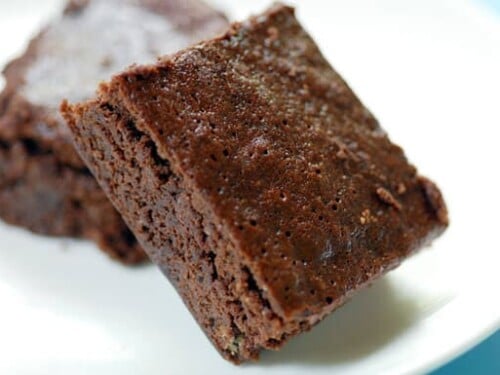 Print
Email
Pin Recipe
Instructions
Melt chocolate in a

saucepan

over very low heat

Add shortening and stir until completely dissolved

Stir in ground espresso and remove from heat

Blend in eggs, coconut sugar, vanilla, and salt to mixture in pan using a

hand blender

Blend in almond flour and coconut flour

Bake at 350°F for 25-30 minutes

Remove from oven and cool for 1 hour

Serve
This recipe is based on one from the Cook's Illustrated website. When I saw their amazing recipe for Triple Chocolate Espresso Brownies I knew I had to create my own high-protein, gluten-free version.
Here are some of my other easy gluten-free brownie recipes for you!