Update: I've created a video to show you how to make these gluten free and vegan chocolate chip cookies.
The other day I received a call from Kelly about a potluck at my children's school. This superwoman who doubles as first grade room parent and I spoke about taking the "luck" out of potluck.
During our chat, we touched on the significance of children breaking bread together and sharing in the most important part of the meal – dessert! To accommodate the different dietary needs of the first graders in my son's class, I developed a dairy-free, gluten free chocolate chip cookie recipe.
Kelly and I enlisted five moms to bake these tasty cookies for the potluck and I've posted the recipe here for them.
Chocolate Chip Cookies (Dairy Free/Gluten Free)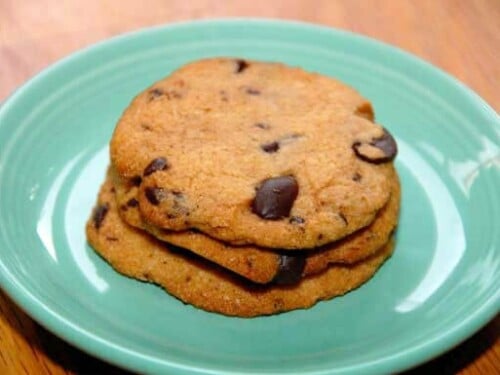 Print
Email
Pin Recipe
* Please note: Bob's Red Mill almond flour does not yield successful results when used in this recipe. For more information regarding this matter please see my FAQs.