My mother-in-law (aka Grandma Marylyn) is obsessed with all things crispy, crunchy, and Paleo. Like me, she has celiac disease and has followed a strict gluten-free diet for years. I created this Crispy Chocolate Chip Cookie recipe just for her. Grandma Marylyn is a huge fan of my Cranberry Chocolate Biscotti, as well as my Chocolate Orange Scones, and presents me with freshly made batches of each of these every time we have a visit.
While Grandma loves everything I make and cooks from my latest book Paleo Cooking from Elana's Pantry religiously, she is passionate about making my Paleo desserts for our large Jewish family.
Grandma has been asking me for years to develop a thin and crispy cookie recipe. She has no idea that I've created these Paleo chocolate chip cookies for her!
Crispy Chocolate Chip Cookies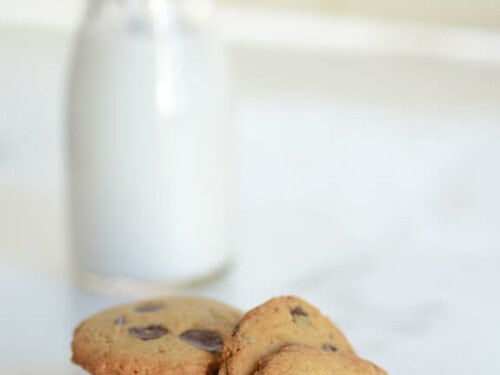 Print
Email
Pin Recipe
Instructions
Pulse in shortening, coconut sugar, egg, and vanilla until dough forms

Remove blade from processor and stir in chocolate chips by hand

Press balls of dough down so they are very flat, wetting your hand if dough is sticky

Bake at 350°F for 10-12 minutes

Cool for 15 minutes (do not handle prior or cookies will break)

Serve
When I made these Crispy Chocolate Chip Cookies my husband and children devoured numerous batches. The boys' friends also gobbled up my Crispy Chocolate Chip Cookies so quickly that I couldn't keep enough on the counter for them. I had one very busy week of baking gluten-free chocolate chip cookies for the hungry teenagers that fill my home. These cookies have the teenage seal of approval many times over.
In addition to inspiration from Grandma, I also enjoyed seeing that the adorable Kosher Cavegirl had come up with a Crispy Chocolate Chip Cookie recipe. It was her post that gave me the idea to create this new recipe which differs only slightly from my Primal Chocolate Chip Cookie recipe –the changes include using coconut sugar in place of honey, and doubling the amount of shortening and adding an egg. That's how you get to crispy cookie heaven. So if you're tired of complex gluten-free recipes with long lists of ingredients, this is another recipe of mine that solves this vexing problem!
I have other chocolate chip cookie recipes on my website in addition to the ones above:
Chocolate Chip Cookies -an oldie but goodie that I still make for the boys and their dairy eating friends; I created this, my first chocolate chip cookie recipe back in 2007 –it uses butter as the fat and honey or agave for the sweetener; slightly crispy around the edges, and chewy in the middle.
Vegan Chocolate Chip Cookies -a vegan chocolate chip cookie recipe that uses grapeseed oil for the fat and agave as sweetener… for the vegans in my life.
Primal Chocolate Chip Cookies -my most recent chocolate chip cookie recipe (prior to the one featured in this post for a crispy cookie) uses shortening and honey; a classic, moist, chewy chocolate chip cookie, and a great post workout snack for the CrossFit crowd.
What are your needs and desires for a classic chocolate chip cookie? Are they dietary, or flavor-based? Leave a comment and let me know which of the above recipes you plan on using and how you will customize them to your personal preferences.