This gluten-free, naturally-sweetened chocolate chip cookies recipe has just 7 ingredients. Go ahead, try one.
This is one of the first chocolate chip cookie recipes that I created. Two subsequent recipes for gluten free chocolate chip cookies that I think are even better than this one include my Vegan Chocolate Chip Cookies, here on this website, and my all time favorite gluten-free, dairy-free chocolate chip cookie recipe in The Gluten-Free Almond Flour Cookbook.
For those of you that were wondering, I use this website as a journal for the recipes that I write. I love all of my recipes, I test them all numerous times, however, it is only the most special and unique recipes that make it into my cookbooks. And, by the way, every recipe that goes into my cookbooks is tested by numerous people, including professional recipe testers. Sometimes recipes are tested upwards of 50 times before they make it into my books.
Chocolate Chip Cookies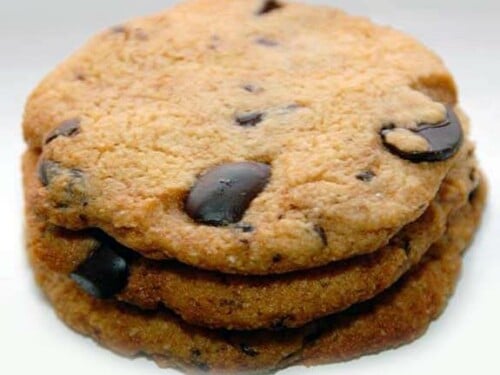 Print
Email
Pin Recipe
* Please note: Bob's Red Mill almond flour does not yield successful results when used in this and my other recipes. For more information regarding this matter please see my FAQs.