When fall arrives I pull my pumpkin recipes out of their file. I'm a huge fan of all things pumpkin as well as pumpkin spice. My husband? Not so much. While I add warming cinnamon and nutmeg to my daily (liver cleansing) Dandelion Coffee, he shies away from the flavors of fall.
I made this Pumpkin Chocolate Chiffon Pudding for my beloved, so that he would have a fun fall dessert to partake in while the boys go to town on Pumpkin Spice Meringues.
My husband is a fan of my chocolate recipes, and this is for him. You can't go wrong with chocolate pudding. You also can't go wrong with pumpkin pudding –that's why I made a chocolate pumpkin pudding! And this Chocolate Pumpkin Chiffon Pudding is a richly decadent, yet healthy dessert for the whole family.
Chocolate Pumpkin Chiffon Pudding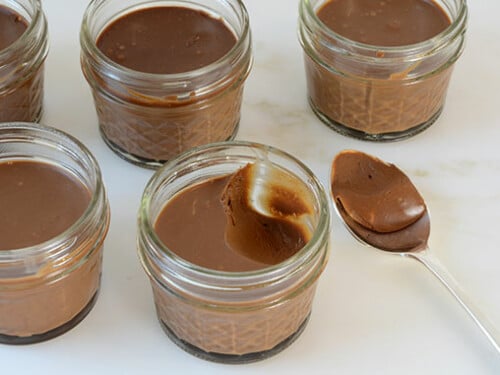 Print
Email
Pin Recipe
Instructions
Pulse in coconut sugar, melted chocolate, salt, and stevia

Serve
During fall when I'm obsessed with pumpkin, I keep a freshly baked pumpkin or squash in the fridge at all times. If you're not sure how to do this see my How to Roast Pumpkin post. It's easier than you think. If you don't have time for that, I tested this Pumpkin Chocolate Chiffon Pudding recipe with canned pumpkin as well and I'm happy to report that it works! When you have canned pumpkin (or freshly baked pumpkin) on hand, this is a lovely, quick and easy pudding recipe, that's perfect for fall, or any time of year!
Lately, the boys and I have been baking my Paleo Pumpkin Pie every weekend. They love this pie with homemade whipped cream (yes, they can eat dairy). It's super fun to see my teenage boys in the kitchen teaching their friends how to make whipped cream from scratch. Next on their plate? A "how to make whipped cream from scratch" video. Stay tuned!
To see more of my boys and their friends in action in the kitchen, check us out on instagram, I post fun, healthy updates there everyday!