I don't give a darn what conventional doctors say about diet and MS. I'm sticking with my amazing Turmeric Tea and green juice. Greens boost methylation, incredibly important since I have the MTHFR genetic mutation, and my Turmeric Tea is fantastic too!
What's In Turmeric Tea
The main ingredients of Turmeric Tea are turmeric and ginger. Turmeric contains curcumin which activates the Nrf2 pathway, key in reducing inflammation, and ginger, high in antioxidants and replete with anti-inflammatory properties, does the same. This tea also contains black pepper which makes the curcumin in the turmeric far more bio-available. I love using food as medicine and this drink has incredible benefits for me.
Health Benefits of Turmeric
Turmeric is a member of the ginger family. Commonly grown in India, it is turned into the bright yellow spice that stains your counter tops and is often used in South Asian cooking. The turmeric root contains curcumin, a Nrf2 activator. This powerful genetic pathway turns on over 200 genes, many of which are related to detoxification and cellular repair.
What is the Nrf2 Pathway
Nrf2, or nuclear factor (erythroid-derived 2)-like 2, is a protein that protects against oxidative damage triggered by inflammation and injury. This protein signals the body to repair itself via the Nrf2 pathway which triggers the expression of antioxidant enzymes and survival genes. However, this pathway is latent until triggered by a Nrf2 activator, which can range from fasting to exercise, to fish oil and much more.
What is Protandim
When I write about the Nrf2 pathway I get comments about a product called Protandim. It contains milk thistle, bacopa, ashwagandha, green tea extract, and curcumin. Many people ask me about this supplement and I don't see an issue with it. I prefer to take stand-alone supplements because they come in higher doses and I can control the combinations. As of this writing, Protandim contains 675mg of their proprietary blend. I prefer to know how much of each supplement I'm taking and take different stand-alone Nrf2 activators.
What are Nrf2 Activators
There are numerous Nrf2 activators that may be taken in a variety of doses. For example, I take 500mg per day of meriva, and 300mg per day of DIM, which contains sulforaphane. These two supplements alone contain 800mg of Nrf2 activators, so I prefer them to Protandim. I also prefer resveratrol, quercetin, and alpha lipoic acid which are also Nrf2 activators.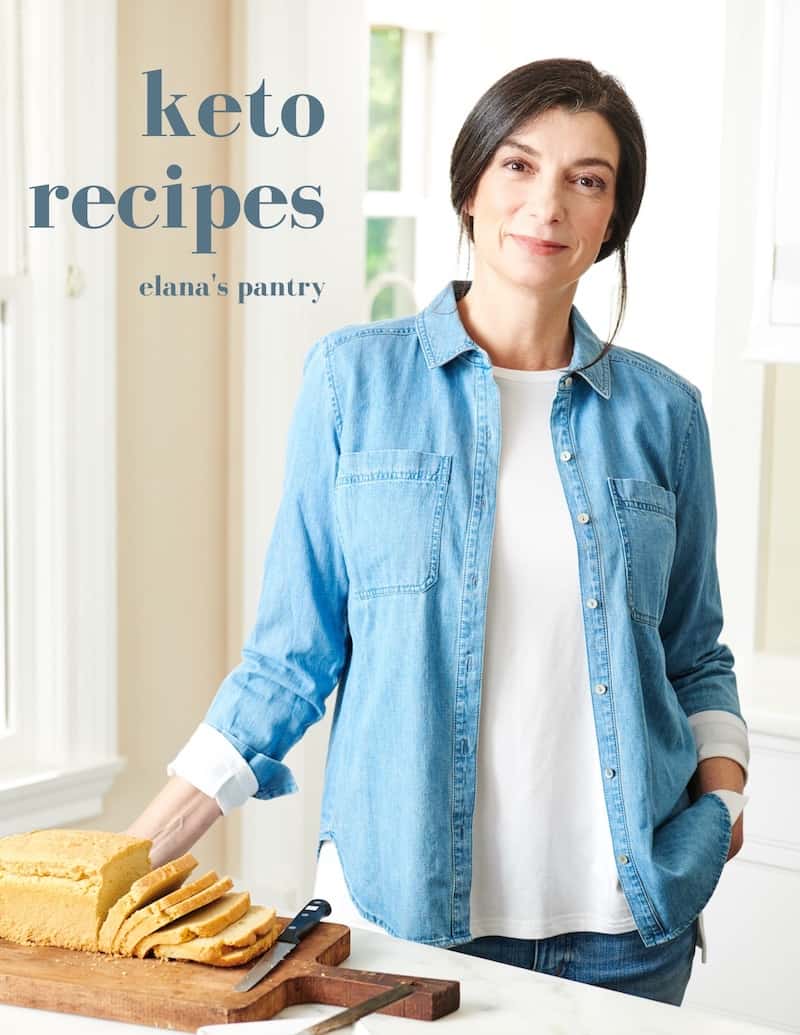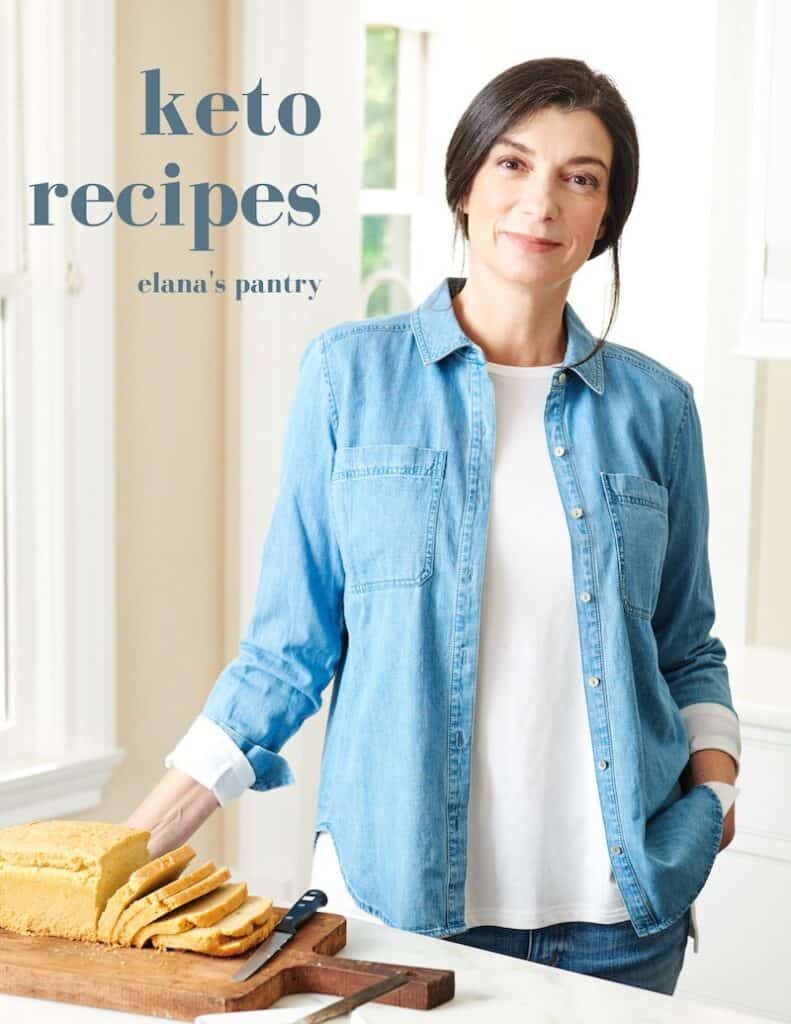 Get My Keto Recipes eBook
Free exclusive eBook, plus recipes and health tips, delivered to your inbox.
Health Benefits of Ginger
Ginger is another spice that is very popular in South East Asian cooking. It can be consumed in a number of ways. One of my favorites is this Ginger Licorice Tea, and still better is my low-carb Paleo Pumpkin Pie! I love eating functional foods that contain Nrf2 activators, but I also rely on supplements. I wasn't diagnosed with celiac disease until I was 30 years old so my gut suffered from damage from gluten during a large portion of my lifetime. Eating healthy grain-free, low-carb food and getting a boost from potent supplements in a wonderful strategy for me.
Turmeric Tea
Drinking healthy teas that I make from scratch using fresh roots, herbs, and spices is another strategy that works well for me. This potent Turmeric Tea is simply three very powerfully healthy foods –turmeric, ginger, and black pepper, concentrated into a beverage. After you make it the first time and pour off the tea, you can add another quart of water to get another two servings.
Turmeric Tea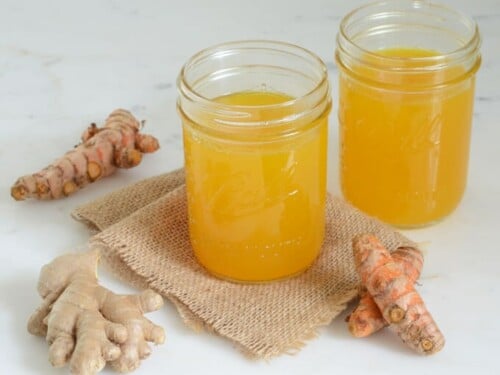 Print
Email
Pin Recipe
Ingredients
1

quart

water

1

ounce

turmeric,

sliced, not peeled

1

ounce

ginger,

sliced, not peeled

¼

teaspoon

ground black pepper
Instructions
Add turmeric, ginger, and black pepper

Bring to a boil, then simmer for 10 minutes

Serve
Drinking Instructions
If your digestive fire is super high you can drink this during the summer as a healthy iced tea. That's how my family likes it. If you feel a cold or a cough coming on you'll definitely want to sip it it as hot tea. This allows the turmeric and ginger to steam your sinuses while getting into your digestive system. Both of these methods of absorption provide a boost to the immune system.
Storage Instructions
Sometimes I make a double batch of Turmeric Tea and store it in mason jars in the fridge. It stays fresh for up to 2 days.
Healing Autoimmune Disease
During my lifetime I've been diagnosed with celiac disease, Hashimoto's autoimmune thyroiditis, and multiple sclerosis. I live with and navigate these disease processes every day. The silver lining of all of this illness has been learning. Another benefit has been sharing my knowledge and helping others. While I'm sometimes sad and overwhelmed with all that's on my plate, I've been able to meet all of you and have incredible people with me on this path of healing.
Knowledge, Connection, and the Path of Healing
What are your favorite hacks for healing? Leave a comment so we can all continue to grow, connect, and learn from each other in this incredible community!