A high protein, low carb snack that's easy to make? What could be better! The Best Deviled Egg recipe is simple and as good as it gets.
It takes the classic hard boiled egg up a notch by stuffing it with mustard, parsley, shallot, celery, and a healthy, creamy mayo, making one sexy deviled egg.
The Best Deviled Egg Recipe
There's no other way to say it –we are absolutely obsessed with deviled eggs! One of our favorite nibbles, they're wonderful bites of tasty goodness for:
Cocktail Parties
Backyard BBQs
Easter Brunch
Baby Showers
Deviled Eggs: Healthy Recipes for Snacks
But the best thing about deviled eggs is that you need no special occasion to indulge because they're super healthy and make a great snack.
| | | | | | | |
| --- | --- | --- | --- | --- | --- | --- |
| | Calories | Carbs | Fiber | Net Carbs | Protein | Fat |
| Egg (1 large) | 75 | .5g | 0g | .5g | 6g | 5g |
Eggs Nutrition
Better yet? Eggs are not only tasty, they're highly nutritious –both low in calories and packed with protein.
High in Protein Foods List
Eggs are definitely a top contender for one of the best high-protein foods.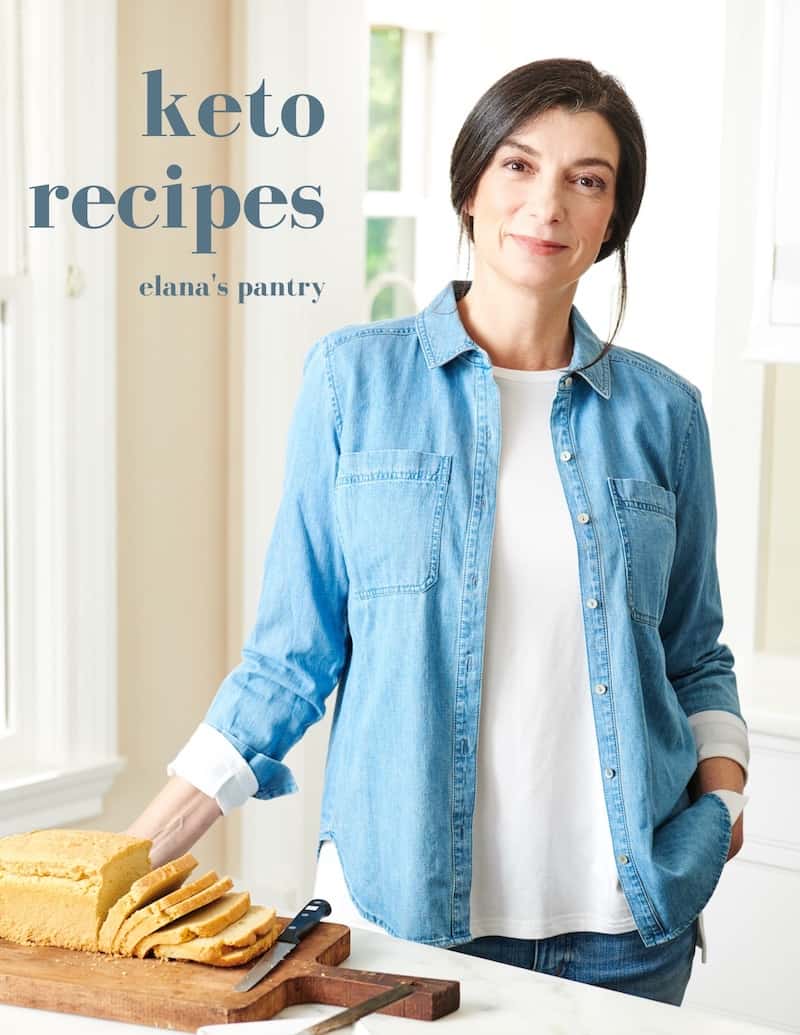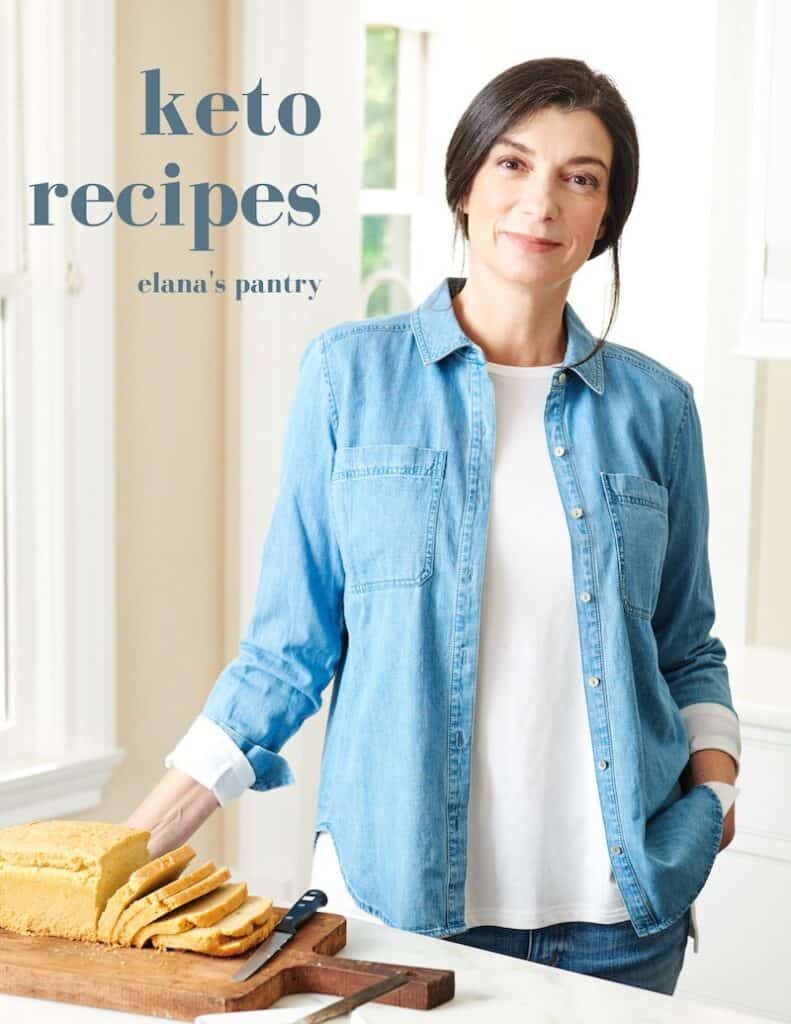 Get My Keto Recipes eBook
Free exclusive eBook, plus recipes and health tips, delivered to your inbox.
What sets eggs apart from other protein sources is the diverse recipe options and simplicity in preparing them.
And deviled eggs are one of my favorite ways to eat this fabulous food!
Deviled Eggs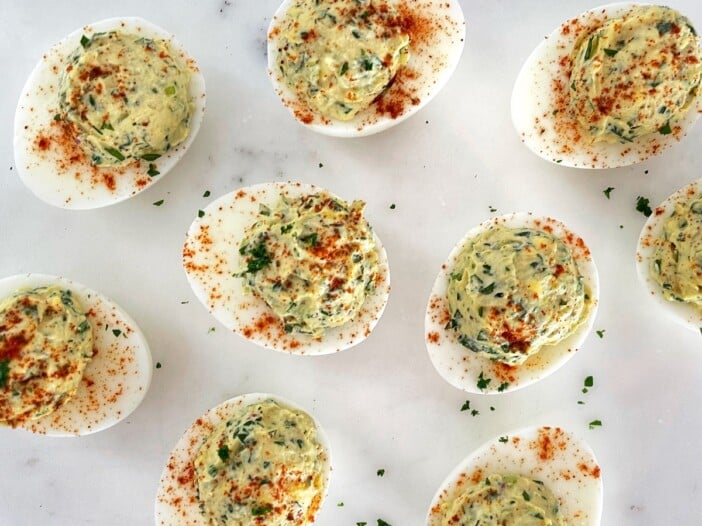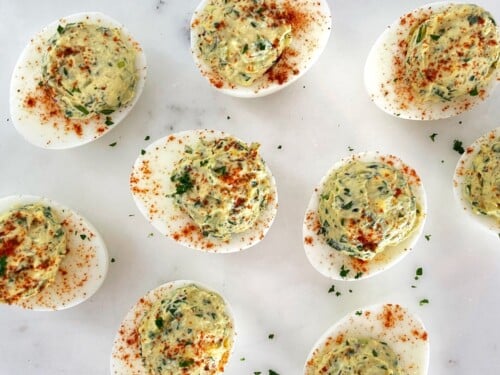 Print
Email
Pin Recipe
Instructions
Cut eggs in half and remove yolks

Stir mayo, mustard, parsley, celery, shallots, salt and pepper into yolks

Spoon filling into egg whites

Keep refrigerated until serving

Serve
Eggs Carbs
Eggs are a fabulous keto diet food because they're extremely low in carbohydrates and abundant in fat.
Are Eggs Vegetarian
Eggs are also a fantastic vegetarian source of healthy protein that's affordable and easy to prepare.
Isn't it funny that eggs and dairy products come from animals and are not vegetables, but are allowed on the vegetarian diet?
Does a Vegan Eat Eggs
Vegans, on the other hand, do not eat eggs or dairy. In fact, a vegan does not anything that comes from an animal, including honey.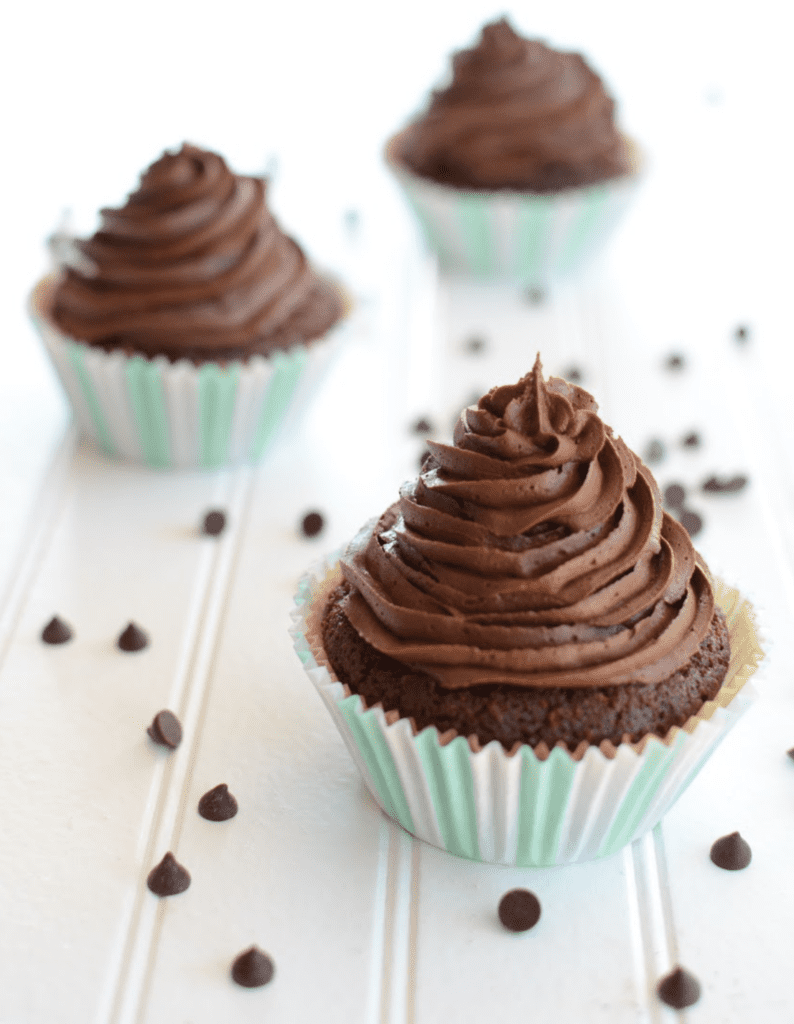 I do have one fantastic Vegan Chocolate Cupcake recipe in Paleo Cooking from Elana's Pantry
Vegan Eggs Recipe
If you're on an egg free diet and looking for a vegan eggs recipe, I need to warn you, egg substitutes don't work in my baked goods.
Eggs Gluten Free
Since we're on the subject of special diets, we have to talk about my favorite –the gluten free diet. I was diagnosed with celiac disease, in the 1990s, during the dark ages of gluten free.
For me, avoiding gluten is essential, and eggs are one of my favorite gluten free foods because they're so versatile.
Recipes with Eggs
I have an abundance of recipes with eggs, and they make my baked goods shine!
Here are some of my favorite recipes with eggs for you.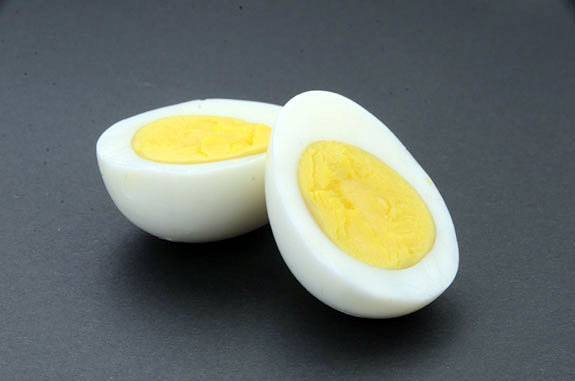 How to Hard Boil an Egg
Knowing how to hard boil an egg is a basic kitchen skill that's incredibly useful, and it's one of the first kitchen techniques I taught my boys.
After boiling endless batches of eggs, I've created my own secret method for hard boiled egg perfection that works every time.
Easy to Peel Hard Boiled Eggs
For me, knowing how to boil the perfect egg was one thing, pealing them was another.
It's a bummer when pealing eggs gets tricky, but I've solved that too.
Secret tip, letting the eggs cool is far superior to an ice bath. For all the tricks I have up my sleeve, read more here.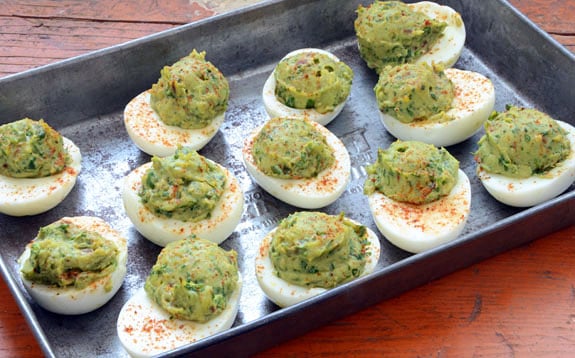 Deviled Eggs Avocado
My Guacamole Deviled Eggs are a mouth-watering low carb fiesta without the chips. The avocado filling is blended with fresh cilantro, chives, lime juice, and red pepper flakes.
These deviled eggs have no mayo, instead getting their creamy texture from avocados, which are full of wonderfully tasty and healthy fat.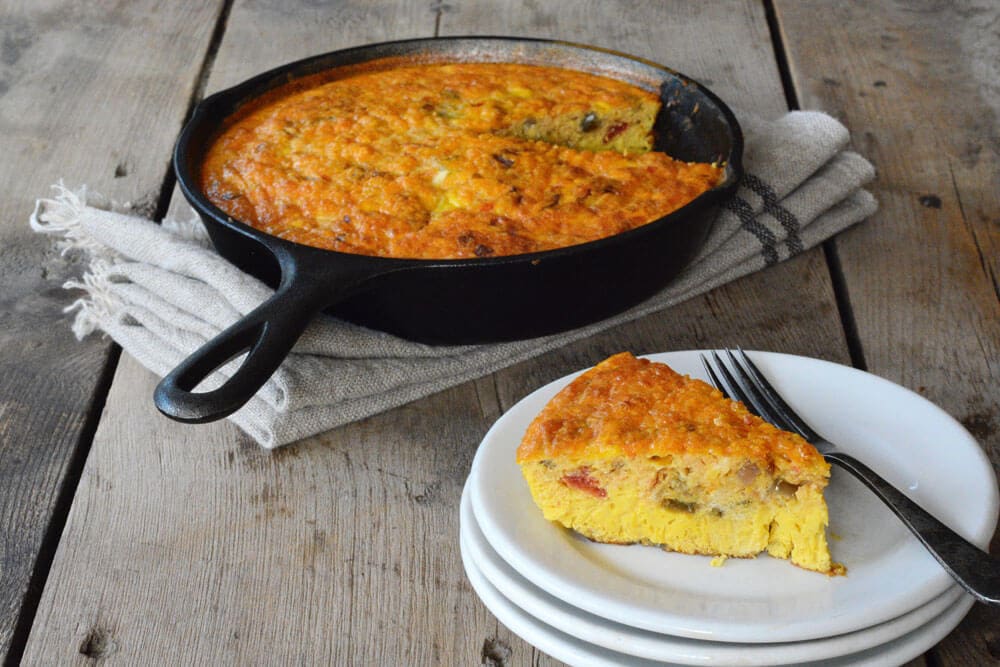 Recipe for Huevos Rancheros
While it will taste like you've labored in the kitchen all morning, my Huevos Rancheros recipe is a healthy breakfast that's easy to prepare.
All you need to do to make this fan favorite recipe is pour cheddar cheese, eggs, and salsa over sauteed onions, then place in the oven and bake in a cast iron skillet until set.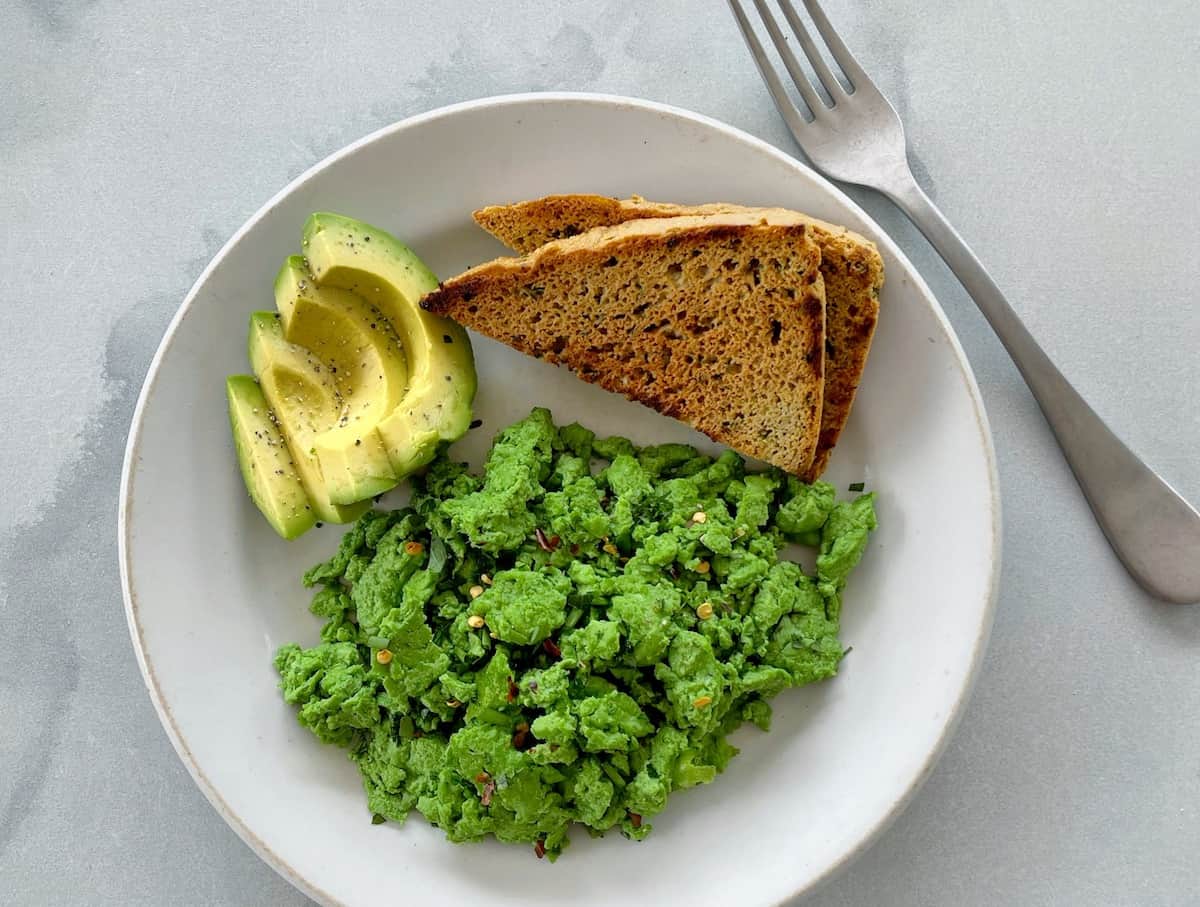 Breakfast Ideas That Are Easy
Eggs for breakfast? I'm in! My Green Eggs take the health factor up a notch by adding superfood kale to the traditional scramble.
I loved making this quick and easy breakfast for the boys on school days when they were growing up.
The Health Benefits of Eggs
Eggs are my jam because they're a complete protein that's nutrient-dense and easy to make.
Whether you're whipping up a scramble or making the Best Deviled Eggs you're in for a healthy and satisfying savory treat!
This recipe for Deviled Eggs is an oldie but goodie from the archives. I first shared it in 2011.