This recipe for Spiced Pecans is based on one I found in Dorie Greenspan's book Around My French Table. I am in love with that book and have found so many recipes in it that are "naturally gluten free."
I had the pleasure of meeting Ms. Greenspan at Blogher Food this year where she and I both spoke on panels. On my panel, we discussed the technicalities of writing a recipe, while the inimitable Dorie (is it too familiar of me to call her that?) was on a panel where she spoke about her 12 published cookbooks
–that gives you a bit of an idea as to how very far apart we are in the progress of our careers as food writers
!
After we were done with our panels, Ms. Greenspan meandered by the table at which I had plunked myself down (I couldn't believe it), and she sat 2 seats away from me! I was slightly terrified, but went ahead anyway and offered her one of the home baked chocolate chip cookies that I had set on the table, which I always bring to these conferences for my gluten free posse. Low and behold, Dorie took a bite. Then I glanced sideways and saw her finish the cookie.
Later that day, during another break, Dorie came up to me, thanked me for the cookie and asked me what it was made of (almond flour, of course!). We chatted for a few minutes about favorite ingredients, our families (I have 2 boys, she has 1), and then discussed her book tour (sadly, she did not pass through Denver for it).
Of course, after meeting her, I had to get my hands on her new book Around My French Table. So I did. And that's the story of how the recipe for these nuts were passed from Dorie, to me, to you. Thanks Ms. Greenspan, or Dorie, whichever you prefer. This gluten free nut snack is one of my favorites.
Spiced Pecans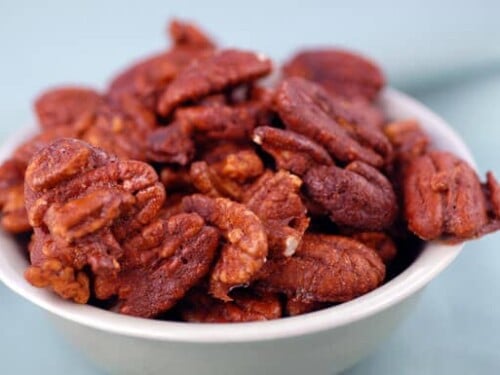 Print
Email
Pin Recipe
Instructions
Toss the pecans into the egg white mixture and stir to coat evenly

Toss in chili, cinnamon, cayenne and salt, stir so that pecans are evenly coated

Bake at 300°F for about 25 minutes, until the pecans are browned and the coating is dry

Cool for 20 minutes and serve
For a yummy vegan snack recipe, check out my Candied Macadamia Nuts, Candied Pecans or Smoked Paprika Almonds.
For more fancy schmancy cocktail snacks take a look at the recipes from these fine folks:
–CrockPot Roasted & Spiced Nuts from Stephanie of A Year of Slow Cooking
–Sweet and Spicy Baked Almonds from Joy of Joy the Baker
–Spiced Candied Walnuts from Heidi of 101 Cookbooks