I love making candied nuts during the holiday season. There's something very festive about them and they are satisfyingly sweet and filling at the same time. Lately I've been on a candied pecans kick. They're super easy to make and my husband loves them.
You could jazz up this recipe with some spices like cinnamon and cayenne (I think both together would be delicious), however I've been enjoying the simplicity of merely sweetening the nuts lately. These nuts make one delicious gluten free snack –and there is nothing like it in my gluten free cookbook, so enjoy it here for the taking!
Candied Pecans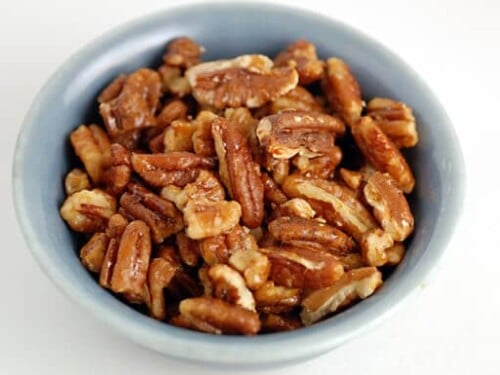 Print
Email
Pin Recipe
For those of you interested in the Go Ahead Honey It's Gluten Free (Grain Free Cakes) round-up, remember there are only 7 days left until the submission date, November 25th. So far I have received many wonderful entries for this blog carnival.