I recently received this comment from a reader who subscribes to my email feed:
"I'm not interested in non-raw food recipes–as perhaps many others who view your postings. Perhaps you could, to avoid wasting such people's time, simply note that this is a cooked food recipe, and then people can make an informed choice."
I laughed upon reading it. Until I realized it was not a joke, it was serious. I thought of unsubscribing the poor fellow, so as not to waste his time with the more than 100 free recipes I post each year. Then I realized he could simply do that himself.
So, just to clarify things, folks. This is not a raw food blog. This is not a Paleo diet blog. This is not a low-sugar blog. This is not a grain-free blog, SCD blog, or even a gluten free blog. It is all of the above. And more. In essence, this blog is many different things to many different people. If you find it a waste of time (and you know exactly who you are) then just save your time. Unsubscribe.
For the rest of you, here's a fun little cocktail snack that's high in protein and quite tasty. When I made these and set them out on the kitchen table the other day, they were gone in a couple of hours. These healthy nuts are one my favorite gluten free snacks.
Smoked Paprika Almonds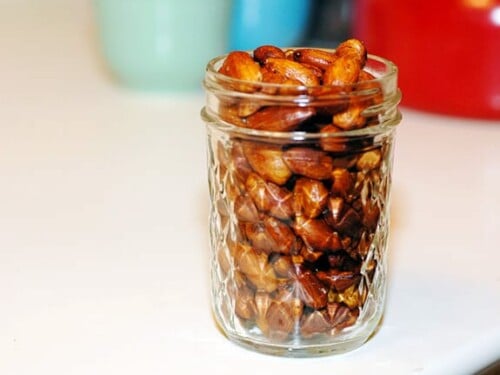 Print
Email
Pin Recipe
Instructions
Heat the olive oil in a

9 inch skillet

over medium heat (I used my cast iron skillet, though any skillet will work)

Add garlic to the skillet and sauté for 3-5 minutes, until the garlic is almost brown

Add the smoked paprika, salt, chili and cayenne and stir to make a paste

Add the almonds and stir constantly until they are thoroughly coated

Continue toasting the almonds in the skillet until they are fragrant, about 5 minutes

Remove from heat and allow the nuts to cool in the pan

Serve
If your garlic begins to burn at any time, be sure to remove it or the burnt garlic flavor will ruin this dish.
This delicious recipe is based on one written by Amy Culbertson. I use basically the same ingredients as she does, though instead of expensive (and delicious) Marcona almonds, I just used plain organic almonds. Otherwise (with the exception of my addition of chili powder and cayenne) this is her fantastic recipe for the most part.